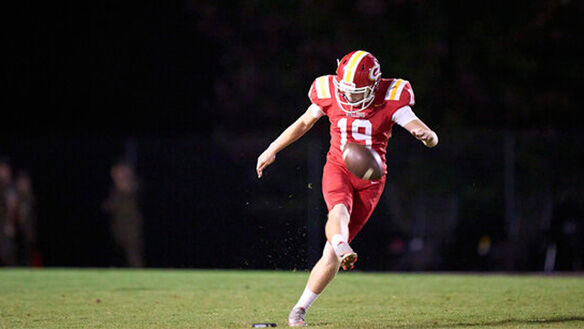 When Goochland kicker Tyler Black was listed onto the Class 3 All-State Second Team after his junior season with the Bulldogs, it was a surprise and an honor for Black. Yet, the recognition was never something that was on his mind during the course of the season.
"It just kind of happened," he said.
The thing you have to know about Black is that the focus is never on what he is now as a kicker, but what he's trying to become.
Black by all accounts had a solid season with the Bulldogs; he was four-of-six on field goal attempts with a long of 38 yards, 26-of-31 on extra point tries and had 45% of his kick-offs go for touchbacks. Certainly good enough numbers to earn All-State honors, but Black is working on both the mental and physical aspects of the position in order to become a more accurate kicker. Particularly, he wants to ensure that those few misses he did have aren't happening next year.
"I definitely know I can be 100% on those," Black said about his extra point misses. "And the two field goals I missed I know what I did wrong and lately I've been working on making sure that doesn't happen again."
During the offseason, Black's been working on everything from the clutch kicks with the clock winding down to the most basic PATs so that he's prepared for everything thrown his way next season. Working with his dad, who has been his personal coach since he started kicking in middle school, has been something of a staple for Black's training regimen, but he's also working with professional kicking coach Dan Orner for the last year and a half.
Orner, who is the lead evaluator of kickers and punters for Team USA Football and has worked with kickers all over the country at both the high school, collegiate and professional level, has been doing individual training sessions that Black says have given him and his dad new ways to approach the position's intricacies.
"He's been helping both me and my dad really figure out what I need to do to get better and help my team out as best I can," Black said. "I'm just making myself more consistent with my thinking and not over-thinking too much."
One such drill Black's been doing with Orner is a time-based drill that gives Black a 15-second timer and a 45-yard field goal that tests his ability to get into the correct mindset quickly while not rushing his form on the kick.
Black is confident in his ability to keep his form consistent on even the farthest kicks, but he says the discipline to do the same thing every time regardless of the situation or distance is what he really wants to continue improving on.
"I think it can be a little more mental than anything," he said. "My dad tells me I have the physical capabilities to be super accurate, but mentally you've got to keep disciplined to keep your body in a good position and do the same thing over and over again and not waver from that."
When Black isn't working with Orner, he's still keeping busy to work on his game on his own. He kicks every other day while also working with Goochland's track team as an indoor pole vaulter, which he won a state title in last March.
As a result of his work ethic, Black is seeing his effort pay off. He recently notched a new career-long field goal from 60 yards out during one training session, which bested his previous personal best of 56 yards that he earned while at a kicking camp.
Black knows the kicker is an often underappreciated and overlooked position in the game of football. It's someone that can decide a game, but is not always given the spotlight until the opportunity arises where, with the game on the line, one kick can be the difference between a win or a loss. Not everyone can handle the pressures of the position, but Black is clearly up to the challenge.
Now that he's got an All-State honor to his name, there's a certain level of credibility that comes when steps out onto the field. People know what his leg is capable of, but they may not know about the work he's put in since then to be an even better player. With the game on the line and the Bulldogs in need of a big play, they'll surely see the strides he's made to become the kicker that he is today.