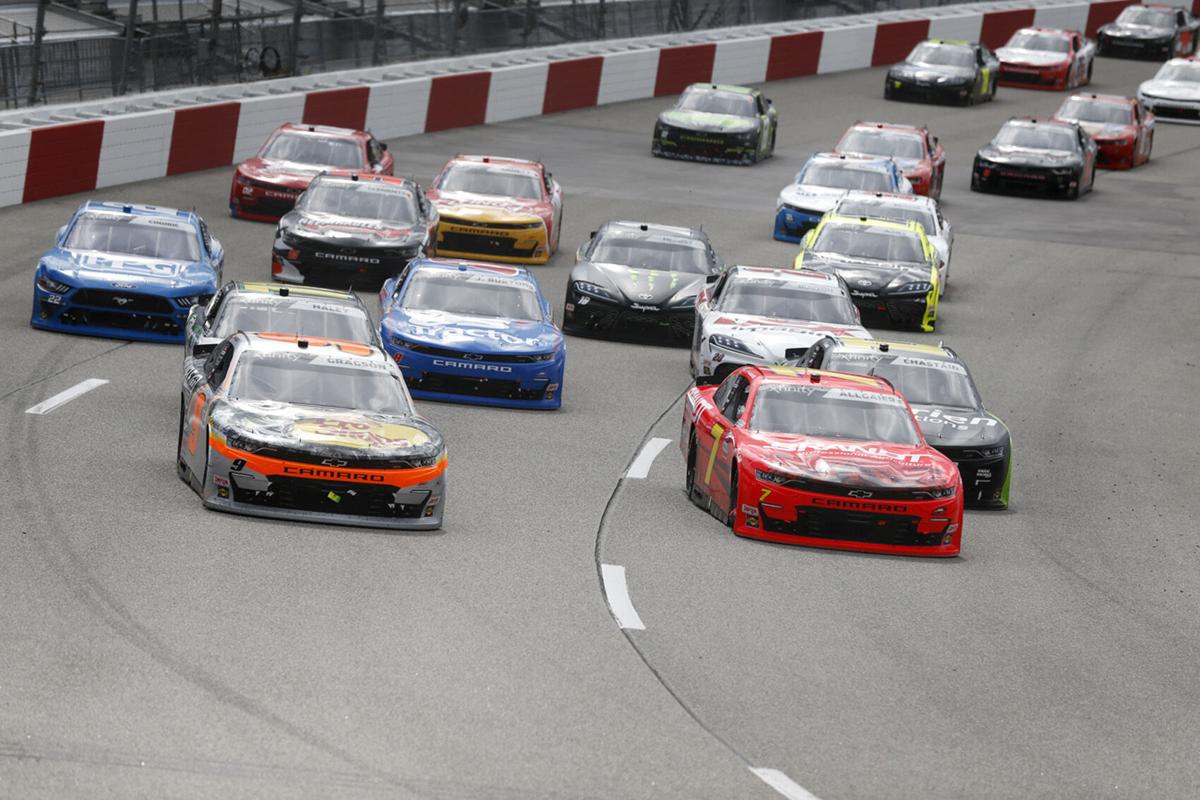 When looking back on the history of Richmond Raceway, one of the notes that caught track president Dennis Bickmeier's eye was that it was the first racetrack to host an auto race in Virginia after World War II.
"I feel like we've been making an impact ever since," he said.
Since its 1946 debut as a half-mile dirt track at what was then known as the Atlantic Rural Exposition Fairgrounds, the historic raceway has grown and evolved along with the motorsports industry, playing host to many of NASCAR's most memorable moments and undergoing transitions that reflected the progression of the stock car entity as a whole.
Those are among the moments that Richmond Raceway will be highlighting with its year-long commemoration of its 75th anniversary season in 2021.
"We want to make sure that we take the time to honor the 75 greatest moments in Richmond Raceway racing history, and we want to make sure that we can engage our fans in a storytellers' series, whereby fans can tell their stories about their greatest memories of Richmond Raceway," Bickmeier said.
Raceway officials plan to share those stories through the track's social media channels. A committee that they put together will come up with the 75 greatest moments in the history of the raceway, and those moments will be rolled out in groupings of 10 throughout the course of 2021, with anticipation expected to build up towards the number-one moment's reveal.
Likely top candidates include the venue's transformations, from when it was first paved in 1968 to when bulldozers, with the first being driven by Richard Petty, started digging up the track right after Neil Bonnett in 1988 won the final race on the half-mile configuration. Less than seven months later, Richmond hosted its first Cup race on its now-iconic 0.75-mile, D-shaped layout.
There were a couple other firsts that could land high on the 75 greatest moments' list. Ted Horn won the track's first major auto racing event, an open-wheel race, on the track's first iteration in Oct. 12, 1946. Lee Petty won the first NASCAR Cup Series race hosted at Richmond on April 19, 1953. Harry Gant took the checkered flag in the raceway's first-ever night race on Sept. 7, 1991, making it the second active track on the current schedule (Bristol being the first in 1978) to host a Cup race under the lights.
Bickmeier also recalled the infamous 1986 wreck in which race leaders Dale Earnhardt and Darrell Waltrip collided and crashed with two laps to go, setting the stage for Kyle Petty to collect his first career win in Cup.
That wasn't the only time that a crash at the front would involve an Earnhardt and set up an unexpected winner in Richmond. In 2008, Kyle Busch was driving in his first of 13 seasons for Joe Gibbs Racing after Dale Earnhardt Jr. moved to the organization – Hendrick Motorsports – that Busch had raced for the previous three years. Late in the Richmond spring race, Busch made contact with Earnhardt Jr., spinning out the latter and putting the former behind Clint Bowyer, who went on to grab the victory. The spin led to a memorable post-race interview by Earnhardt Jr. in which he said, "Whether it's fair or not, he's going to need some security from all of us."
Ten years later, after the two drivers united to discuss the race in an oral history by Jeff Gluck, Busch celebrated his victory in the spring race – his fifth of six Cup wins on the track – with fans in the stands on the front stretch.
In addition to the fans' experiences and memories taking center stage, Bickmeier sees the year-long celebration as an opportunity for the entire NASCAR industry to rally around a significant anniversary at one of the series' storied staples, which has hosted at least one Cup race every year since 1955.
The short track – one of three that are less than a mile on the Cup slate – will also bring back races for two series that have either returned this year or will do so in 2021 after longtime absences. The Camping World Truck Series came back this past fall for the first time since 2005, and it will compete in Richmond again for the second consecutive season on Saturday, April 17. The Truck Series shares the two-race weekend with the Cup Series, which will hold its day race on Sunday, April 18.
Later that year, the NASCAR Whelen Modified Tour, which last competed at Richmond in 2002, will come back to host a Friday night race on Sept. 10 ahead of the Xfinity-Cup doubleheader on Saturday, Sept. 11.
"Next year will be about creating new memories certainly," Bickmeier said, "but remembering 75 years of previous history and memories as well."
As Richmond Raceway recounts its 75 greatest moments, fans can stay tuned by following its social media platforms on Facebook, Instagram (@richmondraceway) and Twitter (@RichmondRaceway) and downloading the Richmond Raceway mobile app for Apple or Android.
2021 NASCAR race tickets are available for purchase via phone at 866-455-7223 or online at richmondraceway.com.