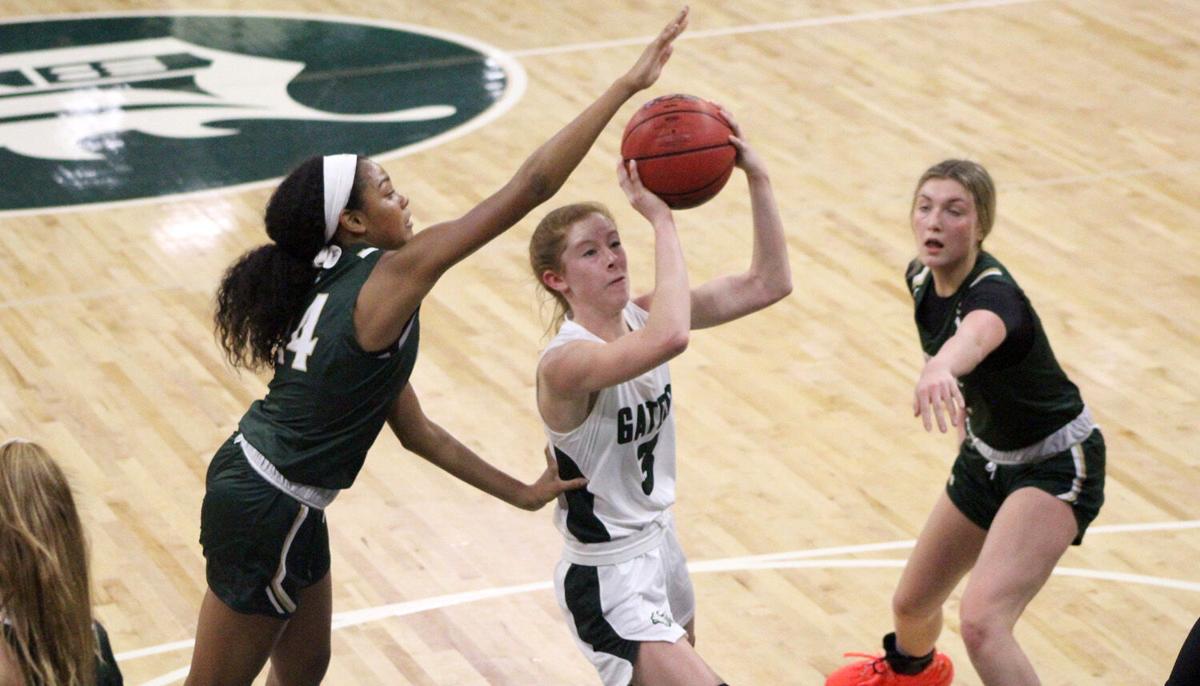 GOOCHLAND - The Gators' defense made their lead loom larger than it looked.
Holding a 5-point advantage over visiting Catholic in a rematch from the week prior, Saint Gertrude translated its stalwart defense into game-clinching points from the foul line to win 43-35 and remain unbeaten in their new home gymnasium – the McMurtrie-Reynolds Pavilion – going into Christmas Break.
"Our defense really stepped up; we emphasize playing helpside defense when we play man-to-man and I think they did a really good job of that, understanding their rotations," Saint Gertrude head coach Robyn D'Onofrio said after the game. "The communication was excellent."
"After so much practice together, we just are like a little family, and we know how to play with each other and talk – and talk through difficult screens or their plays that they throw at us," said senior Nan Kerner, who led the Gators with 14 points on Tuesday.
Seven different players found the basket to give Saint Gertrude a 30-14 lead at the half, but the visiting Crusaders closed the gap over the third quarter, getting the Gators' advantage down to 4 points before Kerner hit two free throws for a 38-32 lead going into the fourth.
The Gators were able to regroup in their timeouts, and D'Onofrio said they gave the green light to other players whom she noted "maybe don't have as obvious of a role when it comes to the scorebook" to "step up and be offensive and defensive threats."
"Because they are in practice; sometimes they just take a backseat to some people," D'Onofrio said, "and it was really nice today to see – even though you might not see it in the statline – just what great things that so many of the players were able to contribute."
Maintaining their composure was also key.
"We have a mature group of seniors" in captains Kerner, Kaitlin Puccinelli and Katie Pilot, D'Onofrio said. "Their leadership out there on the floor – all three of them were out there at the same time at some point –- that's invaluable."
Guards Kayla Ford and Sam Smith also contributed to the Gators' defensive stands and offensive drives up front. They combined for six points in the second quarter to help bolster Saint Gertrude's lead going into halftime.
"Sam came through huge for us – she always just plays such gritty defense for us, and she was able to put some buckets in, which is a huge feather in her cap, because she practices hard all the time and she's just such a great asset to the team," D'Onofrio said. "Kayla plays such an unnoticed role all the time at point guard, and this time, she was able to get some buckets and she was able to get some great looks, and defensively, she played a great game all around.
"It was really nice to kind of see them – especially in our little surge there – make some headway."
Passing was a strength for the Gators throughout, with Kerner in one early instance driving into the paint, then flipping the ball amidst pressure to her teammate Kate Samson on her right. Samson netted the easy bucket.
"Their defense was very tight, so I knew – they collapsed on me a lot … I could find nice kickouts to other shooters," Kerner said. "It helped a lot, because our shots were falling most of the night."
Samson rebounded well in the early stages of the fourth quarter, and the Gators weaved their way through the Crusaders' late-game full-court press to earn trips to the foul line. Free throws made by Kerner and sophomore Erin Woodson – who with a big step inside landed a key short jumper earlier in the quarter – lifted the Gators' lead out of the visitors' reach. Woodson finished the night with 9 points. Samson and Ford each scored 6.
Saint Gertrude is now 4-0, having won all four of its games at home.
"It's great; I'm excited for what's to come and more difficult games like this," Kerner said, "and just can't wait to win more."
"Just happy to be with the girls," D'Onofrio said. "Every day is a good day that we're playing basketball, so we're just very happy to be together."