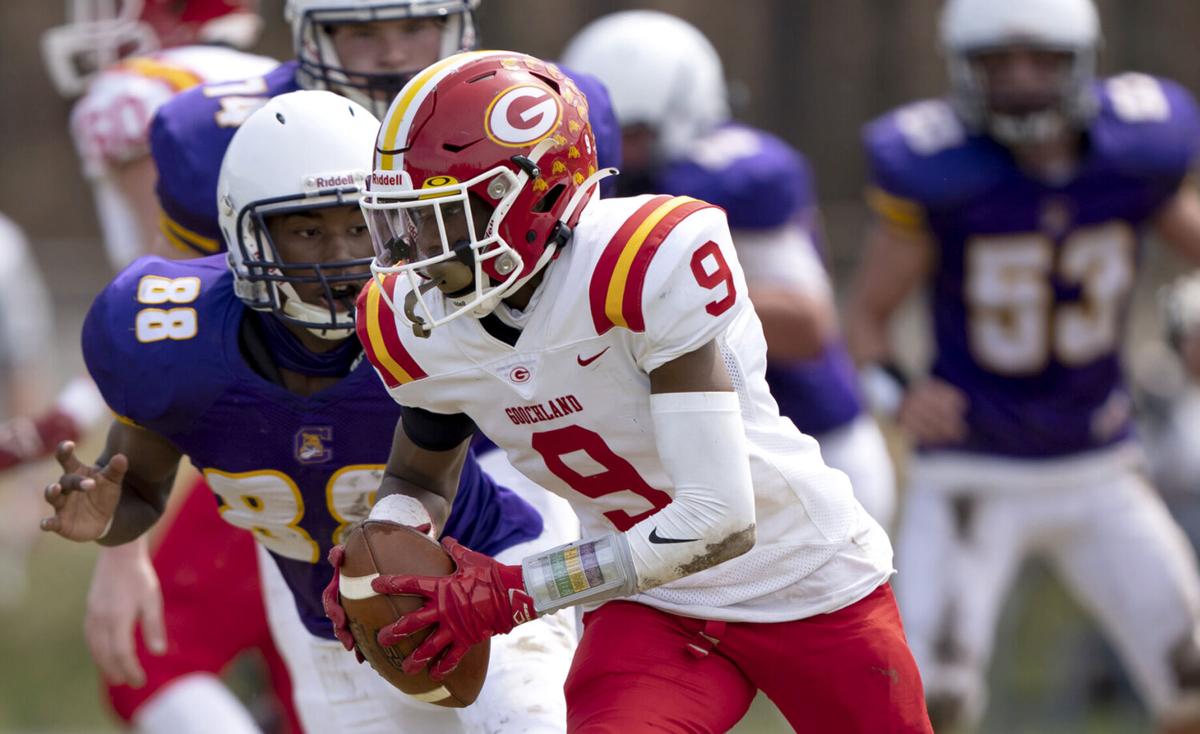 C.J. Towles threw for 133 yards and four touchdowns, and Goochland improved to 5-0 in the six-game regular season with Saturday's 28-12 road win over Central Lunenburg.
"It was good for us to get points out of the passing game, because it's one more thing for people to have to look at, kind of have an understanding about what we do," said Goochland head football coach Alex Fruth. "It's good for us to put the ball up that many times, because it will give us the chance to have some really good film to go back and find some things that we need to work on, some things we're really excited about. It gives us just more opportunities to kind of critique where we're at in the passing game."
Towles, a junior, completed eight of 13 passes with no interceptions and connected with four different teammates on his touchdown passes. He helped the Bulldogs out to a 14-0 first-quarter lead with a 26-yarder to senior Kam Holman and a play-action pass to senior Conner Popielarz for 13 yards on third and short.
After a Goochland safety tipped a Lunenburg pass and knocked it backwards into the lap of a Chargers player for a 15-yard touchdown to make it 14-6 at halftime, Towles stayed hot. He hit Kayshawn Smith on a 40-yard scoring strike in the third quarter, then found Jason Woodson on another play-action pass for a five-yard touchdown in the fourth to give the Bulldogs a 28-6 lead.
Lunenburg had the last score of the day on a 5-yard run.
Goochland totaled 249 yards, including 116 rushing, in 38 snaps on offense. Popielarz averaged nearly 10 yards a carry with 79 yards, including a long rush of 33, on eight touches. Holman carried the ball three times for 37 yards.
"We looked good up front," Fruth said. "I thought our offensive line did a decent job."
Facing a very physical Chargers team that got a ton of snaps on offense, followed a three-yards-and-fall-forward style of play, and had the same personnel line up in different sets out of the huddle, the Bulldogs' defense, according to Fruth, "did a really good job bending, bending, bending, and not breaking, and finding a way to get off the field."
"It probably wasn't the way we would've really wanted it to be in that regard, but it's also the nature of what they do," Fruth said of the Chargers. "For us to just not wear down and keep resetting…I thought was really good for our defense."
Senior Will Stratton was a fingertip away from his fourth blocked kick of the season, and he was in on 14 tackles, including one for a loss (TFL). Omarion Quarles was in on seven tackles and had a TFL. Kai Burton was in on six tackles. Haiden Mccourt recovered a Central Lunenburg fumble for the only turnover of the day.
On special teams, Goochland sophomore kicker Tyler Black made all four of his PAT tries, and Fruth complimented the play of the kick return unit, which had a strong return on the opening kickoff and initially scored a touchdown, but saw the score get nullified on a call for a block in the back.
In a season filled with anomalies – six regular-season games instead of 10, spring weather instead of fall, new opponents, and a 66-percent regular-season road schedule – the Bulldogs will tackle another oddity. Their final regular-season opponent, Winchester's James Wood, is playing its first game of the year.
But despite all of the unknowns they've faced, and despite being young up front on the offensive line, the Bulldogs have been able to adapt through their still-unbeaten season.
"We can kind of go with the flow of things, and ultimately when it comes to a lot of what goes on, it's about us. It's about how we respond, how we react, how we play," Fruth said. "We don't have a normal schedule right now, but our kids are doing a really good job adjusting, going with the flow, and then we just focus on how we play and what we do."
Friday night's home game versus James Wood (7 p.m. at Goochland High School) is also Goochland's senior night. The Bulldogs are excited to celebrate the contributions of their 13 senior players and two senior managers.