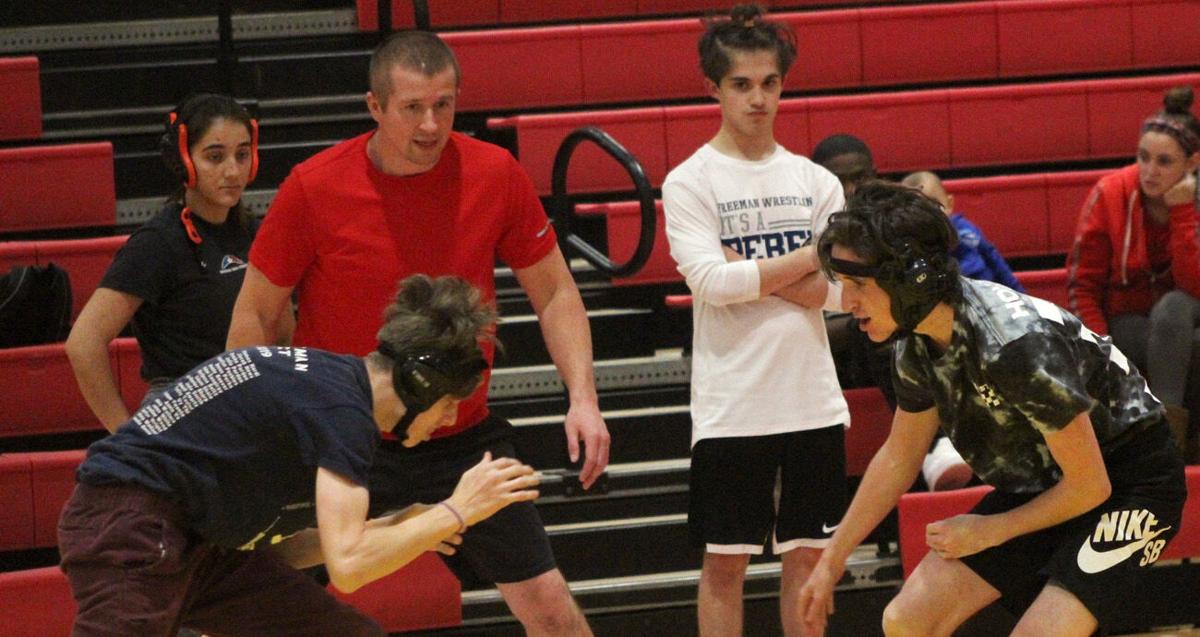 If Jeremy Wampler could bring one thing to Goochland wrestling more than anything else, it's who he is as a wrestler.
He looks back on that match in college where he took on "a really quality wrestler" from Edinboro University in his home state of Pennsylvania. Wampler battled him into overtime, and he almost got taken down in the end by his opponent. But he hit a key move – he described it as being almost like a modified standing Peterson – to get out of a problematic situation.
Ultimately, he didn't win the match, but the referee looked at him and said, "Wampler, I'll give you this. You're a fighter."
That's the kind of fight and attitude that Wampler – Goochland's new head wrestling coach – wants to see from his Bulldogs.
While Wampler wrestled in high school up in Pennsylvania, he actually went to college to play football as an offensive lineman. But when he broke his leg while playing, he went back to wrestling.
When all was said and done, Wampler enjoyed three-and-a-half seasons as a wrestler at Millersville University near Lancaster, PA. He was a backup heavyweight for two years before he dropped weight along the way and started at 197 pounds his final year.
That was a good year for him; he went 19-17 and came up just shy of winning the match that would've sent him to nationals.
Wampler and his teammates were able to wrestle against Division I talent including Iowa State, and he was very glad to have had that experience.
"Wrestling has paid off in all kinds of ways," he said. "It's worked out just fine."
Following his wrestling career, Wampler was able to coach up in Pennsylvania. He was an assistant high school coach at Ephrata High School before teaching and coaching at Halifax. He was a head middle school coach for two years, volunteered with Cumberland Valley Middle School and served as the high school assistant at Palmyra.
From there, he headed down to Virginia and coached wrestling at Warhill High School in Williamsburg for three years.
Overall, he's going on four years as a coach in Goochland, which, he said, reminds him so much more of what he grew up with.
"The core of Goochland – that's why I want to be here for a while," he said.
After he started out working with the Bulldogs as an assistant coach, Wampler took the helm when Mike Nadder stepped back from the head coaching role at the end of this past season.
"He and I both, we've always been very open, and I respect him greatly, not just as a coach, as a person, but also in that he's allowed me to be me," Wampler said of Nadder. "With Mike I appreciate his sense of humor very much and his hard-working attitude with what he wanted this program to be.
"I hope to be able to bring that level of intensity as well."
Wampler is a big believer in basics winning matches, and, in drawing on his experiences from the teams he had been on in the past while growing up as a wrestler, he values the goal of the team getting to do fun things together, "but you have to earn those fun things."
"I've been a part of a team where we've met on a Friday night, coaches included, and we've gone somewhere and gotten wings," Wampler said. "I want to have that fun, but I also want to instill in them that wrestling is basically a metaphor for life.
"It's a practice for what life is," he said. "It's you out on that mat all by yourself, but we're here as a team together."
Sizing up the 2020-21 Bulldogs
Wampler's coaching staff will include head Mills Godwin wrestling coach Bob Harris, as well as returning assistant coach Charles Haines. Wampler called last year's season "a beautiful stepping stone" for the young Bulldogs program, as Connor Duncan, who also played football and was a senior at the time, competed in the state tournament along with teammate Reese Vincent, who was then a freshman.
In this year's group, returning wrestler and senior Ayden Doczi, who also plays football and baseball, bumped up to 270 pounds and will compete in the heavyweight class for Goochland.
"We're hoping that this year can really be a breakout year for him," Wampler said of Doczi. "He's going to be a big heavyweight who knows some wrestling, and [with me having wrestled heavyweight], I'm looking forward to working with him on a couple things that if he can put what he knows together with what I know as being a pure heavyweight . . . he could really make some noise this year."
Wampler described Max Moreno as one of the most naturally talented wrestlers on the team, but with this year being his senior year, Moreno's head coach is looking for him to center on consistency and focus.
"If he can put the puzzle together," Wampler said, "he has plenty of big-time potential.
Also representing Goochland's senior class in 2020-21 will be Corey Vincent, whom Wampler said has been a workhorse for the Bulldogs over the last couple of years.
Corey, who right now is around the 152-pound weight class, would oftentimes bump up to wrestle at least one class above where he should be, Wampler said, yet he was always in good positon to keep the match close; if his opponent made a mistake, he would capitalize.
"I give him all the credit in the world: anytime that Coach Nadder and myself would ask anything of him, he did it," Wampler said. He also praised Corey's dedication, work ethic and leadership. "He's the type of wrestler who – he knows the basics, he has learned the basics, he has put things together and he's always in good position and he surprises people."
Sophomore lightweight wrestler John Summitt, he added, has "the right attitude when it comes to wrestling."
"He knows some solid stuff with wrestling and he knows how to really turn it on when the time comes," Wampler said, noting that Summitt not only can go out there and wrestle effectively, but he also "knows how to get mean in all the right ways."
"John was really putting some things together at the end of last year, and he almost pulled out a win at the last second ... at the regional; he hit a move that no one off of Goochland has ever hit before, and you have to be mean to hit this move," Wampler said. "He did it, he caught the guy, and you give him another 20 seconds, and he's going to pin this kid, and it just didn't happen. He ran out of time. I gave him a big hug at the end of the match ... very proud of him.
"If he can keep doing that, that's going to be good; he's got a future."
Junior Blake Smith, who for the last couple years has wrestled in the 120- and 126-pound weight classes, is bumping up to 138. Wampler said Smith "has got the right attitude, too."
"If he can take the next step – he's got one or two solid moves that he can hit hard ... and if he can put a couple more moves into his arsenal ... I think he can make some noise."
Also around 152, Wampler praised Riley Hite as a natural athlete and said he's got the right instincts. He's also interested to see how Alex Rosenbaum, who is also a football player, will fare this season. Ever since wrestling last year, Wampler said Rosenbaum "kind of got bit by the bug" and has been working hard to become a better athlete.
"He's got some potential at 220," Wampler said.
In viewing two more wrestlers in the 145-160 weight range, Wampler said returning state qualifier Reese Vincent and Grant Heidel over the last couple of years have really bought into the idea that they need to work on their foundation of wrestling – work on the simple things, and work hard to get those simple things right.
"If you can be in shape, and if you know the simple things and you have power to back it up, all it takes is one moment and you can end the match," Wampler said. "Grant has worked with that killer instinct attitude. Reese – at the end of last season at the regional, I saw it. He figured something out."
Wampler said Reese was winning his match by a couple of points, but his opponent was "just kind of playing defense." Reese grabbed him, tripped him, threw him, pinned him and was done.
"Reese realized that, 'Oh, I'm stronger than this kid, I can grab him, I can pin him," Wampler said, speaking to the need for the overall team attitude of: "If I'm stronger than you, sometimes I can just grab you and pin you."
That attitude – "the toughness, the meanness that we know needs to be there with wrestling from time to time" – is what Goochland wrestling, with Wampler at the helm, hopes to reinforce in the wrestlers who have that attitude, and instill in those still in need of it.
That attitude is also what he's seen his wrestlers improve on the most.
"It's starting, and it has been building," Wampler said. "If at the end of the year I can look at myself and say, 'This team has developed more of a killer instinct, has developed more of a natural understanding of having fun while being a wrestler and doing the work that it takes to be a wrestler' – if I can feel like that has happened and has grown, this season's going to be a success, and over time, the results will start to show on the scoreboard as well."
Starting out amidst the pandemic
Modified rules addressing ongoing circumstances include keeping wrestlers in pods of four during practices, with the wrestlers only able to touch and work with those people in that pod two weeks at a time. Wrestlers are also supposed to only work with one partner each day.
The schedule could still see more shakeups prior to and during the season. But the silver lining that Wampler has observed with this year's modified slate (as it stands) is that the Bulldogs now have the chance to slowly step into the Jefferson District, which Goochland will officially join next fall. The Bulldogs' current opponents this winter include Louisa, Orange, Albemarle, Western and Monticello.
Prior to official practices, which were slated to start Monday, there's been no physical contact between the wrestlers whatsoever. But they've still been able to work out together.
They'd meet twice a week, and on average, Wampler has had three to six wrestlers from the team – and not always the same people – show up once to twice a week to go for a run, do some sprints or go through wrestling drills like footwork without touching each other.
"I've been very grateful to the administration here with Goochland for helping us have some preseason opportunities," Wampler said.
And with the chance to work out again comes "a little bit of that normalcy."
"I think that was the most important part of this," he said. "Helping them just have an outlet . . . and also just having a chance to help them talk and just kind of be with each other, make stupid jokes, be there with me and just talk through life . . . it's something very special to wrestling."
And as virtual teaching continues, Wampler also enjoys the chance to get out there as a coach and work out with the team, too.
He's looking forward to letting his wrestlers know that he's there for them, and to working hard together with them throughout the day.
"There's some growth to be done, and it's going to take a couple years I believe, but we're going to start, and I'm really looking forward to being here for a while," Wampler said. "I'm a teacher here and I'm glad this has worked out the way it's worked out and I'd like to be here for a long time."