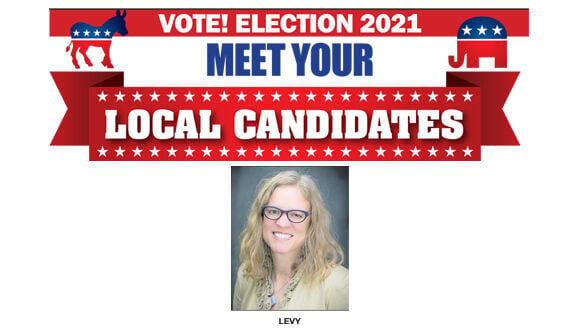 Virginia's 55th House of Delegates District encompasses parts of Caroline, Hanover and Spotsylvania counties. All 100 Virginia House seats are up for election this November.
The Local sent questions to both candidates seeking the seat, incumbent Hyland "Buddy" Fowler and Ashland resident and educator Rachel Levy. Both received identical questionnaires and provided diligent and responsive answers to the questions.
Editor's note: Challenger Levy's responses will run in Part I of this story, and Del. Fowler's responses will be published in the following week's edition.
A few words about why you decided to seek or continue public service. What motivates you to serve and why are you seeking election, re-election to the General Assembly?
Levy: First, the combination of my engagement in local and state government matters, volunteering with campaigns, and my life's work in improving public education made me realize that public service is my passion and my calling. Even when I finished my PhD, my first choice of a job wasn't to be an academic but to continue to be a public servant. I ended up back in the classroom, as a teacher, and it's been immensely valuable to me as someone who spent years studying education policy, school governance, and school finance. Because what can happen to people who go into research, policy, and administration is that they can forget what it is to be on the receiving end of policies they recommend, create, and promote. But I know what it's like on the ground—I experience it every day. And that perspective is sorely needed in the General Assembly.
Second, an important lesson I've learned from being a teacher about being a good representative and legislator is that I keep in mind that every student of mine is someone's child and worthy of respect and dignity. I care about my students and their learning unconditionally. I serve the public and that encapsulates my broader approach to public service: Every constituent deserves to be treated with respect and dignity, no matter who they are, what their background is, what the color of their skin is, who they love, what their gender identity is, how they worship or don't, what their abilities are, how much money they have, or how they vote. Every constituent deserves to be helped. My work is to help people, to make their lives better, and to make our community a better place to live for all of us.
Central Virginia, including Hanover, is experiencing a lack of broadband access. How can the General Assembly assist localities in solving these issues and how would you address the problem of underserved areas?
Levy: Voters across the board in the 55th, and especially in the rural areas, are disappointed with the lack of progress on broadband access. For some people, it's the issue they care the most about. I hear of so many broken promises and false starts—the situation with internet access is not only a technical problem, it's undermining our faith in our governing bodies and elected officials. First, I operate under the premise that high-speed internet should be treated as a public utility, just like running water and electricity. Pandemic or no pandemic, access to high- speed internet is vital to the teaching and learning process, to sustaining small businesses and economic development, to supporting residents who telecommute, and to access to virtual healthcare options. I support increasing funding to the Virginia Telecommunications Initiative to defray costs of broadband access.
I also support compelling electric utility companies in the 55th to do their part to provide broadband access and subsidizing internet access costs. Between the federal infrastructure bill, Governor Northam's commitment to spending $700 million on a statewide initiative to bring high speed internet across the Commonwealth, and localities', including Hanover's, new plans to address the lack of broadband access, it seems we have the will and the funding to make this happen. However, I pledge to go beyond pronouncements to tackle working out the logistics and building the infrastructure needed for high speed internet access. One idea I am very interested in exploring further is that of a public broadband utility that would be a partnership between local governments, broadband authority entities, and electric cooperatives. Private telecommunications companies have not deemed it profitable to install fiber optic cable to households in rural areas, nor are the services they provide affordable for residents, even for those who are willing to share costs. Hence, we need some sort of municipal-provided internet options that can work or compete with the private providers.
Although transportation funding has increased as regions search for alternative funding for new roads and infrastructure, it's still the top priority in many areas. How would you increase state funds to address local transportation issues?
Levy: I am well aware that the state has slowly decreased funding for roads in recent years and has left localities holding the bag. That needs to be reversed as it not only impacts roads and transportation initiatives but ultimately has a negative impact on funding for other local services. Otherwise, I support the establishment of the Central Virginia Transportation Authority that was created, how it's funded, and other entities like it—it's a step in the right direction and a great model. I also support greater state funding for expanding public transportation options such as rail, buses, and vans, and for expanding infrastructure that supports walking and biking. Finally, we need to better fund the greatest public transportation system we have in the 55th District: our school buses! The state needs to support modernizing to an electric school bus fleet, which would be less polluting and healthier for our students, and to support compensating our school bus drivers fairly and competitively. Federal infrastructure monies could and should be allocated towards such initiatives.
With a massive influx of federal money directed at towns and localities, some are saying this is the perfect time to address long-term issues like transportation, improved broadband, stormwater management. What are your priorities for the state and local funds headed our way from Washington?
Levy: Yes, I agree that federal funds coming our way should be used to provide access to high-speed internet to all residents and to bolster current transportation needs to expand public transportation options. As to stormwater management, as with transportation and in some cases education, there are well-intentioned state-issued mandates and requirements, but with inadequate funding to meet them. Unfortunately, SLAF (Stormwater Local Assistance Funds) are not sufficient to meet stormwater management goals and more funding is needed. I think that filling the gaps in stormwater management funding would be a great use of federal infrastructure funding. Funding stormwater management may be expensive, but as we've seen in the past few years, preventing flooding disasters is cheaper than recovering from them.
Is there an affordable housing issue in the 55th District? How would you address the lack of affordable housing and why do we hear so little about this subject?
Levy: Yes, there is an affordable housing issue in the 55th. It's an issue throughout the Commonwealth. Too many people in the 55th are spending more than the recommended 30% of their income for housing. It's a crisis. A few solutions I'm considering:
1. Tax code reform. Because of the way our tax code and financing for services such as public schools is structured, we are too reliant on property taxes and values. There's disincentive on localities to have affordable housing. We need to fix that.
2. Expanded rent and mortgage assistance for those in need. We're in the midst of an eviction crisis. But simply having a moratorium is not the answer; we need to provide direct assistance to those in need due to no fault of their own so that rent and mortgages are actually paid and not simply delayed.
3. More competitive compensation for working and middle class workers. It's a chicken or the egg thing. Let me explain: Habitat for Humanity housing is now being offered to public school teachers. I'm a public school teacher. I have a master's degree (I have a doctorate, in fact)—I should not be eligible for Habitat housing! I should be compensated competitively in the first place so that I can afford housing at market rates.
4. Expand and diversify housing options by providing more housing options in already developed areas including repurposing un-occupied malls and strip malls.
As to your second question, I hear a TON about this subject and have since I can remember. But I am a public school teacher in the district, a local advocate for the past ten years who goes to community meetings, and a candidate (and volunteer for previous campaigns) who has knocked on hundreds of doors and made hundreds of phone calls. If people feel like they haven't heard about this issue, I would suggest they consider who they are listening to because this issue affects many citizens in the 55th district.
List three pressing issues facing 55th District residents and localities and how you would address those issues.
Levy: 1. Broadband access! We must treat high-speed internet like a public utility, just like we do running water and electricity.
2. Over-development and encroachment on rural communities and mitigation from the impact of climate change. I plan to focus on protecting historic and vulnerable rural communities such as Brown Grove in the 55th District. I support facilitating more housing options in already developed areas including repurposing unoccupied malls and strip malls. I will explore different possibilities for establishing protective trusts for rural land. I also support expanding public transportation options such as rail, buses, and vans, and expanding infrastructure that supports walking and biking. And I will find ways to connect rural land owners with innovative ways of living off of their land such as production of bio-friendly products.
3. In majority rural communities, public democratic institutions like our public schools are popular and shared spaces. Everyone's got a stake in them. Across the board in the 55th, I see the need for more state funding and resources for public services: public schools, public safety, the courts and legal services, social services, healthcare services, transportation, and parks and recreation. These are services that touch ALL of us, that we all use and share. When these institutions are stronger and better resourced with public servants who are compensated fairly and competitively, then our communities will be stronger.
Do you think K-12 education in Virginia is adequately funded, and how can Virginia increase the state contribution to localities for education?
Levy: The state does not fulfill its funding obligations to our public schools. As a longtime teacher and educational leader with a PhD in Educational Leadership and Policy, I have a rare combination of policy expertise and practical classroom experience. I will work to make our public education system stronger and more equitable for everyone. Investments in our educational institutions are investments in our students and investments in our future. I support: Making sure the Commonwealth fully meets its educational funding obligations; raising the salaries of teachers and ALL other K-12 public school staffers including non-SOQ-funded positions; bringing the SOQs (Standards of Quality) in line with what it takes to properly educate our kids and fully funding any state-issued mandates; and. a state grant program for funding school infrastructure and facilities to modernize Virginia's crumbling school buildings.
One way to fund this is tax reform, so that the Commonwealth is accessing every viable and reasonable source of revenue possible, while removing some of the burden on the working and middle classes.
Do you support free community college for all Virginians, and why?
Levy: Yes. We must reverse disinvestment in our institutions of higher and continuing education and take the financial burden of Virginia's students and their families. I supported Governor Northam's program to make community college free for students who pursue degrees in high-demand fields, and I think it should be expanded to be universal and not limited to certain degrees or income thresholds. People say that community college shouldn't be free for higher income individuals, but they pay taxes, too, and should get the same benefits the rest of the public does.
Do you support the continuation of Medicaid Expansion in Virginia? Why or why not?
Levy: Yes, Medicaid Expansion helped an unbelievable number of Virginians. Providing healthcare lays such a solid foundation for everything else. I believe that healthcare is a human right and that no one should have to go into debt to preserve their or loved ones' health or lives. Students in families with access to healthcare come to school ready to learn. When young adults have healthcare, then they have freedom to be entrepreneurs or take on dream jobs. When middle aged people have healthcare, they can take better care of their children and their elders. I will work to ensure that we all have access to healthcare and that healthcare, treatments, and medications are affordable. As a mother of a child with Type 1 diabetes and a child with other disabilities, I know how important it is that ALL Virginians have access to the medications they need and access to health providers when they need them. I support broadening access to Medicaid by expanding eligibility. That being said, we must also expand provider capacity, especially for the provision of behavioral and mental health and medical disability services. Having health insurance doesn't help if there are not enough providers to meet healthcare needs.