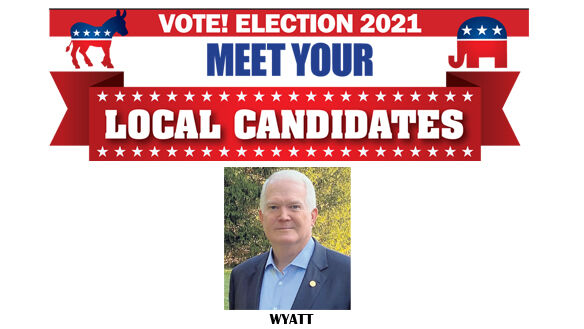 The 97th District encompasses all of New Kent County and portions of Hanover and King William counties and is currently represented by Del. Scott Wyatt, who has served since 2020. Wyatt is opposed by challenger Stan Scott.
Editor's note: Incumbent Del. Scott Wyatt's responses are presented below and challenger Stan Scott's answers will appear in next week's edition.
A few words about why you decided to seek or continue public service. What motivates you to serve and why are you seeking election, re-election to the General Assembly.
Wyatt: I have always believed in the importance of public service. We have seen the General Assembly veer drastically to left and abandon the policies that have served Virginia so well. We need a course correction. I am committed to fighting for the conservative, common sense values that make the Commonwealth a great place to live, work, and raise a family. The assault on law enforcement and Second Amendment rights, and a progressive, far left agenda from the current majority have posed a significant threat to our great Commonwealth.
Central Virginia including Hanover is experiencing a lack of broadband access. How can the General Assembly assist localities in solving these issues and how would you address the problem of underserved areas?
Wyatt: A large portion of the federal ARPA funding went to broadband expansion. I believe we could have allocated even more of the ARPA funds to broadband expansion in unserved areas. I believe it is incumbent on the General Assembly to continue to fund VATI at significant levels.
Although transportation funding has increased as regions search for alternative funding for new roads and infrastructure, it's still the top priority in many areas. How would you increase state funds to address local transportation issues?
Wyatt: I am opposed to increasing our gas tax and taxes in general. We must learn to live within our means and prioritize our spending to the core functions of government. Increasing our gas tax is especially shortsighted. Revenue streams from gasoline taxes have been declining as our vehicles become more fuel-efficient and we see an increase in the use of hybrid and electric vehicles. We need to provide funding directly to the localities who know best how spend funding for local infrastructure. The Smart Scale Program has not benefited localities in our district as significantly more road funding goes to Northern Virginia.
With a massive influx of federal money directed at towns and localities, some are saying this is the perfect time to address long term issues like transportation, improved broadband, stormwater management. What are your priorities for the state and local funds headed our way from Washington?
Wyatt: Unfortunately, Democrats did not allow Republican input when doling out the federal ARPA funds. I believe federal money should be directed to concrete investments that will benefit Virginians over the long haul. This includes money for our roads and bridges, broadband expansion, and funding for our law enforcement and first responders.
Is there an affordable housing issue in the 97th District? How would you address the lack of affordable housing and why do we hear so little about this subject?
Wyatt: Affordable housing remains a concern. We must balance growth with protecting Virginia's rural communities. These are issues I believe are best addressed by localities. Some communities may wish to expand high density housing, while others prefer a slower growth rate to preserve rural character.
List three pressing issues facing 97th District residents and localities and how you would address those issues.
Wyatt: Public Safety and support for our law enforcement, growing the economy and creating well-paying jobs, and ensuring our students receive the best education possible, where they are taught how to think, rather than what to think, are three pressing issues for the 97th District. We must continue to fund our law enforcement and stop the attacks on them. Additionally, we need to get back to policies that punish criminals, rather than reward them, and never forget the victims. Regarding economic development, we need to create an environment where businesses can flourish by reducing taxes and burdensome regulations. We must also protect Virginia's status as a Right to Work State. Finally, regarding education, we must get funding directly to the teachers and classrooms, rather than the educational bureaucracies. Also, we must focus on teaching the core issues, such as reading, writing, STEM, and the trade and technology centers, and not treat our classrooms as places for political indoctrination. CRT has no place for schools in the Commonwealth.
Do you think k-12 education in Virginia is adequately funded, and how Virginia can increase the state contribution to localities for education.
Wyatt: I support increased funding for public schools and teacher pay raises. Additionally, we need to continue to take steps to address the teacher shortage in Virginia. We must work to ensure we retain and attract the best teachers possible for our children. Ensuring funding goes directly to our teachers and the classroom is essential.
Do you support free community college for all Virginians, and why?
Wyatt: There is no such thing as "free community college." Taxpayers will bear the burden. I certainly appreciate and support any policies that would lower the cost of higher education. We need to continue efforts to bolster workforce development and pay special attention to vocational training. Not every student may wish to pursue a four-year college path. There are many excellent, well-paying, and rewarding jobs available, and I would like to continue to build on efforts to let our youth have access to these jobs, while expanding opportunities for apprenticeships and internships for high-school students.
Do you support continuation of Medicaid expansion in Virginia? Why or why not?
Wyatt: Opposition to Medicaid expansion without a work requirement is what drove me to run for the House of Delegates. Medicaid expansion is fiscally irresponsible and financially unsustainable. I believe Virginians should have the ability to shop competitively with their healthcare services, just as they would for other services. I support measures to increase transparency in healthcare, and believe we are entitled to know the costs of medications, procedures, and services up front. Allowing small businesses or trade groups to band together and purchase insurance at a cheaper rate is another great step. I will advocate for policies that will increase healthcare access, affordability, and options.