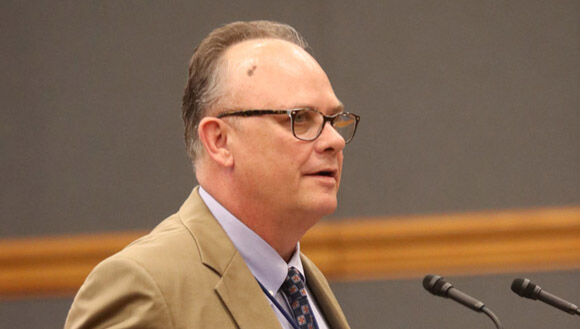 After a challenging year when passenger flights dwindled to a bare minimum and Richmond International Airport at times resembled a deserted convention hall, the facility is experiencing a hearty rebound as more Americans take to the air for vacations and business.
"The last time we came we were talking about passenger traffic and hoping to see some order of recovery, a trend toward traffic coming back to normal," director of marketing and Air Services for the Capital Region Airport Commission Troy Bell told Hanover supervisors as he began his annual update last month.
Bell said 2020 began normally with consistent numbers of passengers passing through TSA inspection points at RIR. "But then the bottom fell out with a declaration of a pandemic, emergency orders, travel restrictions, and it takes a long time before it starts to recover," he added.
How bad did it get? "Our lowest day was mid April of last year," Bell said. " We had through the course of a day at the airport about 250 people go through screening. They almost could have been screened one on one with the TSA officers who were employed at the time," Bell said.
At that time, Bell said he could look to the vast parking areas surrounding the terminal and could identify almost every vehicle.
"But, we did start to make a recovery," Bell said. "April went from 13,000 (2020)passengers to 33,000 (2021) and then we got in the summer and we started talking about a second wave or third wave of COVID…. and we didn't see it pick up much until we got into 2021, and specifically right around March," he added.
Bell said April is the perfect month to gauge the effects of COVID on the airport. "We have an all time record in 2019, about 372,000 passengers and …. and then dropped down to 13,000 passengers in 2020, a 97 percent decrease," Bell said. "2021 was the first month we were at least 50 percent back from pre-COVID levels."
By June of this year, passenger traffic at the airport was back to 83 percent of pre-pandemic levels. "In terms of recovery, it does feel like a recovery but we're not completely there yet."
The lack of traffic had tremendous financial impacts for the facility. When COVID struck, RIR had experienced increasing revenues for the three previous years. Revenues dropped more than 20 percent in the last quarter of 2020. "our expenses, however, didn't, so the gap between expenses and revenues was pretty narrow for us which had implications for the bonds we sell."
The impacts have continued in FY2021. They are expecting a 40 percent decrease in revenue from the peak enjoyed just two years ago. "We cut everywhere we could cut and it still costs a minimum of $21 million to run the airport," Bell said.
The improvement in traffic has enabled officials to devise a budget that Bell described as cautiously optimistic.
When the pandemic hit, the airport offered direct flights to 21 destinations but are emerging with 27 direct flights. "Airlines have been willing to do some experimentation," Bell said.
New direct flights like the one to Chicago-Midway have been long sought after by airport officials, and JetBlue is offering flights to Las Vegas and Los Angeles.
"Recently, we've added some new destinations with a new airline," Bell said. "We're going to New Orleans and Charelston for the first time," Bell said. Breeze Airways, the new carrier, also offers flights to Tampa.
"Breeze comes to Richmond with two unique destination that nobody previously served…. so we're very excited to see them come in," Bell said.
Cargo activity was not as heavily affected by the pandemic, and Bell said the facility reported 180 million pounds of cargo processed in FY2021.
"To put that in perspective, we had never previously in a fiscal year reported more than 150 million," he added. The additional cargo represents a 30 percent increase in cargo. Bell attributed that increase partially to the addition of another carrier, Amazon, bringing the cargo carrier total to three.
"We have benefitted from the rise of e-commerce," Bell said."they are moving supplies but they are also moving essential goods for consumers who in many cases are just as comfortable hopping online to order something as they are going out physically to a store," he added.
During the pandemic, additions were completed on Concourse A adding six more passenger gateways and seven new jetways, and improvements to lighting and HVAC in the concourse, a $35 million project. "With this we added about 60,000 square feet to the terminal complex," Bell said.
American Airlines began using the new facility in April, and Bell said temporary concessions will be followed by permanent facilities.
"What we hope to see is a balance between the two terminals, a lot of balance in terms of concessions and a lot of balance in terms of security screening," Bell said.
Construction projects underway or approved include a widening of the airport's perimeter road, a taxiway improvement, a Concourse B apron extension and the renovation of Federal Inspections Services (Customs) facility on the site.
Bell said the improved Customs operation could open the door for future flights to Canada and the Caribbean.
When the Air National Guard abandoned its facility at the complex, RIR inherited hundreds of acres of land on the eastern portion of the airport.
The industrial area is served by $40 million taxiway connected to the main runway. "We've done a lot of development to set the stagehand we believe there are additional good opportunities out there," Bell said.
Bell also had some important reminders for travelers using RIR this summer. By CDC order, masks are required on all flights and in all transportation hubs like airports, train stations and bus terminals.
Richmond International was the first airport in Virginia to earn the Global Biorisk Advisory Council's Star Facility Accreditation for its infectious disease prevention training, processes and protocols.
"We're paying more attention than ever to making sure we are running a clean facility," Bell said.
He advised passengers to be at the airport 90 minutes before their scheduled flight, and arrive at the gate 40 minutes prior to departure.
International travelers should research requirements for their destination since quarantine and testing guidelines differ.
"We're busy and pandemic protocols are still in place," Bell said. " TSA tells us they have the staffing to conduct the job, and I'll tell you that what we see there are some lines, especially early in the morning, so don't cut it close."
Wayne Hazzard, former Hanover supervisor, is chairman of the Capital Region Airport Commission, and Beaverdam Supervisor Bucky Stanley has served on the panel for decades.