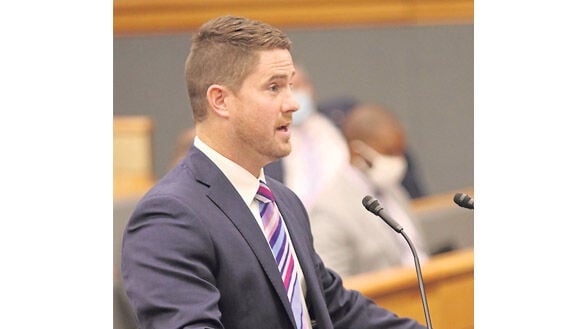 County economy bounces back after COVID
By every indication, Hanover's economy has reached full recovery mode only months after a devastating pandemic threatened to stifle growth and threaten the future of economic development in the county.
Economic Development Director Linwood Thomas presented the department's annual financial report to supervisors last month and listed a variety of developments that erase any doubt regarding the county's ability to rebound from the COVID-19 crisis.
During the past five years, the amount of assessable commercial land has increased by more than 20%, and it saw a 6% increase over the last year.
Thomas said the amount of commercial real estate in the Richmond area has skyrocketed, coupled with the fact that Hanover has added a substantial amount of product to its inventory.
"I think in the next 24 to 36 months you will continue to see these commercial assessed values skyrocket," Thomas said.
While most of the region has suffered through increased office vacancy rates, the county's rate of available office space has actually decreased, a positive sign for the health of the county's economy.
Hanover only accounts for about 3% of the available office space in the metro Richmond region, and the county's office space is largely dominated with medical-themed businesses that often rent before the construction is completed.
"We're seeing office projects relocating from everywhere from Washington to Boston to New York," Thomas said.
Regarding industrial space in the county, Thomas said there is finally some vacancies occurring, something he described as a good thing for the county's overall economic outlook. "It's nice to have a little bit of product to market," Thomas explained.
Another sure sign of economic recovery from the pandemic is the unemployment rate, which went as high as 8% in May 2020 and is currently around 4%.
Thomas said he attributes the quick turnaround to the nature of Hanover workers. "People in Hanover have more of a blue collar mentality and what we have seen is people going back to work, so continuing unemployment claims fell off faster than some other localities in the greater Richmond region."
While annual income rates did not increase last year largely due to the pandemic, the five-year trend is promising. During that period, annual income has increased about 16%.
The county has added about 1 million square feet of new product in the speculative and industrial space in the past year, and plans to add an additional 5.5 million square feet in the next 24 to 36 months.
"That is almost a 40% increase in our current offerings, which is really substantial," Thomas said, but added there's also a downside. "We are running out of developable site ready sites to market, so in the future we will have to address that at some point," he added.
Even with pandemic conditions during the past year, the county promoted more than 150 announcements and busness expansions, an increase of 42% from the prior year.
"We have enough data to show over the last three years the number of announcements we've had in capital investment associated with this. It typically takes 24 months for these projects to begin…. and I think over the next few years you're going to see our commercial construction permits skyrocket."
All of the positive news did not alleviate the fact that there were negative impacts during the pandemic, including the loss of 3,200 jobs, largely from companies forced to lay off employees.
"This is the first time that we've ever had a contraction in our labor market in 15 years," Thomas said. "We typically add net new jobs every year."
Surprisingly, about 9% of those jobs were lost in the health care industry. Thomas said national trends show many employees in that field are looking for other options. "Some were scared for their health and some others were probably overworked and under appreciated."
The warehouse and distribution sectors have enjoyed enormous growth in recent years, up more than 200% from the same time in 2016. "That's become our niche," Thomas said.
Although some sectors showed declines in job production, Thomas said the five-year trends for all of those categories are promising. "I think they'll rebound over the next few years."
New commercial growth in the past months also offers some promising signs for the future of the county's retail economy. New projects include Montpelier Villa, Wigwam Crossing and Kings Charter Commerce Center.
Major expansion projects currently underway include Hanover Foils and Owens and Minor. "They are both expanding their production lines this year. Both of those businesses are booming,"Thomas said.
Bon Secours is also in the midst of a 44-bed expansion at Regional Memorial, and ARC Natural Surfaces moved to a larger location on Leadbetter Road.
Thomas said a major part of his department's efforts involved business engagement and maintaining a good feel for what is going on in the Hanover business community.
In FY21, the department visited more than 150 county businesses and offered assistance to more than 670 of those operations.
That assistance came in the form of emergency resiliency grants authorized by the Hanover Board of Supervisors under the CARES Act. The program offered businesses affected by COVID-19 up to $7,500 in funding to offset those shortages. Hanover businesses received grants totaling $270,000.
"We are grateful to the Hanover County Board of Supervisors for recognizing the importance of supporting our local small business community through our CARES Act Resiliency Grant Program," Thomas wrote in his annual report. "These businesses are the backbone of our community, and it is nice to be able to help them recover some of the investment they have been required to make during the pandemic to continue their operations."
With more than 150 announcements of new businesses and expansions, the county is poised to continue a positive trend in economic development.
Code Blue Technology, Wegmans, ECC Test Lab. the ABC Districution Center and Anthem were among the many companies who announced projects or moved to new headquarters in Hanover last year.
Green Air Inc., The NEFCO Corporation, Anixter and Virginia Eye Institute also opened new facilities in Hanover during the last year.
"In just one year, Hanover's unemployment rate has almost returned to pre-COVID levels, and we still remain well below both the State and national averages," Thomas said. "New capital investment exceeded $63 million, which, again, was a record along with new business announcements totaling more than $140 million."