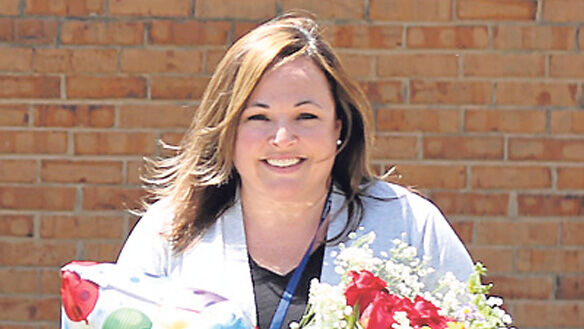 ASHLAND – Stacie Taylor, the Instructional Technology Resource Teacher at Bell Creek Middle School and the Hanover County Online School, has been selected as the 2020-2021 Hanover County Public Schools Teacher of the Year.
Taylor has served students in the county for 18 years, first as a history teacher and, since 2012, an Instructional Technology Resource Teacher, collaboratively planning with teachers, creating engaging learning experiences for students, co-teaching lessons, and working on division-wide projects, among other things.
She will now compete for the 2021 Region I Superintendents' Teacher of the Year award.
"I'm so thrilled, honored, and humbled to be recognized as Hanover's Teacher of the Year. It's a particular honor in one of the most complicated years for teaching and learning I've ever known," Taylor said.
She added, "I recognize that my work is a team effort: a team of classroom teachers, technology integrators, tech support, and instructional leaders. And the incredible flexibility, perseverance, and compassion our students, parents, and community members have shown has also been an integral part of this team effort."
Dr. Michael Gill, superintendent, made the surprise announcement Monday, April 26, outside Bell Creek Middle School as Taylor's co-workers and family cheered her on.
Taylor, an alumna of Longwood College and Longwood University, has had an especially impactful year, helping students in the new Online School, as well as with the implementation of the school division's one-to-one Chromebook initiative.
Dr. Quentin Ballard, Bell Creek Middle School's principal, called Taylor "an amazing educator who has a heart for kids and is a cheerleader for high-quality blended instruction."
"In a year where words like unprecedented, unfamiliar, different, non-traditional, and unique have all shaped a new normal in schools, Mrs. Taylor has played a pivotal role in ensuring all were prepared and able to educate students in both the face to face and virtual environments," Ballard said. "She successfully supported the deployment of devices to every BCMS student while simultaneously managing emotions, and training teachers, students, and parents on how to effectively use Chromebooks in and outside of the classroom. Ms. Taylor completed each of these tasks, as she does everything, with grace, enthusiasm, patience, and love."
HCPS employs roughly 1,400 teachers. Each year, the division selects one teacher for this distinguished award who is actively and meaningfully involved in the school and community and can serve as a role model and ambassador for teachers in the division.
Information submitted by Chris R. Whitley, Hanover County Public Schools public information officer.