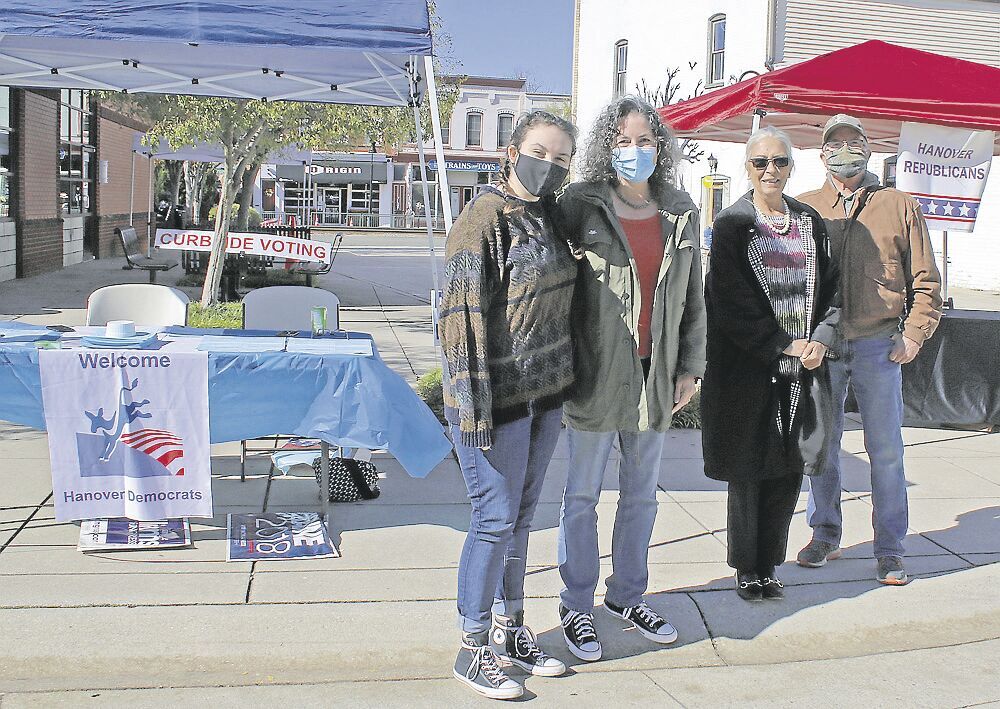 HANOVER – The aftermath of last week's General Election in Hanover County mirrors the national scene, with Democrats celebrating and Republicans claiming fraud.
On Saturday, Nov. 7, Democrat Joseph R. Biden was declared the president-elect after one of the most heated and highest turnout elections in recent history. He defeated incumbent Republican President Donald J. Trump in the Electoral College, 279-214. To win, 270 electoral votes must be received.
Turnout in Hanover County, according to Teresa F. Smithson, VREO, Director of Elections/General Registrar, was 86%.
In Virginia, Biden and his running mate Kamala Harris handily won, with 2,392,727 (54.1%) votes to Trump and Vice President Mike Pence's 1,961,775 (44.3%) votes.
With conservatives considered the majority in Hanover County, voters maintained that tradition by supporting Republican candidates. Trump captured 44,318 (62.5%) votes to Biden's 25,307 (35.66%).
Smithson, whose office saw a steady turnout with the early voting procedures, said, "Early voting in Virginia is here to stay."
Hanover voters took advantage of the process, with 32,133 casting a ballot by in-person absentee, and, Smithson said, "out of those voters, 3,140 voted from their vehicle. We had a team of over 90 fellow citizens serving the voters in those 33 days of in-person absentee voting in the Early Voting Center and 46 days of mailing out 12,457 and receiving 11,318 back. Election Day saw 27,374 voters go to the polls."
She concluded with, "Thank you to all the Officers of Elections that served!"
Daniel McGraw, chair of the Hanover County Democratic Committee, said, "Hanover Democrats are excited … thrilled ... that we won the presidency with President-Elect Joe Biden and Vice President-Elect Kamala Harris."
He also congratulated U.S. Sen. Mark Warner on his third term victory. "We are thrilled that Mark Warner will be our senator again ... one of the best senators in Washington. We are thrilled that Kamala Harris has shattered the glass ceiling in presidential elections, and has opened the door of top national leadership to women."
Dale Hargrove Alderman, chair of the Hanover County Republican Committee, echoed the sentiments coming out of the White House. "Unfortunately, there is a dark cloud over the presidential election of Donald Trump and Joe Biden, with results coming out of several states where it seems that there could be possible fraud in the compilation of the votes. It is imperative for our electoral system in this country that Donald Trump's campaign, whether he wins or loses in the end, be allowed to resolve the issues that presented themselves in the ballot count in these states."
"The election showed there is change afoot right here in Hanover County," McGraw said. "The numbers show it: In 2008, 18,294 or 30.9% voted Democratic. This election, 25,307 or 35.66% voted Democratic. I am very thankful for the many volunteers who delivered literature, phone-banked, wrote postcards, and delivered signs to help make this increase possible."
McGraw said Hanover Democrats "are making progress because we support healthcare that covers people's pre-existing conditions. We're making progress because we know the environment matters ... we have to face environmental issues that are devastating our country -- whether by horrific wildfires, an ever-increasing number of hurricanes and flooding, and other global warming issues. We are making progress because we all realize we must have a coordinated policy to handle COVID ... to stop it in its tracks. It's real, it's deadly, and it's tearing the fabric of our society apart. Most importantly, we have to heal from the past four years of division in our country."
"President-Elect Joe Biden's acceptance speech on Saturday was inspirational. Now that the election is over, we need to come together and meet people where they are," he added. "We have a lot more in common than we have differences. Let's work together to heal division in our nation, stop the spread of COVID, protect access to medical care and ensure pre-existing conditions don't disqualify Virginians from healthcare coverage. Let's take measures to protect the environment. Let's do it together."
Alderman said, "The election is now behind us and I am very pleased in the local results. Hanover County Republicans again proved that they will turn out in huge numbers in consequential elections."
Referring to Trump's allegations of voter fraud, she said, "To not resolve these issues is to risk the public's loss of confidence in the American electoral system. We cannot allow this to happen."
"One bright note for both political parties was the overwhelming support by citizens all across Virginia for Amendment 1, which will establish a non-partisan commission who will redraw the electoral maps based on the 2021 census for both state legislative and congressional seats," she said.
Jo Jorgensen appeared on the ballot for president as a Libertarian, receiving 1,103 (1.55%) votes. There were 239 (0.34%) write-in votes.
In the race for the U.S. Senate, Republican Daniel M. Gade got 43,893 (62.86%) of the vote in Hanover, while Warner received 25,864 (37.04%). Write-ins accounted for 69 (0.10%) of the vote.
For the District 1 seat in the U.S. House of Representatives, Robert J. Wittman returns to Washington, thanks to Hanover's 47,211 (68.21%) votes. Democrat opponent Qasim Rashid garnered 21,906 (31.65%) of the vote. There were 96 (0.14%) write-in votes.
Two Constitutional Amendments appeared on the ballot. Hanover's 37 precincts overwhelming approved both.
#1 Should the Constitution of Virginia be amended to establish a redistricting commission, consisting of eight members of the General Assembly and eight citizens of the Commonwealth, that is responsible for drawing the congressional and state legislative districts that will be subsequently voted on, but not changed by, the General Assembly and enacted without the Governor's involvement and to give the responsibility of drawing districts to the Supreme Court of Virginia if the redistricting commission fails to draw districts or the General Assembly fails to enact districts by certain deadlines? There were 49,072 (71.98%) Yes votes and 19,099 (28.02%) No votes.
#2 Should an automobile or pickup truck that is owned and used primarily by or for a veteran of the United States armed forces or the Virginia National Guard who has a one hundred percent service-connected, permanent, and total disability be free from state and local taxation? There were 61,849 (88.65%) Yes votes and 7,918 (11.35%) No votes.