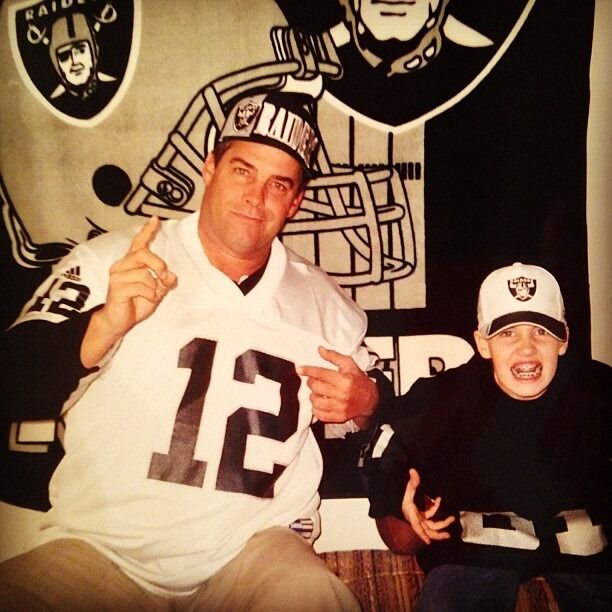 SHLAND — For Brock Buchanan, the date Oct. 12 has been a tough reminder of the day he lost his father to a rare form of cancer over a decade ago, but not this year, and never again.
The Mechanicsville resident decided that he wasn't going to let Oct. 12, 2020, be the day that made him upset anymore regarding the death of his father, Will "Web" Buchanan. Instead, he celebrated the life of Web with his father's friends all from Hanover County.
First, a little history: Brock Buchanan was named after his father's best friend growing up, Greg Malcolm Brock of Ashland, who was killed in a tragic accident while limbing a tree near a power line in 1985.
Besides the two making the front page of the local newspaper skinny-dipping in the South Anna River at Horseshoe Bridge while playing hooky from Patrick Henry High School, both can be remembered as frequenters of the Hanover Country Club (HCC).
In planning how he could best celebrate his father's life, Buchanan felt the light bulb go off in his head. He planned a golf tournament, the first annual "Web Buchanan Open" at HCC, and invited everyone who shared the same wonderful memories with his dad that he did.
"Part of this tribute was that my dad, Billy Doswell Jones, Greg Kelly, Rich Hynson, Brad Wickham and many of their friends got together as a group when Malcolm Brock passed away, and decided that they were going to throw a tournament for Malcolm, and it ultimately became the 'Brock–Mills Memorial Golf Tournament,' " Buchanan said. Most of Brock's friends referred to him by his middle name.
"A big piece of my inspiration was that my dad and his buddies created a golf tournament for their best friend who had passed away, so this tournament for me is my way of paying a homage to the Brock–Mills Memorial Golf Tournament, in honor of my father."
Web passed away in 2009 after a fight against Leiomyosarcoma (LMS), a very rare form of cancer.
"It's such a rare cancer that if you were to do a fundraiser for LMS, the money would only go so far in terms of how many people it can benefit," he said. "So, my father, being forward looking as he was, made sure I knew that his charity of choice is St. Jude Children's Research Hospital — he really believed in their mission and had so much respect for what St. Jude does."
The 2020 Web Buchanan Open raised $5,700 at the tournament. Afterwards, Buchanan was proud to report they received a few last minute donations from friends who couldn't take part, topping the fund off at $7,000 for the children's hospital, a success that he was very pleased about because he knows how happy that would make Web.
Team Greg Kelly took home the "Web Cup," after a cart-path only day as the rain came down, something Buchanan said would be typical of his dad: to get out there and play rain or shine.
The tournament kicked off shortly after 10:22 a.m., commemorating the high school jersey numbers of Web and Brock. Afterwards, everyone enjoyed food, games and plenty of raffle prizes, with all of the proceeds going to St. Jude.
Buchanan's mother, Carol Buchanan, reflected on the tournament, saying, "I am so proud of the hard work and effort my son put forth to create such a memorable event. It's a tremendous moment as his mom to see him honor his father and donate to such a special charity that was so dear to Web's heart. I know yesterday would not have been the success it was without the support and overwhelming generosity of family and great friends who battled the elements."
"Casie Buchanan Hathaway and Somer Raye Adkins helped so much to keep registration organized and set up everything needed for lunch and the awards ceremony. I guess what I'm saying is that we are so lucky to be surrounded by such a giving and caring community. I count my blessings for all that I have. It was certainly evident at the tournament," she said.
In addition to Professional Carpet Cleaning Services Inc. sponsoring the tournament as Buchanan's employer, he secured numerous corporate co-sponsors, including: Hanover Tool, Greenfield Building Systems, Ashland Physical Therapy and Dollywood, the amusement park in Pigeon Forge, Tennessee.
One point that Buchanan emphasized was the date of the tournament being on Oct. 12.
"The date was strategically chosen by me because that was the 11th anniversary of him passing away," he said, explaining that "Every year on Oct. 12, I just have an absolutely terrible day; it's just a slap in the face reminder that my dad is dead. So, taking that, and the gritting of my teeth for 11 years, I decided that I'm going to take Oct. 12 and commandeer it for something different. Instead of it being the day my dad died, it's now the day of the Web Buchanan Open."
Lastly, it's important to illustrate how much Hanover County meant to Web. Buchanan said his dad's favorite quote by George Eliot sums it up the best: "A human life, I think, should be well rooted in some area of native land where it may get the love of tender kinship from the earth, for the labors men go forth to, for the sounds and accents that haunt it, for whatever will give that early home a familiar unmistakable difference amidst the future widening of knowledge."