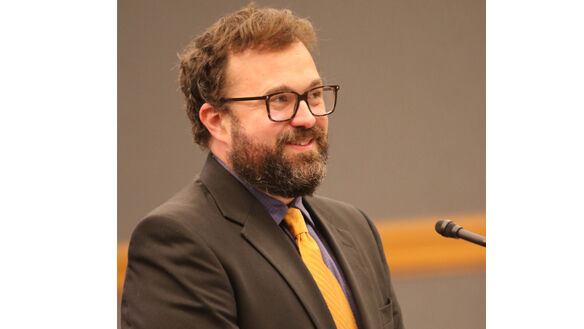 Planning Director David Maloney outlined a comprehensive approach regarding the 2023 Comprehensive Plan update and explained how county officials will gather a variety of opinions and suggestions surrounding important issues that will be addressed in the revisions at a board of supervisors meeting earlier this month.
Updating and revising the plan involves a long process that began last month and will continue until an updated version is approved in the summer of 2023.
Like all localities in the Commonwealth, Hanover is required to update the plan every five years. The county's last update of what is considered a blueprint for growth and development was completed in 2017.
"We believe we have developed a very comprehensive schedule as well as process for reviewing and updating this plan," Maloney said.
Maloney introduced consultant Will Cockrell, who will head the project. Cockrell is currently assisting with comp plan updates in Henrico County and Ashland and has a local connection to the project; he graduated from Patrick Henry High School.
"It's a pleasure to be back home," Cockrell said. "It's nice to come back home and have this opportunity."
He said naming project leaders and presenting a proposed timeline for community engagement and review are the first steps in the process.
Envision Hanover is the title of the review project selected by the community development committee and seconded by the board.
Maloney said that name will be used for branding the project complete with logos and marketing images.
"We felt like it was comprehensive and conclusive," board chair and chairman of the CDC Sean Davis said regarding the committee's selection of the name.
The planning director outlined a plan that seeks to offer citizens numerous opportunities to have a voice in what the 2023 plan will include or revise.
"There are going to be four phases as proposed for this citizen engagement plan," he said. 
The first phase will focus on identifying needs by holding four open houses across the county and provide citizens with surveys to gather input.
"We are also going to be participating in what we refer to as drop-in events," Maloney said. "Those could be anything from very informal encounters such as setting up a table with some information in a public location such as the library, to actually various community events where we will interact with residents."
Maloney said the goal is simple. "During that first phase we want to have as much citizen input as possible. I would be remiss if I didn't mention that as part of this effort we will be utilizing social media as well as developing a dedicated webpage for the project."
The second part of the plan involves establishing a community participation team (CPT). "In researching recent comp plan updates in from other peer localities within the state, we found that they have chosen to engage their citizens in a somewhat more formal manner," Maloney said.
The CPT would include each member of the planning commission and one at-large representative from each district. "Each of those citizen appointees would ideally would present a perspective for one of the focus areas, whether it be land use, rural strategies, transportation or economic development," Maloney said. "You'll see that we have inserted the CPT in every one of these topic areas — land use and so forth." He suggested two exceptions to that general policy, opting to use existing committees for transpiration and economic development.
"For all other aspects of the plan, sort of the initial vetting of the policy alternatives or recommendations after we have received citizen feedback at our community meetings, would be formulated by the CPT and brought back to the planning commission and, ultimately, the board." 
Phase III of the project will include a study of topical and focus areas to address all areas of the comprehensive plan from land use and economic development to housing and the environment.
"We are going to do deep dives… to focus on those areas," Maloney said.
The final phase of the proposed timeline again involved community feedback on the proposed plan. 
"Once we have a draft plan or outline of a draft plan, we go back out to the community with a series of open houses, surveys…. before we bring it to the planning commission or the board of supervisors for formal adoption," Maloney said. "Throughout every one of these phases of community engagement, both the community participation team, the planning commission and the board will be involved."
Maloney said the process will involve the entire community including citizens, governing bodies and advisory bodies.
He also provided a general outline of the proposed timeline for the project.
With an approved public engagement plan in place, meetings will be scheduled with individual board and planning commission members this winter to identify specific needs in each district.
Maloney outlined a schedule that provides opportunities for community engagement and specific periods of focus for issues that include land use, economic development, transportation and the environment. A draft plan should be available by January 2023 for review and adoption of the new plan is envisioned by August 2023.
Topics for consideration under the new plan include land use, economic development, transportation/active living, environment and historic resources and housing.
Davis said the citizen engagement team does not replace or remove the board's oversight of the process, but enhances those availabilities.
"It's designed to supplement and help us gather more information from different perspectives," he said.
The chair also said staff or board members would be available to meet with any group in the county regarding the update, including community or political organizations, faith-based groups or any community interest group.