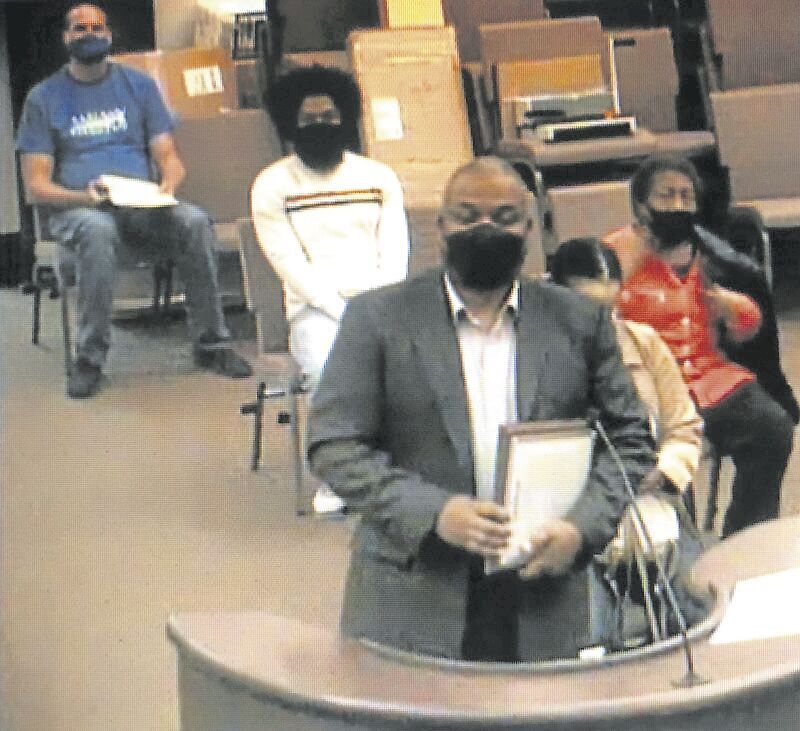 ASHLAND – Thanks to the collaborative efforts of the Ashland Barracudas swim team and the Town of Ashland, the summer of 2020 was not a complete loss.
During the Citizen Input portion of the Oct. 6 regular Ashland Town Council meeting, Kevin Trent, head coach of the swim team, praised the cooperation as he cited "a swim season like no other." He offered the team's "wholehearted support of the town," and said they "sought help from multiple health care professionals in the area" [while the nation continues to deal with COVID-19].
They also got the CDC (Centers for Disease Control) involved "to determine how to have safe swim meets for the teams."
Trent said to accomplish their goal there was a considerable amount of communication and Zoom meetings.
"The Town of Ashland and our team have always been remarkable partners but never a more collaborative partnership than this year," he added.
According to Trent, pool manager Anthony Crews "worked with the team to make the pool affordable and available for our players." Starting on June 15, there were daily temperature checks, 10-foot spaces in the pool, and more practices that were shorter in length.
Trent said 110 swimmers participated, including 28 new swimmers, as well as swimmers from four other programs. He noted, "Thirteen of our swimmers were second generation."
The support from the town, he said, continued through June and July. He offered his praise to the disciplined swimmers. "I never once heard a swimmer complain [about any regulations]."
"Every single kid that was with us wanted to be there," Trent said. "The steadfast help from the town made it possible."
In other business, Town Attorney Andrea Erard explained public records and meetings in Freedom of Information Act (FOIA) Training. She discouraged council members from using Facebook Direct Messenger and not writing notes on their agendas. "Any minutes you take, that's not so much of an issue; be mindful of the records that you create because they could be published in a newspaper."
She also told them that three members cannot "get together to talk about the budget or something to do with zoning or a matter that may come before council. That is not something you want to do. That's an illegal meeting – even if you don't have a vote or intent."
Erard did say that existing State Code does allow council to hold electronic meetings.
Mike Jennings, director of the Public Works Department, said striping in the Thompson Street-Hanover Avenue intersection is in the works, allowing for loading zones and a drop-off area for people dining at nearby restaurants.
He said the goal is to provide a clear, dedicated drop-off location, as well as loading zones, "so cars won't have to go around them in the other lane."
Council member Daniel McGraw asked if there had been any consideration as to turning that intersection into a one-directional road. "We hadn't thought of that," Jennings said, adding, "Hanover Avenue handles 1,600 vehicles a day."
Before any action is taking Jennings said his department would be in contact with restaurants that may be impacted and whether they wish to provide any comments.
In Presentations, Major Anthony Callahan was honored for his years of service with the Ashland Police Department.
Mayor Steve Trivett read a resolution from council, recognizing Callahan, who joined the department on Sept. 8, 1999.
Trivett pointed out that Callahan had amassed 891 hours of specialized training, as well as extensive training and education. He listed the major's timeline of promotions and that he had received 31 commendations during his tenure.
Mayor Trivett requested a Moment of Silence for the late Fred Stanley, who had resided in North Ashland, which is also known as LA (Lower Ashland). Stanley's service was held Thursday, Oct. 1.
"I appreciate the different personalities, perspectives of everybody in Ashland," Trivett said.
He said Stanley had an easement on some property where he would host neighborhood parties, including at Halloween, and arrange a visit from Santa Claus.
The mayor said Stanley was an example of "how people can give to a community from wherever they come from and whatever part of town."
Ashland Town Council will next meet at 7 p.m. on Tuesday, Oct. 20, at Ashland Town Hall at 101 Thompson St. in Ashland.