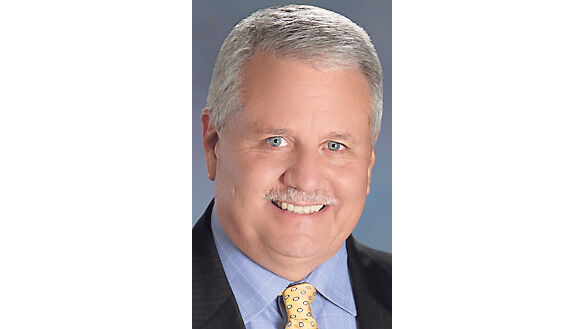 Broadband, marijuana issues highlighted in work session
Prior to last week's final Town Council meeting of the year, members met with Del. Hyland "Buddy" Fowler to review the Town's 2022 Legislative Agenda.
"This is going to be an active General Assembly session," Fowler said. "It's like everyone is trying to drink from a fire hose at one time," he added describing the hectic atmosphere as delegates draft bills for the upcoming session.
Fowler said there's no shortage of innovative ideas and programs to consider in the upcoming session, all considered with the mandate of a balanced budget. "That forces us to make tough choices. You have to say no to some really worthwhile projects."
"Broadband is a big issue," he said. "We've already stepped up getting more money in to the pipeline. In his proposed budget, the governor put more money in."
Fowler, a member of the Finance Committee, said he's concerned that last year's broadband allocations have yet to enter the market, and providing another large lump sum raises concerns.
"I'm not sure we can swallow all that money at one time," he said. He said he is committed to the state's plan to provide broadband to underserved areas within the next three to five years.
Fowler highlighted a number of issues facing legislators when the General Assembly convenes.
"A big challenge we have is health care," Fowler said. "One of the big things we're worried about is Medicaid and its reimbursement rate for healthcare workers. They are just not paying enough," Fowler said.
He focused on home health care workers whose compensation is, in his opinion, woefully lacking. "We can either pay now and increase the pay for these folks, or the patients get sicker and go to the hospital, racking up tens of thousands of dollars in bills."
Fowler said a key factor in maintaining vital programs is directly related to the state's healthy business climate and its ability to attract and retain viable businesses.
He said efforts to attract those good businesses is highly competitive in this region.
"We are competing with states around us that are a little more attractive than we are," Fowler said. "I don't like coming in second or third place…. I want Virginia to be in first place. So, we need to look at some things."
One of those things is legislation passed last year that in Fowler's estimation increases the cost of electrical power to customers in Virginia.
"One of the big things that attracts businesses to Virginia is No. 1, right to work law, and No. 2, cheap electricity. If we want to have less jobs, then we need to keep doing what we are doing."
Ashland's 2022 Legislative Agenda includes more than a dozen items and council members questioned Fowler on some of those issues including broadband,  pending marijuana laws and the relationship between towns and counties.
"I do think one of the economic issues facing businesses who want to locate here is data access," Council Member Daniel McGraw said. "Have you considered block grant funding for localities that already have plans in place?"
Fowler said there is money available for those grants, and "more is on the way," but cited the challenges involved in providing universal broadband coverage for the Commonwealth. He said the diversity of the state and its regional differences, rural vs. urban, present unique challenges. In some portions of the state, there are only three or four homes per mile, according to Fowler.
Council Member Anita Barnhart questioned Fowler regarding marijuana laws and how the Town could enforce those regulations.
"My hope is that we revisit the original law that was passed, because I have to tell you, I think it's a huge mess," Fowler said, noting that he voted against the legalization measures passed last year. "We have to go back and look at some things. The way it's set up, it's going to be an absolute disaster."
Barnhart specifically questioned the regulatory authority of the Town to enforce ordinances since they are located within Hanover County. 
"What we were looking for is the difference between a referendum in Hanover and a referendum in Ashland and whether or not we are bound by what the county does," Mayor Steve Trivett said.
"We gotta get that straight so people know what the rules are," Town Manager Josh Farrar said.
The mayor said the current law does not address the many issues associated with the passage and needs to be more thorough.
Fowler also had concerns with the current law and its staggered implementation during the next three years.
"I think it guarantees that we will have a thriving black market in marijuana," Fowler said.
Farrar also questioned the availability of training for officers who must deal with impaired drivers due to marijuana use. Driving under the influence of drugs "is a completely different thing and requires different training," he said.
Vice Mayor John Hodges asked Fowler to oppose the elimination of any funding sources that are vital to communities like Ashland. He said with pressing issues like COVID-19, it's important to maintain a locality's ability to raise revenues through measures like machine taxes.
Fowler said there is a need for tax reform in the Commonwealth. "Not all taxes have the desired effect we would like them to have," Fowler said. "I think we need to have a comprehensive look at it."
Council Member Kathy Abbott asked for clarification regarding the relationship of towns and counties and the unintended impacts of some legislation.
"Part of our legislative agenda is making sure that any laws created don't create that conflict between county and town, and that it is clear what kind of voice we can have," Abbott said.
Fowler said the Virginia Association of Counties and the Virginia Municipal League are tasked with researching bills that could impact localities, and "they do a great job of making everyone aware of what's going on."
Several members questioned the availability of beds and professional assistance for mental health patients and the need for increased availability of beds for these patients.
Fowler conceded the issue represents a major challenge for legislators. "We do need to increase the number of beds, so I guarantee you that's something the General Assembly will be looking at."
Abbott also reiterated the town's position in support of a high speed rail project, but clearly noted the desire for a two-track system through Ashland.
"I have to bring that up because you're here," she said.
Trivett addressed the issue of local control regarding several issues including land use and right of way.
"We are hoping that representatives in the General Assembly will respect the integrity of the Town with the decisions and challenges that we make," the mayor said.
"We're not saying we want to have all the say so, but we do, at least, want to be heard and be considered in the discussions," Trivett said.
Farrar summarized the council's position regarding this year's legislative agenda.
"Our main underlying message is let local officials make local decisions. The citizens will tell us if they don't like what we're doing and they'll make it loud and clear," he said.