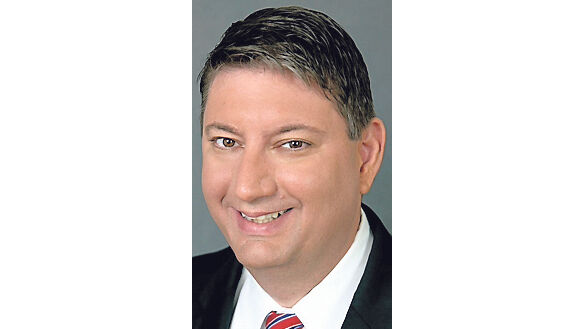 HANOVER -- Hanover County Administrator John Budesky unveiled a $510 million FY2022 proposed budget that continues the county's commitment to basic priorities: namely education, public safety, employee retention and capital and future planning.
The proposal represents a 6.8 percent increase from the FY2021 budget, or approximately $32 million higher than the current plan. Funding for the 2022 General Fund is $289.8 million, about 9 percent higher than last year.
Budesky presented his first budget recommendation since taking the job last year at a Hanover County Board of Supervisors meeting last Wednesday, and said, despite some unique challenges presented by COVID-19, the proposal addresses community needs and maintains current levels of service while maintaining the county's longstanding real estate tax rate of 81 cents per $100 of assessed value.
"It is extremely important that this budget reflects the interests and needs of our community," Budesky said.
"The budget is one of the key efforts we undertake each year to set the priorities of the county. We want to make sure that the recommended budget that we are bringing to you is our very best effort to address those concerns, aligns with priorities, and meets the needs of our community," the county administrator said.
Budesky said. "I always tell folks, 'If you want to see the priorities of a jurisdiction, look at the budget that's on file'."
While other communities have struggled to gain financial footing during the pandemic, Hanover County appears to have escaped devastating financial impact from the past 10 months. That doesn't mean there aren't many residents who have been significantly impacted by the pandemic. Budesky said the county's 3.5 unemployment rates tell only a portion of the story.
"Hanover's done fairly well in the region compared to some other jurisdictions, but the individuals in our community that are struggling are really struggling, and the businesses that are struggling are really struggling," Budesky said. "We have a-ways to go."
The recommended budget, according to Budesky, continues the county's conservative approach to the budget process, but this year's effort also contains flexibility that allows the county to pivot as conditions change.
"We have to be ready and be nimble and ready to make changes should financial conditions change for our residents or other areas of collection for the county."
Finance Director Lauren Null presented supervisors with a positive financial report earlier in the meeting that revealed some positive indicators regarding revenue.
Sales tax returns increased even with the pandemic challenges, and new construction trended upward in a strong housing market. The median price of a Hanover home is $358,000 and $274 million of new residential construction was recorded last year. Wages increased by 2.6 percent.
"Our main revenue sources, the real property, personal property and sales tax are actually doing much stronger than anticipated and is supporting our revenue projections," Budesky said.
Budesky's recommended budget prioritizes the importance of hiring and retaining good employees and rewarding ones who have served the county for numerous years.
"There are changing markets we need to respond to," Budesky said. "Certainly there is value in being a Hanover employee and being part of the Hanover community, but we are also making sure that we're able to retain and recruit the best talent locally."
To achieve that goal, the budget contains funding to increase the county's market competitiveness, provides merit increases, as well as a 2.5 percent across-the-board raise for all employees.
The proposal "attempts to recognize some needs that our public safety forces have" and Budesky commended Fire/EMS Chief Jethro Piland and Col. David R. Hines, sheriff, for their leadership during the pandemic.
The county administrator said hiring and retaining Fire/EMS and sheriff's deputies is becoming increasingly difficult and turnover rates are high in both departments.
Included in this year's proposal are market competiveness adjustments that will enhance salary increases beyond the 2.5 percent across-the-board increases.
Budesky noted that other localities in the region are taking aggressive steps to address salaries in an effort to attract and retain employees.
"This has to be a priority for us," he said. "We have the talent and the skillset we need to support us as a community, and we also want to attract and retain the best talent to make a career in Hanover County."
The 2022 proposal funds 14.6 new positions, 9.7 of those targeted for public safety and the others slated for Public Works, Social Services and the Registrar's Office.
The proposal also includes funding increases for schools of about $5 million over the current allotment.
"I think we are making major strides in this recommendation to address public safety and public education," Budesky said.
The proposed document funds two new school counseling positions, six elementary behavioral health support positions, and a positive intervention systems coordinator.
Budesky outlined a Capital Improvement Plan that funds $52 million of improvements in the coming year and spends $351 million in the upcoming five years.
Projects include roadway improvements ($7 million), a nagging funding challenge that has been aided by the county's entry to the Central Virginia Transportation Authority, which could provide additional funding a position the county to receive future grants. Included in that funding are major projects: improvements to Pole Green Road, U.S. 360 and Atlee Station Road.
Renovations continue for the Wickham Building and the five-year plan envisions the development of a park in the eastern portion of the county.
The -ear plan also funds a new fire station in the Mechanicsville area to replace #17, an upgrade to the station alerting system, renovations to the Courthouse Building that will add additional courtrooms, as well as $83 million for a number of public education projects.
Budesky noted a mounting number of capital projects facing the county in the future and said school and county officials will devise a 25-year capital needs plan during the next 12 months.
While the budget leaves in place the current real estate tax rage, water and sewer rates will increase slightly.
County planners also will begin a Comprehensive Plan Update scheduled for 2022, a blueprint that is vital for the county's future planning in Budesky's estimation.
"This is one of the most critical steps we will take for the future of the county, and we do this in tandem with our residents," he said.
The 2022 proposal allocates $1million aimed at implementing a plan that will explore broadband opportunities and seeks options that allow the county to partner with providers to increase coverage.
"The way we can do that is make sure we have proper plans in place and this money will further those initiatives and we can leverage other state and federal grants with our investment," Budesky said.
The county administrator said he is proud of the many that supported this year's budget preparation process and the final result."This budget is consistent with your priorities and the directions I believe I've heard from you … and what I've heard from our citizens," Budesky said as he completed his presentation to the board.
Sheriff David Hines, Chief Jethro Piland and Dr. Michael Gill also presented their detailed proposed budgets at last week's meeting. (The breakdown of those presentations will be included in upcoming editions.
The budget process continues with a workshop session scheduled for this week, and future presentations at upcoming meetings with an adoption slated for April 14.
A public hearing on the proposed budget is scheduled April 7.