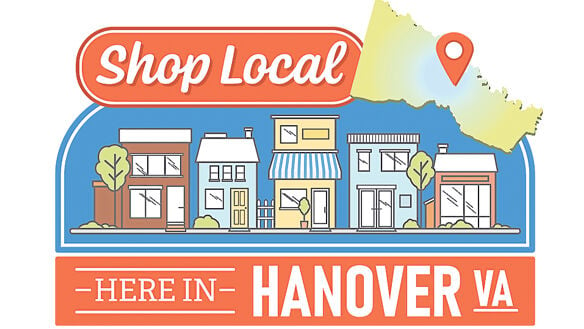 MECHANICSVILLE -- Hanover County is launching the Shop Local – Here In Hanover, VA campaign to commemorate Virginia Business Appreciation month, and to emphasize the impact that buying from neighborhood businesses has on the greater community.
Over the coming weeks, Hanover County's Department of Economic Development will showcase a variety of local establishments, as well as promote a weekly giveaway contest aimed at engaging residents to promote their favorite spots in the county.
This campaign recognizes the importance of supporting small businesses, the jobs they help create, and the culture they foster in our communities. To bolster this message, the campaign incorporates a Shop Local video, the Here in Hanover, VA App with listings of various businesses, as well as various marketing materials to display and use on social media.
"Overall, small businesses make up two-thirds of new jobs created nationally and almost 44% of GDP (gross domestic product). Locally, our existing businesses continue to be the backbone of our economy here in Hanover County and we are always looking for new and creative ways to support their growth and success. I encourage citizens to purchase locally when possible. These revenues support important community priorities, including our Sheriff's Office, Fire and EMS, Hanover schools, and our community-based services. As we roll out our shop local campaign -- I, and your entire Hanover County Board of Supervisors, want to personally thank our small business community for their investment in Hanover," said Chairman Sean Davis.
Individuals interested in following along with the campaign are encouraged to follow the Hanover County Economic Development Facebook page and the campaign's corresponding hashtag -- #HereInHanoverVA. By using this hashtag on any posts made to showcase a favorite local business, the community at large can follow along and find new establishments to visit and explore.
To view the Shop Local video and to obtain more information about the campaign, Facebook Giveaway Contest, and marketing kit, visit HanoverVirginia.com.
For questions on how businesses can get involved, contact the Hanover County Department of Economic Development at 804-365-6464 or email: econdev@hanovervirginia.com .
Information submitted by Angela C. Wright, marketing manager, Hanover County Economic Development.