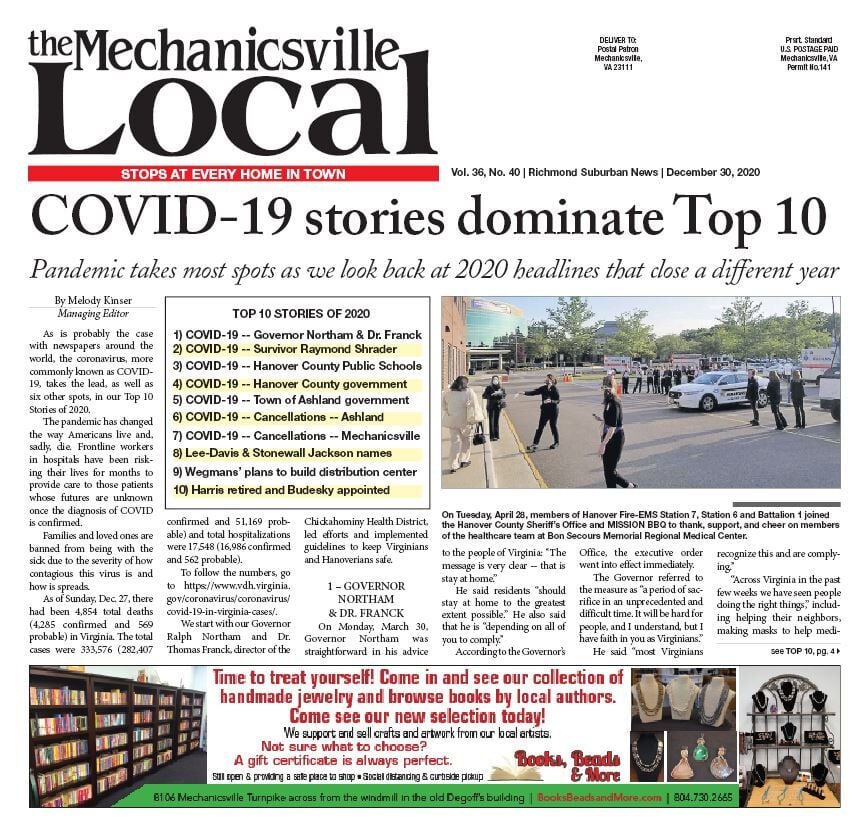 As is probably the case with newspapers around the world, the coronavirus, more commonly known as COVID-19, takes the lead, as well as six other spots, in our Top 10 Stories of 2020.
The pandemic has changed the way Americans live and, sadly, die. Frontline workers in hospitals have been risking their lives for months to provide care to those patients whose futures are unknown once the diagnosis of COVID is confirmed.
Families and loved ones are banned from being with the sick due to the severity of how contagious this virus is and how is spreads.
As of Sunday, Dec. 27, there had been 4,854 total deaths (4,285 confirmed and 569 probable) in Virginia. The total cases were 333,576 (282,407 confirmed and 51,169 probable) and total hospitalizations were 17,548 (16,986 confirmed and 562 probable).
We start with our Governor Ralph Northam and Dr. Thomas Franck, director of the Chickahominy Health District, led efforts and implemented guidelines to keep Virginians and Hanoverians safe.
On Monday, March 30, Governor Northam was straightforward in his advice to the people of Virginia: "The message is very clear -- that is stay at home."
He said residents "should stay at home to the greatest extent possible." He also said that he is "depending on all of you to comply."
According to the Governor's Office, the executive order went into effect immediately.
The Governor referred to the measure as "a period of sacrifice in an unprecedented and difficult time. It will be hard for people, and I understand, but I have faith in you as Virginians."
He said "most Virginians recognize this and are complying."
"Across Virginia in the past few weeks we have seen people doing the right things," including helping their neighbors, making masks to help medical personnel, teachers driving through neighborhoods to feel connected to their students.
Chickahominy Health District director Thomas Franck, MD, MPH, said on Friday, March 6, that the Virginia Department of Health (VDH) is monitoring an outbreak of respiratory illness, called coronavirus disease 2019 (COVID-19).
Franck, who also serves as the acting director of the Hampton & Peninsula Health Districts, noted that COVID-19 is caused by a novel (new) coronavirus.
"Cases of COVID-19 are being reported in a growing number of countries internationally, including the U.S.," Dr. Franck said. "The number of states reporting confirmed cases is growing "People who have traveled to locations where there are many cases of COVID-19 may be monitored by health officials to protect their health and the health of other people in the community."
"Many community members are wondering what they can do to stay healthy," Dr. Franck said.
"The best way to prevent COVID-19 is to follow the same steps we recommend for preventing the flu and other respiratory infections:
(1) Avoid close contact with people who are sick;
(2) Avoid touching your eyes, nose, and mouth;
(3) Stay home when you are sick;
(4) Cover your cough or sneeze with a tissue, then throw the tissue in the trash and wash your hands;
(5) Wash your hands often with soap and water for at least 20 seconds, especially after blowing your nose, coughing or sneezing, going to the bathroom, and before eating or preparing food;
(6) Clean and disinfect frequently touched objects and surfaces using a regular household cleaning product."
Dr. Franck pointed out that community members and physicians/care providers can contact their local health departments, including the Hanover County Health Department, at 804-365-4313.
Raymond Shrader of Mechanicsville is one of the lucky ones: He survived COVID-19.
"It felt like my head was going to explode." That's how he remembers the most excruciating symptom he was experiencing when he became a victim of the coronavirus.
"I didn't feel anything unusual Saturday morning. I was out running errands and by Saturday afternoon [March 28], I had to lie down because I suddenly started feeling bad."
He said he was in bed all day Sunday and knew that he would not be able to go to work on Monday. "I got my son to take me to my primary care doctor. They met me in the parking lot to refer me to Med Express to be tested for COVID." On Wednesday, April 1, he learned he tested positive.
"I was instructed to stay home and treat the symptoms and to go to the emergency room if anything got worse. By Friday morning, I was struggling to breathe and my son had to call 911. I was rushed to MRMC [Memorial Regional Medical Center]," Shrader said.
"All I remember in the ambulance was feeling like the driver was flying and the paramedic kept saying, 'Stay with me, Buddy! Stay with me!' I knew then I was in trouble."
The worst symptom he said he experienced when he was admitted to the hospital was "a raging headache."
On April 6, Shrader was moved to the Critical Care Unit. The following day, he was placed on a ventilator. "It was touch-and-go for a few days. The nurses told my family I was 'very' sick and the national average for COVID patients being intubated was two weeks."
"By God's grace, and with prayer from so many friends and family, I was extubated only three days later, which happened to be Good Friday."
Raymond praised the efforts of the medical teams that helped him survive COVID. "I had so many amazing nurses and doctors. One of my nurses told me I was the first one who had been intubated and extubated and left CCU alive."
Phase I of remote learning for Hanover County Public Schools went into effect when campuses were closed on March 13. With uncertainty dominating operations, administrators started planning for virtual classes for the district's 17,000 students.
Since that initial closing, the status has been constantly changing, while presenting daily challenges for educators trying to provide quality instruction.
Superintendent Michael Gill said there have were days where questions outnumbered answers, but he was proud of the way in which his staff reacted to an unprecedented crisis.
"Our teachers, administrators and support staff have truly risen to the challenge. Our curriculum staff has put together our virtual and package instruction to keep our students not only engaged but also to cover the material," Gill said.
Parents and students also were presented with a set of unknowns during the pandemic, with a myriad of questions regarding the future.
County officials also came to rely on the Governor's recommendations and the Virginia Department of Health's guidelines.
Phase II of the remote learning plan was initiated shortly after Spring Break and focused on required instructional guidelines.
Hanover's virtual learning efforts have been complicated by the lack of devices for all students.
The division was in its fourth year of a five-year technology plan that was to provide Chromebooks for all middle school students this fall, and distribute devices to high school students the following school year.
As for sports, Gill said all decisions are within the purview of the Virginia High School League (VHSL), and options are being considered.
The impact of COVID-19 on the school system's budget became significant to the Hanover County School Board in mid-April.
To avoid any contact, members and Central Office leadership held their meeting through the Zoom application. Upwards of 80 people attended the virtual session.
Terry Stone, assistant superintendent for Finance, told the board that initial estimates indicate the district is on sound financial ground and "on track" to return unused funds from the year (2019-2020) to the county's budget for use in the school's Capital Improvement Plan. The fiscal year closed on June 30.
Also, the school system pledged $750,000 to assist in offsetting the county's fourth quarter shortfall.
In early September, the Hanover County School Board met in a special meeting to request the release of more than $4.2 million in additional CARES (Coronavirus Aid, Relief and Economic Security) funding targeted for education.
On Tuesday, Sept. 1, the Hanover County Board of Supervisors asked how some aspects of the funding would be spent regarding temporary positions, but voted to accept the federal funding.
Some supervisors urged the school board to meet and approve the funding before the board's next scheduled meeting on Sept. 9. But school officials had earlier moved the date of their next meeting to Sept. 16 in order to accommodate an in-person meeting at the Administration Building.
That would have delayed release of the school funding by the supervisors until their Sept. 23 meeting. Since all CARES funding must be spent by the end of the year, the school board scheduled a special meeting to expedite the process and allow supervisors to finalize their approval at the upcoming meeting.
When school officials first learned of the possible availability of additional CARES funding, they submitted a preliminary request that totaled more than $7.8 million in requests. County officials notified Hanover County Public Schools that the additional allotment was about one-half that amount, or $4,290,000.
Supervisors approved a plan in late June that allotted more than $9 million in CARES (Coronavirus Aid, Relief, and Economic Security) Act relief funds to a number of county agencies that must be spent by the end of the year.
The federal funds are designated as assistance to be used for coronavirus mitigation or COVID-19-related projects such as installing sneeze guards or altering public spaces to allow social distancing.
Finance Director Jacob Sumner presented a plan that provided those physical updates, but also allots more than $6 million to Hanover County schools for their mitigation efforts.
The bulk of those funds will be used to purchase laptop devices for all students from third grade up to high school. Plans to distribute those devices during the next two years have been accelerated, highlighted by the need for remote learning highlighted during the recent crisis.
Following an assessment by County Administrator Rhu Harris that outlined more than $10 million in cuts to his proposed FY21 budget, the board of supervisors approved the revised budget by a unanimous vote in early May.
Harris highlighted a list of cost-cutting measures to compensate for lost revenues during COVID-19, including hiring freezes, delays in some projects, and the elimination of proposed merit increases for school and county employees.
The result is a 10.2% decrease from Harris' proposed budget presented in February. Supervisors approved a $478.2 million revised all funds budget that includes no real estate tax increase and no layoffs for current employees.
More than $6 million allotted for new parks, IT upgrades and improved lighting were removed from this year's proposed budget.
"Business closures and restrictions on travel and gatherings in response to COVID-19 had an immediate impact on the state and local economies," Harris said.
In addition to closing schools and disrupting the lives of millions of citizens, the coronavirus (COVID-19) crisis is having devastating effects on local businesses. Despite an array of government-based grants and loans, the challenges of surviving a total shutdown of the economy are significant.
In addition to attracting new business to the county, the Hanover County Office of Economic Development also is charged with supporting existing businesses in the county.
When news of the pandemic emerged, the agency began a robust effort to gauge the impacts and provide assistance to local businesses.
"Hanover County quickly moved to partner with ChamberRVA, along with our regional and local partners, to put together a survey that polled the businesses in each of our jurisdictions in the Richmond Region," Linwood Thomas, director, said. "There were over 550 respondents and Hanover County received about 40 responses directly."
Budget Director Shelly Wright updated the board of supervisors in early April on the financial impacts of the COVID-19 virus on the local budget, specifically a significant decline in revenue receipts.
"It's no surprise to any of you that the COVID-19 pandemic is having a devastating effect on both people and economies around the world," Wright said. "In comparison to the loss of life and suffering this pandemic has caused, the financial impact is much less important, but my job today is to help the board appreciate the financial impact."
With a statewide forecasted unemployment rate of 20% and businesses closed around the county, Wright said she has consulted with regional peers and county officials to revise and update impact projections.
"We had to settle on a set of assumptions that we feel are reasonable and we have done that," Wright said. "Given the life of the stay-at-home order and an appropriate amount of time for businesses and individuals to start to rebound, we assume that it will be close to the beginning of 2021 before people are financially back on their feet and retail sales have recovered."
That situation results, according to Wright, in a sales tax revenue shortfall for the final months of the 2020 budget and the first half of the 2021 proposed budget.
In addition to late payments on personal property taxes, Wright said real property sales also are expected to decrease.
Technology came to the forefront in early April for the supervisors, who welcomed citizen input in a public hearing through a new remote system that accepts public comment via email or voicemail.
The live-streamed meeting was plagued with technical difficulties that prohibited many online viewers from accessing the event live, a situation caused by the livestream provider.
In order to comply with Governor Northam's edict that citizens limit assemblies to 10 people or less, the board enacted the special measures in March in response to the coronavirus crisis, allowing citizens email and phone access to air public comments.
In an attempt to boost restaurants and breweries impacted by COVID-19, the Ashland Economic Development Authority agreed in October to help through an Outdoor Heating Assistance Program.
Joe Topham, the town's business retention and expansion manager, said the heaters will make using patios "livable" for November and December. "We can cover all the cost or most of the cost for them."
"I think it's a relatively modest step," he said. "We can help some of our restaurants, who, quite frankly, don't have a lot of cash right now."
He did point out that the funding is available to those restaurants and breweries that support the town's meal tax.
Topham said the restaurant or brewery seeking a heater "has to be current with all local tax and business license."
A question pertaining to assisting non-profits, the Ashland Museum or the Ashland Theatre arose. Topham said they must limit funding to ensure the $20,400 appropriation. That amount, he continued, would "cover each one (restaurants and breweries)" up to that now.
Each business would be eligible for $1,200 to purchase outdoor heating devices, up to a maximum of $300 per heating device.
How to disperse funds received from the CARES Act to small businesses dominated an early September meeting of Ashland Town Council.
Town Manager Joshua Farrar, who said the funding would be handled in the form of a FY2020-2021 Budget Amendment, said the town's first half of funding under the CARES Act of 2020 was $684,010. Those monies were received by Hanover County from Virginia. The county then provided that portion to Ashland.
Farrar said the county notified town staff in July about the second half.
Referring to the action as "very formal procedural," he said council would need to adopt a budget amendment and appropriate the CARES Act fund.
Farrar also said the CARES spending plan is similar but separate as to what was originally passed. He said the town will focus on business support, which was designated by the federal program trying to stay afloat during a pandemic.
He said the goal is "to support local governments in their responses to the pandemic." Direct dollars are being spent on PPE (personal protective equipment).
Farrar also noted that the funding is being utilized to "help your community engage in and live in a COVID-19 world."
With counties being the primary recipients of state funds, Virginia directed that "a fair share" be given to towns. Farrar said that was "the extent of the instruction. There is no real set formula on how that was to be distributed."
Saying Ashland has a "good relationship with Hanover County," he said the town portion – based on population – comes in two batches of $684,010 each.
In an effort to continue to meet local businesses' safety needs as phased reopening continues, the Ashland Economic Development Authority (EDA) approved in July a second round of $35,000 in funding for the Safety Enhancement Grant program.
"This is a critical time for many small businesses here in town, and we want to step up and support our business community as they navigate this challenging environment," said EDA Chairman Tim Shelton. "With town council's consideration to dedicate CARES Act funds to support this effort, we are able to take this additional step to make sure our businesses have the resources they need to safely open their doors to the public again."
Established by the EDA in May, the Safety Enhancement Grant program assists local businesses with the costs of reopening after closure or impact due to the recent State of Emergency declaration for COVID-19 and subsequent executive orders in response to the pandemic.
Designed in concert with local business owners, the program aims to be as flexible as possible to meet the needs of the diverse business community that calls Ashland home.
Grants are available to Ashland businesses for up to $2,000 to help cover the costs of supplies and materials needed to meet safety regulations set forth by the state and various trade and professional associations.
Due to concerns about the potential for community spread of the coronavirus, the Town of Ashland and Kiwanis Club canceled the Olde Time Holiday Parade. The announcement was made in early September.
This was the first time in 51 years that the parade had been canceled.
According to Ranny Robertson, parade chair, Kiwanis Club of Ashland, and Douglas A. Goodman Jr., chief of police, Ashland Police Department, the parade attracted over 110 units with 2,100 combined participants last year. Thousands of spectators lined the parade route in close quarters, sometimes two and three rows deep.
"In keeping with concerns over virus transmission and the current limitations of gatherings outlined in Governor Northam's Executive Order #67, we cannot in good conscience move forward safely," Robertson and Goodman said.
The Ashland Harvest Run 5K/10K, which was sponsored for 16 years by the General Federation of Women's Clubs' (GFWC) Ashcake Woman's Club, was canceled. It is a fundraiser to benefit local charities.
Woman's Club members agreed to cancel this year's event, but did decide to raise funds through a GoFundMe campaign. Recipients were the Arc of Hanover, We Are Unique, and the Hanover Interfaith Free Clinics organizations.
One of Ashland's biggest attractions – Train Day – was canceled due to COVID-19. Plans, however, are underway for "a stellar" event on Saturday, Nov. 6, 2021.
Maggie Beal Longest, director of the Downtown Ashland Association, said the organization "sadly reports that Ashland Train Day 2020 is canceled. This was a difficult decision for the Board of Directors, but one we feel is a necessary precaution in the face of COVID-19."
Another favorite in "The Center of the Universe," the Ashland Strawberry Faire was canceled. After months of behind-the-scenes planning, the board made the difficult decision to cancel the June 6 event.
"Based on local information regarding COVID-19 and its possible impact on our ability to hold the Faire, we decided to cancel it. It was a hard decision," President Sharon Chidsey said.
The Faire provided options to vendors already committed to the Faire, including rollover of fees, receiving a refund minus a nominal administrative fee, or a donation of all/part of the fee to be earmarked for the Hanover County Public Schools and Randolph-Macon College scholarship program.
The financial impact of canceling the Faire was expected to produce a shortfall of funds. This situation made it difficult to grant scholarships and keep seed money in the bank to start next year's Faire.
The board's solution: all board members would personally contribute to the scholarship fund to fill in the gaps.
Seed money for next year's Faire will stay intact, allowing for a healthy start to next year's Faire.
Dave Fuller and Bret Atwood, co-chairmen, found themselves in the difficult role of having to decide whether to move forward with the annual Mechanicsville Rotary/Ruritan Christmas Parade, scheduled for Sunday, Dec. 6, in the face of the coronavirus.
In a press release sent to The Local just before press time on Monday, Aug. 17, the two addressed "the difficult decision," pointing out the cancellation was "due to the uncertainty and risk of potential spread of COVID-19," as well as "the organization's concern for the health and safety of our loyal participants, attendees, vendors and volunteers."
The parade, which makes its way through the Village of Mechanicsville, is a favorite every year, bringing spectators from throughout the region to fill the streets.
Fuller and Atwood had released the following statement:
"The difficult decision has been made by the Mechanicsville Rotary Club to cancel the 2020 Mechanicsville Christmas Parade due to the uncertainty and risk of potential spread of COVID-19 and the organization's concern for the health and safety of our loyal participants, attendees, vendors and volunteers.
"We did not come to this decision lightly. We as volunteers spend countless hours planning, staging and working this large-scale, free community event. It is a labor of love.
"The Ruritan Club of Mechanicsville raises funds every year from sales of concessions for the Hanover Christmas Mother. Please take a moment of your time to donate to this amazing organization in the amount (or more) that you would have spent on concessions during the parade. Donations may be sent to: Hanover Christmas Mother, P.O. Box 39, Doswell VA 23047.
"Thank you for your understanding.
"Save the date for the 2021 Mechanicsville Christmas Parade, Dec. 5, 2021."
The No. 1 event in Mechanicsville – the Hanover Tomato Festival – also fell victim to COVID-19. Started in 1978 as a fundraiser by the Black Creek Volunteer Fire Department, the Tomato Festival brought thousands of people into Pole Green Park.
Now under the supervision of Hanover County's Parks and Recreation Department, the festival was canceled for the first time in its 42-year history.
On May 28, organizers said that the safety of the community was their top priority. They also assured Hanoverians and our neighbors that they remain committed to doing their part to protect all those involved with all Parks and Rec activities, and that includes those attending, the vendors, volunteers and staff.
Marcy G. Durrer, recreation program director, speaking on behalf of Director Greg Sager, said Parks and Rec said it was a "difficult decision to cancel the Hanover Tomato Festival, which was scheduled for July 10 and 11."
The Hanover Tomato Festival is a time-honored tradition and organizers said they look forward to seeing everyone at the 2021 event, which they say will be special.
As plans for the 2021 event are being made, go to the festival website (www.hanovertomatofestival.com), Instagram (@hanovertomatofestival), Facebook (@hanoverparksrec) and Twitter (@hanoverparksrec) as they plan for next year's event.
Honoring our veterans is a solemn ceremony in Hanover County. Every Memorial Day, a ceremony is held at the Hanover Veterans Memorial at Hanover Wayside Park to pay tribute to those who have served our country. COVID-19 struck again, canceling this year's event.
While unable to physically gather to honor the brave men and women who gave the ultimate sacrifice while serving our country, this Memorial Day tribute will be different than any other. Please take time to do something special with your family to recognize the importance of this holiday.
8 – LEE-DAVIS and STONEWALL JACKSON NAME CHANGES
After a lawsuit was filed, graduates throughout the years offered their opinions, and the school board debated the issue for at least two years, the names of Lee-Davis High School and Stonewall Jackson Middle School were officially changed to Mechanicsville High School and Bell Creek Middle School. The action took place in mid-October.
Henry District school board representative George Sutton voted against the middle school naming, while the Mechanicsville name was approved unanimously.
The school board budgeted about $500,000 last month to accommodate the changes.
On July 14, a recommendation was made to change the names of the two schools. A 4-3 vote – Sterling Daniel and Ola Hawkins making the motions with the support of Kelly Evko and Robert Hundley and nays from Sutton, John Axselle and Norman Sulser – for approval passed.
The latest efforts to change the long controversial names began in 2018 when school board members considered a petition seeking the changes, but voted 5-2 to maintain the status quo.
Hanover NAACP president Robert Barnette said the vote is a positive beginning in an ongoing conversation regarding equity. "The school names have been a symbol of inequality for the African American community. The decision by the school board today was long overdue and a first step towards racial justice in Hanover County."
Barnette and the Hanover NAACP filed suit against the school board in an effort to force a name change at the two schools, but Federal Judge Robert Payne dismissed that suit earlier this year, citing expiration in the statute of limitations.
After a two-hour closed session meeting, the school board returned to open session on Tuesday, June 23, and abruptly adjourned without taking action on the school name change issue.
Shortly before returning to public session, an announcement was made to phone listeners that the board would return to open session and amend the agenda to take action "regarding the school name changes."
Technical difficulties delayed that open session by about 30 minutes as officials attempted to re-establish contact with Evko and Daniel. After several unsuccessful attempts, Axselle, chairman, gaveled the panel consisting of five members, back into open session.
When the chair began discussing amending the agenda, Daniel and Evko reconnected, and Daniel moved for adjournment. Sutton and Sulser voted against the motion to adjourn, which passed 5-2.
Sulser questioned the reasoning for the abrupt adjournment motion, but board attorney Lisa Seward informed the chair that policy does stipulate that adjournment requests be acted upon without discussion.
Axselle and Gill, during an early June meeting, said racism has no place in the school division.
"As a public body, we are entrusted with serving and educating students from diverse backgrounds. Without exception, we remain united in our commitment to provide every child with the highest quality education possible in a safe, healthy and nurturing environment," Axselle said. "We believe that racism and hatred have no place in our schools, our community, or our society."
Gill added: "The division administration shares the board's belief that racism, hatred and any type of intimidation has absolutely no place in our school division. We share in the commitment to make that a reality; to continue to open lines of communication; and to build on our own understanding through dialogue, professional development and engaging in cultural competency and additional training for staff and students."
One of Ashland's most prominent citizens voiced his support to changing the names of the two Mechanicsville-based schools.
Former Mayor Jim Foley added his name to a growing list of Hanover County residents requesting a name change regarding two county schools named for Confederate generals or leaders. "I am here tonight to ask you to end this foolishness regarding the school names," Foley said during a public comment period at last week's meeting of the Hanover County School Board. "You cannot avoid responsibility and wait three to five years … Moral courage is difficult, but let's do the right thing now."
Foley acknowledged the courage of leaders like Dr. Martin Luther King Jr., who campaigned against segregation. "You have had the opportunity to show moral courage for the last several years and this board has failed," Foley said.
A dispute between a Rochester, New York-based grocery chain and residents near the intersection of Ashcake and Sliding Hill Roads continues before the board of supervisors.
Wegmans plans to construct a $175 million distribution center east of the Hanover County Airport off Sliding Hill Road. Residents oppose the development, claiming issues of traffic, process, safety, noise, and quality of life. The distribution center's proposed size is 1.1 million square feet.
A marathon meeting in early May went past midnight as opponents expressed those concerns.
More than 50 citizens provided either live testimony or email comments objecting to the project and its location in close proximity to several established Hanover neighborhoods. Many more attended the meeting and listened remotely from outside the meeting room. Wi-Fi also was available in the parking lot where opponents beeped horns and blinked lights in support of their efforts.
"The takeaway for us is that there are a couple of dozen key concerns that were documented that we are going to sit down and address and try to make this a project that's better for everybody," said Dan Aken, director of real estate and site development for Wegmans.
He said the company made the decision to locate the distribution center in Hanover County due to the proximity to Interstate 95 and the fact that the property was "already zoned".
Wegmans operates over 10 stores, the majority located in the Northeast corridor.
10 – CHANGES IN ADMINISTRATION
Had it not been for COVID-19, Hanover County Administrator Rhu Harris and his wife would have been spending their first leg of retirement at a tiny village in Belgium called Bruges, prepping for a trek to Amsterdam to enjoy the world famous tulips in full bloom.
"I should be somewhere in Belgium right now," Harris said with a smile in early June. It was a trip planned months in advance to celebrate Harris' decision to retire after 36 years of public service, the last 16 as county administrator.
All of those plans changed quickly. News of the COVID-19 outbreak and subsequent closures quickly put the barge/bike vacation on hold, and Harris vowed to stay on past his announced departure date to guide the county through unknown waters..
"I knew the county could use an extra set of hands, and John (Budesky) wasn't coming on board until July 1, so there was no reason to leave these guys shorthanded for that amount of time," Harris said. "The last 90 days have been challenging. I certainly didn't expect to coast out of the door, but I did not anticipate such a unique and fluid situation like the one we face now."
Thinking about leaving a place that had become home for Harris, the reality of departing didn't escape the youthful looking 62-year-old.
"These folks have become my family, so I know it will be tough to not be here around them every day," Harris said, referring to the administration and staff.
Harris planned a May departure date, but extended to address pressing needs of the county due to the coronavirus, including a shutdown of most county facilities with the majority of county employees working from home.
"I announced my retirement in November, expecting to depart in mid-May," Harris said. "I had intended to get the budget adopted; the BOS [Board of Supervisors] initiatives approved and get our major construction projects of the former District Court Building and the Atlee Library ready for opening before I handed off the job to the new county administrator."
Harris said he is in constant communication with incoming county administrator John Budesky. "His being here three years ago is an advantage because he is familiar with our policies and how we do things," Harris said.
Budesky talked about his new role as county administrator in August. His goal has been and remains to make a difference in his community. He previously served as deputy county administrator in Hanover for five years before accepting the top spot in Goochland, so returning to Hanover feels like coming home. He did point out that he never left and has lived in Hanover for the past 13 years, and his two children attend Hanover schools.
A native of Pittsburgh, he said he believes the second time around will be special, and he's right at home in his new position.
When he was part of Harris' team, Budesky was credited with overseeing and managing the massive courthouse project and initiating a project that provided livestreaming for all board of supervisors meetings.