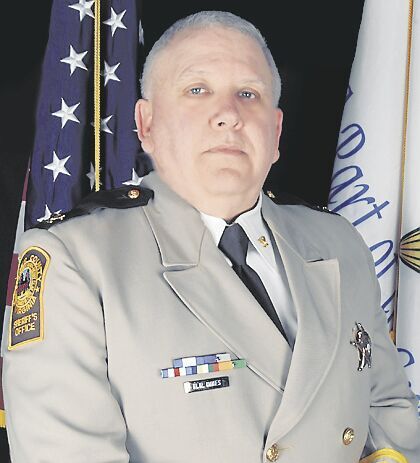 HANOVER – While much-deserved attention has been given to frontline workers in hospitals, deputies with the Hanover County Sheriff's Office also are among those who have been putting their lives on the line during the COVID-19 pandemic. But, that was all in a day's work for the HCSO before the word coronavirus became part of our daily conversation.
Last Wednesday, Col. David R. Hines, sheriff, pointed out that his department was able "to keep our crime rate the lowest in the region." In praising his officers and staff, he also credited "how hard our community works."
"We had a good year," he said of 2020, "with the lowest crime rate we've had in 46 years. And we were still able to carry a clearance rate of 67%, which is outstanding." This, he noted, was done "in the midst of the COVID pandemic."
There was a time when his department faced a shortage of PPEs (personal protective equipment), but Hines said they have "an adequate number now."
While it is a given that officers on patrol or responding to an incident are wearing PPEs, they also must make sure someone being arrested has on a mask.
Cruisers are equipped with wipes and disinfectant spray. "Then they have to disinfect the car; we have to do some things we never thought we'd have to do before," the sheriff said.
During his budget presentation before the Hanover County Board of Supervisors, Hines pointed out that "We don't get to stay home; we work through epidemics just like we work through snowstorms and hurricanes."
"We're so fortunate to serve the community we serve because it truly has been a partnership that we share with an entire community," he said.
When Hines succeeded Col. V. Stuart Cook he chose to keep the motto, "We're a part of not apart from our community."
He said his administration has built on that philosophy by adding a theme of "Strong partnerships create safe communities."
The HCSO also is involved with three community-based programs: Neighborhood Watch, Business Watch, and Worship Watch.
The sheriff also is proud of the success of Adopt-a-Senior and Project Lifesaver. With those, deputies are trained in dealing with seniors with cognitive disorders and children with autism.
Officers are knowledgeable in handling various scenarios that may fall under broader categories.
On a wider spectrum, Hines said a program was developed several years ago with his department and several other jurisdictions.
"We're one of the founding members with the Global Shield Network. We use that as an umbrella over all our programs," he added.
Civic organizations like the Ruritan Club and Rotary Club assist with communication efforts by providing another direct line to citizens.
Before any communication is released, Hines said it is vetted, and sometimes involves information from across the nation.
"The information that we're putting out is vetted from that jurisdiction where it happened and what affect it would have on Hanover County."
Using the word global in the title is literal, with law enforcement agencies from Belgium, Australia and New Zealand taking part.
Hines also applauds the leadership of Capt. Terry Sullivan with the worship program, which consists of 162 churches and 28 chaplains.
The chaplains are active within the communities they serve.
In a nation rocked by turmoil, often involving law enforcement officers, Hines said, "We're fortunate that we didn't get painted with that brush. Our citizens know and understand that we truly believe our motto. They believe it as much as we do."
"There's a national narrative – it's not happening here."
"I'm proud of my community, and proud of the people I work with," Hines said. "Every member of our community has worked hard to build this and we are part of that community."