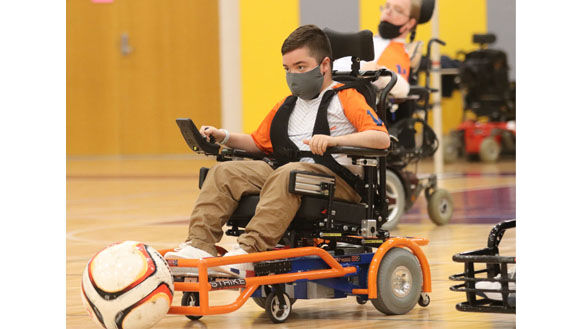 Sportable is an adaptive sports club in Central Virginia that provides an opportunity for athletes with disabilities to participate and compete in a variety of sports for both youths and adults. They fill a void that many are unaware even exists, but to a dedicated community of enthusiasts, they provide an opportunity to excel and pursue goals once thought unachievable.
Even more than that, it gives handicapped athletes the chance to feel just like the rest of us and enter a world where no one stares and even fewer take notice of physical disabilities. Sportable creates this special place through a dedicated staff, committed volunteers and compassionate coaches who administer programs in a variety of adaptive sports.
Founded in 2005, the club has served hundreds of adults and children with physical disabilities and provided them with a renewed sense of confidence and a willingness to look far past what they can't do, and concentrate on what they can.
The athletes who compete form valuable relationships and serves as a learning tool for the general public by exposing their talents.
It all adds up to what those who are acquainted with the club know as the Sportable Way, a special approach that embodies team spirit, integrity, passion and ingenuity.
And those lucky enough to attend these events always leave with a new understanding of people with physical limitations. They somehow gain strength and understanding by watching the enormous efforts displayed by these athletes. They marvel at the obstacles they must overcome to score a goal or sink a bucket.
More importantly, they realize that people with disabilities are no different than those without, which fosters a more inclusive attitude.
My son Jack has participated in power soccer for several years. Thanks to the kindness of many friends, he has a special chair designed just for soccer. It's his first season with the new chair and he's made good use of it.
Last weekend was my first opportunity to attend an event this season and get to see firsthand Jack and his new chair on the pitch. His team, The Hive, were taking on the perennial champs from the Tidewater area.
The game was exciting, but Tidewater's experience proved too much for the younger players from Richmond. But, in all honesty, there were no losers last Saturday. The real victory was achieved when the determination and courage displayed by these special athletes touched everyone in the gym.
Their enthusiasm was contagious, and it didn't take long to get the crowd involved as they applauded each fancy move, or perfect cross and exploded with each goal. It was a different type of elation as the audience noticed each action and acknowledged each one appropriately.
The excitement of the action was wonderful, but I couldn't help but notice the smiles on the faces of the players and the interaction among the participants. They routinely high fived or slapped each other's chair to congratulate their opponent on a nice shot or move.
It's a brotherhood and sisterhood of determination, and they don't waste any opportunity to show the rest of the world that they too can enjoy and prosper in competitive sports; and any other goal they choose to pursue.
It's a determination with purpose, or as Sportable likes to say, enthusiasm with intention.