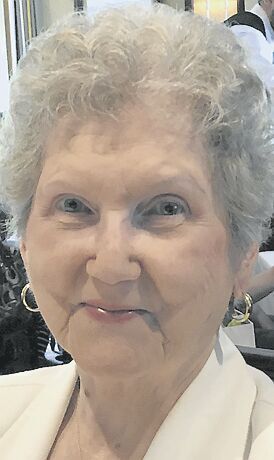 Yesterday, my mother, Hazel M. Kinser, was blessed to celebrate her 90th birthday. She doesn't look her age and she definitely is more active than her youngest daughter (that would be me).
She remembers World War II, saw classmates go to Korea, and her oldest daughter's classmates head to Vietnam.
She also knows exactly what she was doing the day President John F. Kennedy was assassinated in Dallas (helping other women in our church prepare chili for a hot dog sale).
She and Dad demanded I watch two men walk on the moon in July 1969. (I'm still not convinced, but I've said that before.)
She has never missed the privilege of voting in an election, including last week's historic and record-setting turnout.
Her memories are far too many for me to list, but I enjoy reminiscing with her about her father, my dear Grandpa, and the sacrifices he made for his family when he went underground for over 40 years mining coal.
He and my grandmother (who, sadly, passed away two years before my birth) moved to West Virginia from farming families. Both had limited educations, but that did not deter Grandpa from becoming a mine boss to provide a better living for his wife and five daughters.
Mom's parents insisted their daughters graduate from high school and they could not marry until they were 21 years old. About a week ago, Mom was talking about Dad asking Grandpa for his blessing to make Mom his wife.
He died in July 1992 after we celebrated their 40th anniversary with a party and rededication of their wedding vows at our home church in December 1991.
Side note: Dad's maternal grandfather was one of the founders of our home church.
We talk daily about Dad and my older sister, Robin, who passed away in 2011.
Mom stays busy at this amazing age -- and she is, overall, quite healthy.
She was the mom who car pooled before that became a common term. She was involved in the church women's ministry, woman's club, PTA, Girl Scouts, and received a two-year state appointment to the West Virginia Library Commission, courtesy of former Gov. Jay Rockefeller, and was elected to the West Virginia Retirement Board for a six-year term. As a reading and math aide in the county school system, she ended up serving two terms as president of the West Virginia School Service Personnel Association.
But, regardless of all the responsibilities she accepted, she was always available to Robin and me. My sister was the perfect child, highly intelligent, a voracious reader, never any trouble. And then there was me. Let's just leave it at mischievous and adventurous. We all survived my antics.
Most of all, Mom is a Christian. At the first of this unusual year, she decided she was going to read The Bible in its entirety. I don't know how many times she has done it, but she always comes away with a unique energy to her faith.
Before I started school, Mom had taught me how to read, write and count. (Readin', writin' and 'rithmetic.) This was to my advantage, except for the fact that my patience level never did exist. I was a real challenge for my first grade teacher.
When we knew we needed to move to the Richmond area as my sister's health declined, it was a given that we would share a home. I had been on my own for more than 30 years, but I didn't hesitate to welcome her as a roommate.
Mom had been taking care of herself for 17 years following Dad's sudden death.
As she heads into her ninth decade, I am the one most blessed at this time. And we are very fortunate to have the best son-in-law/brother-in-law in Michael. His support is priceless to us.
When Robin passed away, we "inherited" extended family, making mom "Grandma Hazel" to what are my nieces and nephews. And she is "GG" to the great-nieces and great-nephews.
In honor of my sister, Mom always buys the kids books. Robin would be so proud of Mom's devotion to these children.
Hope you had a great birthday, Mom! I love you! Here's to No. 100! What a party that will be.
Yes, God is good -- all the time!