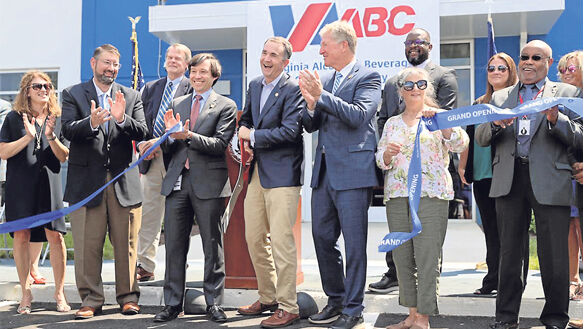 MECHANICSVILLE – Those traveling along Pole Green Road have watched a large state project come to fruition with the relocation of the Virginia Alcohol Beverage Control Authority to land near exits to the interstates.
On Monday, June 12, Governor Ralph Northam joined with state and local officials in cutting the ribbon on the new facility. Situated on 40 acres, the new complex includes a 95,000-square-foot three-story office building and a 315,000-square-foot distribution center. The latter is said to be expandable up to 399,000 square feet.
Ground was broken on the new location in February of last year, with a budget of $91 million. It is expected to be completed at that cost.
CEO Travis Hill said, "The completion of this project in Hanover County places Virginia ABC on a trajectory for growth and continued service to the commonwealth for decades to come."
"This location is ideal for servicing our 394 stores across the commonwealth and is accessible to our existing employees. Our new distribution center empowers us to be more efficient in how we supply our stores, resulting in better service to our customers and revenues to the commonwealth," he said.
"From conception to completion, this effort was inspired by the imagination and dedication of Virginia ABC employees," he added.
Joe Damico, director of the Department of General Services, said, "It's been a pleasure working with ABC to bring their vision to life, from the competitive process used to determine where the agency would relocate, to the land purchase, design and finally overseeing construction of the state-of-the-art facility they soon will occupy. This solid partnership exemplifies how agencies can come together to accomplish great things."
The Pole Green Road location will serve Region 5's Bureau of Law Enforcement office, which provides guidance to licensees and license applicants regarding Virginia's alcohol laws and regulations. In addition to Hanover County, the region includes Fredericksburg and the counties of Caroline, Essex, Goochland, King & Queen, King George, King William, Lancaster, Northumberland, Richmond, Spotsylvania, Stafford and Westmoreland.
John O'Connor of the Richmond Times-Dispatch contributed to this report.