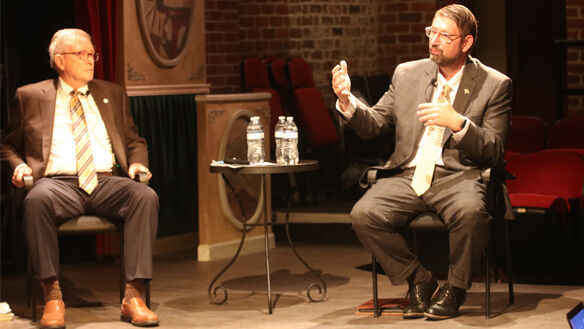 It was a glimpse into the past and a peek at the future as two Hanover County leaders gathered last week to discuss the county's past, present and future.
Hanover County Administrator John Budesky and Ashland Vice Mayor John Hodges engaged in that conversation at a forum sponsored by the Hanover Museum of History and Culture at Hanover Tavern.
Former Hanover school superintendent Dr. Jamelle Wilson moderated the discussion, a presentation that will be available for all via the county's website in the future.
Hodges brought a wealth of experience and knowledge to the discussion given his public service in both the Town of Ashland and Hanover governments. Budesky offered a sample of issues facing the county today and listed some challenges going forward.
"Where we've come from and where we go to is the subject of tonight's conversation," said Jaime Fawcett, director of Hanover's Museum of History and Culture. "Change is happening in Hanover County. Sometimes it's incremental and sometimes it's overnight."
"This is really a great opportunity for us to remember, to learn but also to think forward about where we are headed as a county," Wilson said as she introduced the speakers.
The Vice Mayor provided a brief history of a county that has, at times, struggled to maintain a mission of rural integrity while battling metro sprawl and residential/commercial development.
Hodges said one prevailing question arose frequently when he arrived in 1980.
"How can you keep Hanover Hanover and accommodate suburban growth," Hodges said.
He displayed a Comprehensive Plan map from 1972 and described the challenges facing Hanover at that time. "The Board of Supervisors (was) dealing with a lot of growth. There were annexation battles and a spike in residential growth as a result of people moving out of Henrico and the city."
Most of that growth occurred in the Mechanicsville area. A 1970 population of 37,000 had grown to 50,000 by the time Hodges arrived in 1980. "That was a big change for a very large and rural community," Hodges said.
He said the county was faced with two issues — where to put that growth and how to pay for it. They thought they had found an answer in the creation of a Mechanicsville Sanitary District funded by the issuance of general obligation bonds.
The county had projected that about 200 homes a year would connect to the new system, but a downturn in residential housing reduced that number to about 50 each year. "All the rosy projections of revenue they were going to get from connections went down," Hodges said.
The result, according to Hodges, was that citizens in Beaverdam and the Courthouse "paid to keep a sanitary, sewer district going in Mechanicsville."
"This was an excellent plan in concept, but it over developed the county in my opinion," Hodges said. It left the county in a position of still searching for methods to pay for the growth and maintain services for its population.
He noted the numerous changes since that time and the facilities that have been built including new libraries, schools and fire stations. Industrial development adjacent to Interstate 95 and the Airpark were the first efforts to raise revenues.
"They were sort of the initial seeds for planning development that would help pay for the services," Hodges said. He said those industrial development areas needed to be protected from residential development
Minus that industrial development, Hodges said the result was predictable. "If you allow residential development in areas that have the potential for commercial, industrial and office…. and allow residential development without a good land use plan that protects our tax base, then you've lost the ability to pay for the services. You'll have a rural community with a lot of residential growth and not many good schools," he said.
Budesky used that 1980 date as a starting point for his forward thinking remarks. "We've had more people move to Hanover County since 1980 than lived here for the 260 years prior," he said.
The Pennsylvania native said he'd heard the stories about being able to ride a pony from Route 360 to Sliding Hill Road. Although that isn't the case anymore, that rural spirit is still what attracts people to Hanover.
He said his motivation to seek a residence in Hanover was no different from the many who have moved here to seek a certain lifestyle.
"I wanted to be in an area that had the values of a rural community and all the things that go along with that lifestyle, but also the access to amenities," Budesky said.
Like other parents with children, he was also attracted to Hanover because of the quality of it school system, but quickly learned the area offered so much more in its unique rural nature and sense of community.
He joked about receiving calls from residents who say they moved to Hanover to get away from the hustle and bustle of the city, and then complain about being stuck behind a combine on a local roadway.
Balancing that lifestyle with the need for infrastructure and other services is a challenging task, according to Budesky.
"Those are issues we are going to have to face," Budesky said.
In 1982, the county identified areas suitable for residential and commercial development and would allow for connection with utility systems.
"We created the Suburban Service Area (SSA). Twenty percent of the county's land area was designated for suburban growth and density, and anything out of that was a planned rural area," Hodges said as he described the county's initial efforts to maintain the rural nature of the county while accommodating growth.
Guidelines for future growth were also established, including a goal of 70% residential and 30% commercial. "This is what the mix should be if you are going to keep your taxes relatively stable," Hodges said "You need 30% to be commercial because residential does not pay for itself in terms of services…. and commercial does."
Rural planning at the time depended on a minimum 10-acre lot size unless a developer could convince the Board of Supervisors that developments with more density could complement the rural nature of the county.
"Hanover has done its job in maintaining the rural character, growing at a level where our quality of community facilities is very high not only for SSA residents but the whole county," Hodges said.
Wilson questioned Budesky on perceived tension between a desire to keep the county rural and the need for maintaining quality services for its residents.
Addressing those issues is a paramount responsibility for local government, according to the county administrator. Besides planning and approving a more than $400 million budget to fund schools, public safety and other vital areas, Budesky said planning is the county's second most important task.
"We do that on a 10-year basis," Budesky said. "We are about to engage in the next 10-year planning effort…. but it really is looking 25 years out," he added.
"One of the questions I get asked often is how fast are we growing, because it looks like it's blowing up. It looks like I can't ride my pony from Route 360 to Sliding Hill Road anymore, and, in fact, you can't," Budesky said.
He said he usually hears over-inflated figures regarding how fast the county has grown in the past 10 years when, in reality, the actual growth rate is much smaller.
"Hanover County has grown 1% a year for the past 10 years," Budesky said. "Our growth plans have been actually a little over 2% a year in the currently adopted comprehensive land use plan."
He said the board uses the comprehensive plan as a guide but makes decisions based on what's in the best interest of the residents.
"It's a balance," Budesky said. "You want to make sure you are protecting the interests of those who are here. In the next two years alone, we are getting a new comprehensive plan, focusing on a long-range transportation plan, facilities plan, water and sewer utilities master plan and the county's economic development plan…. and we are going to do a 25-year capital improvement plan."
These plans are not compiled in a vacuum, according to the County Administrator.
"That process is going to be an engagement process. It's going to be learning from our residents about what they want that future map to look like," he said.
Looking forward, Budesky said it is vital to define rural in terms that fit into that balance. "Is it rural large lot subdivisions? Is it open green fields? That can be a little different for everybody," Budesky said.
He said often people move to Hanover for its rural setting, but still expect services like Fire and Rescue to operate the same way it did in the communities they left.
"As we manage that 1% a year growth we've had to grow the number of teachers, services and facilities," Budesky said.
Since 1980, the county has doubled in population. Maintaining service levels for public safety, education and the like during that period is a challenge for local leaders.
"We are a fiscally conservative community….but how do you balance that need for new capital investment and continuing to make sure people are paid competitively? We look at the balance on the service side and on the growth side," Budesky said.
He noted the importance of public input in this decision-making process and said the voices of Hanover citizens are heard and considered in each decision.
"They are an important part of the board's decision making process," he said.
Budesky conceded that all decisions will not always agree with community sentiment, but transparency in those decisions is essential to good governance.
"I told people when I got here that I may not be able to always tell you yes, but if I cant tell you why, then we have done something wrong."
He said citizens are becoming more involved in the process, requesting access to more material in order to make fully informed decisions regarding the county's vision for the future.
"It's the people that are going to drive this future."
Hodges reflected on his tenure in the county, both as an Ashland Town Council member, Hanover Planning Director and Assistant County Administrator, and graded those long-term planning efforts.
"We are still predominantly a rural county," he said. "We have shown over 50 years a continuity in policy…. and the fact that we've established policies and added areas to our SSA and tried to accommodate that growth and at the same time maintaining the quality of our rural areas has borne fruit in terms of making Hanover a great place to live. We have a good balance, and I hope we can keep it."
Budesky said half of his job is making sure the budget is managed properly and service levels are maintained or improved. "The other half is not screwing up the great things about this county. There are so many wonderful things we have to build on and protect," he said.
The event held at Hanover Tavern was co-hosted by the Hanover Museum of History and Culture and the Ashland Museum and is part of the county's continuing 300th Birthday Celebration.