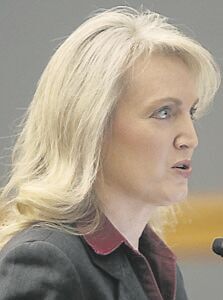 HANOVER -- Hanover County regularly ranks among the top when it comes to employee satisfaction and most employees will tell you the county is a great place to work.
Staffing and retaining that quality workforce isn't easy, and Janet Lawson, Human Resources director, is responsible for retaining and maintaining that workforce.
The job is made more difficult each year as neighboring localities increase salary compensations at record paces, tempting employees from other localities to consider a switch.
"Today, I will be sharing some of the challenges facing our workforce and also recommended investments within the FY22 [Fiscal Year 2022] to address these challenges and support our greatest asset — our workforce," Lawson told the Hanover County Board of Supervisors as she presented the Human Resources budget review for the upcoming budget at a meeting earlier this month.
Nearly 50 percent of the operating budget is allotted for benefits and salaries, and the FY22 proposal includes requests for 14.6 new full-time positions, most of them in the Hanover County Sheriff's Office and Hanover County Fire/EMS.
Remaining competitive in attracting and retaining employees is a critical mission for Lawson's department.
She said this year's problem has been exacerbated by record increases in Chesterfield and Henrico counties and the City of Richmond, with some of them offering packages that included substantial increases and more.
"It is important to note that historically we have been on par with Chesterfield and Henrico counties," Lawson said. "However, this current fiscal year has shown we are already behind both of them."
"While we are happy to provide this 2.5% merit increase, we are not keeping pace with our peers," she added.
Lawson said Henrico teachers are receiving at least a 6.9% increase in compensation and Chesterfield is investing more than $13 million for all public safety staff and up to 70% of the workforce will receive additional compensation. They also are investing $46 million over three years for schools with $25 million in FY22 for teachers and support staff.
Henrico is investing more than $58 million in FY22 for teachers and schools, representing an 18% increase with starting pay going up $6,000.
"Remaining competitive with our peers from a compensation perspective is critical to attract and maintain talent. We have known for several months that our competitors have dedicated significant investments in their public safety and educational staff," Lawson said.
Salary increases in the public safety and education areas in those counties could increase as much as $20,000, according to Lawson.
"We are already seeing a detrimental impact on our workforce as our employees are keenly aware of these pay adjustments," Lawson said. "As we expected, the impacts are already having a domino effect. This domino effect will only add to the challenges we are facing with our recruitment."
That combination of factors is hampering the county's ability to retain good employees due to retirements and resignations and applications for new positions also have decreased. It is imperative that we provide funds to compete with our peers," Lawson said "Otherwise, we are going to lose high-performing employees."
In an effort to combat those competitive challenges, Lawson proposed several steps to begin a process that enhances the county's ability to attract and retain quality employees.
Lawson said the 2.5% merit increases proposed in the FY22 budget are not on par with our peers but do include a $1.8 million increase for sworn public safety employees, coupled with longevity increases and starting salary changes. The FY22 proposal also allots $1.8 million to address teacher, support staff and bus driver increases. The plan included $3,500 increases in starting salary for sworn public service employees.
Even with the challenges, Hanover County employees will receive additional compensation contained within this year's budget, including the 2.5% merit increase for all employees.
"In addition to the merit increases funding for a performance incentive for our top performers, market adjustments for specific positions and funding for meeting increasing health care costs complete the proposed 2022 budget from a workforce perspective," Lawson said.
"Please keep in mind that these increases represent only a fraction of increases our peers are providing their employees," Lawson noted. "Without these investments, we would expect to see significant increases in turnover."
Lawson said her department will continue to conduct benchmark surveys, an annual review of all positions focused on starting salaries in comparison with others in the Metro Richmond area.
The most recent results revealed that 75 positions fell under that mark this year and required adjustment, and Lawson said neighboring localities have scheduled an extensive review of all non-public safety positions that will result in more adjustments in 2023.
"This could have a significant impact on our workforce, especially next year," Lawson said.
In addition to the 2.5 percent merit pay, the top 15 percent of county employees will receive performance awards "to promote and award exceptional performance."
The county's proposed 2022 budget continues to fund healthcare coverage increases for its employees, a benefit to more than 80 percent of county employees. Premium increases were actually lower this year due to a reduction in claims.
Lawson lauded the hard work of county employees during the pandemic and indicated, despite the challenges, Hanover remains a destination point for perspective employees.
"Hanover County has always had a reputation of being an employer of choice as evidenced by our high performing workforce and survey results," Lawson said. "We are fortunate to have a loyal workforce who consistently demonstrate consistent customer service to our citizens and those who conduct business here."
Lawson said the county receives applications from all areas seeking employment in Hanover County due to that excellent reputation. She noted the quality of the county's employees allowed the workforce to transition quickly to COVID challenges and maintain county services during a difficult period.
"Their resiliency and dedication are some of the many qualities that make Hanover county a great place to work," Lawson said.
"I want to remind everyone how this past year has presented numerous challenges from the COVID pandemic to competing peer market adjustments on a very large scale. However, our employees have consistently remained dedicated and committed to their jobs as public servants," she said.
Investing in those employees renews the county's promise to service excellence.
"This budget demonstrates our appreciation through investments in our workforce," she said. "We believe by investing in our workforce we will promote our commitment to service…. and demonstrate our greatest asset is truly our workforce."