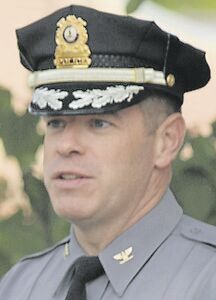 ASHLAND – For the first time in his 13 years with the Ashland Police Department, Chief Douglas Goodman presented the Police Medal to Investigator Jason Helmlinger "for confronting an armed individual in such a way that it led to a successful conclusion with preservation of life."
Goodman said the Police Medal is awarded to an officer who places himself "in great personal danger." In April, he said a subject was attempting to break into vehicles when Helmlinger, who was in the area in plainclothes, stopped and put on his (Kevlar) vest.
Upon reaching the location, he encountered an "individual hallucinating, exhibiting signs of paranoia."
Goodman said Helmlinger has undergone a "high level of technical training to control this situation." He was able to provide a safe conclusion for the suspect, innocent bystanders, and himself.
Helmlinger was among the officers recognized during the Tuesday, Oct. 20, regular meeting of Ashland Town Council. Officers are honored by Chief Goodman on a quarterly basis.
Also receiving awards were:
l Lifesaving Award: Officer Alex Cofield and Officer Chip Watts for responding to an overdose.
l Lifesaving Award: Officer Paul Stirnaman and Deputy Shayna Perlstein for responding to an overdose. Goodman noted "on March 27 and about six weeks into our pandemic, Perlstein did not hesitate to jump in and save the life of a person she had never met."
l Unit Commendation: Investigative Unit for long-term drug investigation. Fentanyl was among the drugs recovered.
l Excellent Police Duty: Investigator Adam Aigner and Investigator Jaime Hanlon.
l Excellent Police Duty: A/Major Troy Aronhalt, A/Captain Marie Kemp, A/Captain James Shelhorse, Sergeant Ethan Hicks, Officer James Spada, Officer Bryan Smith and Investigator Jaime Hanlon for their team-based response to a familial abduction.
l Excellent Police Duty: Officer James Spada for his role in the response and attention to care for an overdose victim. In addition, Officer Bryan Smith, Investigator Jacob Brackett, Officer Paul Stirnaman, Sergeant Ethan Hicks and Deputy Shayna Perlstein each earn a Certificate of Commendation.
In other business, Mayor Steve Trivett was recognized as being named town section chair of the Virginia Municipal League (VML).
Council unanimously adopted a resolution pertaining to an easement and agreement with Bill McElroy whose business, Slipped Disc recording studio, was encroached upon with renovations by the Ashland Theatre Foundation.
Town Attorney Andrea Erard said the Foundation "felt it appropriate to try to make it whole and give him an easement as well as a dedicated easement entering his property from the rear." There also was an overlap when the roof was redone.
The resolution provides for the access easement, as well as an agreement between both parties that outlines additional roles and responsibilities as current and future neighbors.
With an amendment to the height of freestanding signs, council unanimously approved the clarification of residential subdivision monument signs.
Nora Amos, director of Planning & Community Development, said the number of signs per lot would be limited to one. Monument was defined as a solid structure made of brick, while freestanding is a sign not attached to a building and supported by uprights, brackets, poles, posts or the similar foundation material in residential districts.
She said the Comprehensive Plan addressed "how signs can be used to be aesthetically pleasing. Most subdivisions want to have their own sign, this will encourage them to limit the number of signs they get."
The Ashland Planning Commission recommended approval in September.
Vice Mayor John Hodges brought up the issue of 8 feet being too high, and recommended council consider 6 feet in the residential district for freestanding signs.
As the relocation to the new Ashland Town Hall approaches, Mayor Trivett suggested a moment of silence for "all of the focus of the community that has happened in this building."
Council went into closed session to discuss, consider, and interview prospective candidates for appointments to the Ashland Economic Development Authority pursuant to Virginia Code § 2.2-3711(A)(1).
The next meeting of Ashland Town Council is scheduled for 7:30 p.m. on Tuesday, Nov. 3.