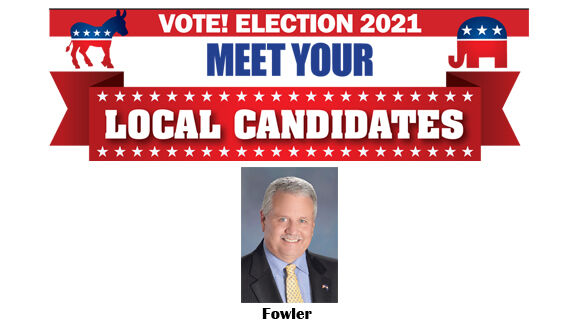 Editor's note: Challenger Levy's responses ran in Part I of this story, and Del. Fowler's responses are published below in Part II of this series.
A few words about why you decided to seek or continue public service. What motivates you to serve and why are you seeking election, re-election to the General Assembly?
Fowler: Initially, when the 55th House district became an open seat, hundreds of citizens encouraged me to seek the office. With that in mind, my wife Patsy told me it was time to step up! From then to now, citizens continue to encourage and support my candidacy and (that) is one of the reasons I am seeking re-election. The other reason is that I want to support and adopt legislation that maintains our individual freedoms, that keeps our taxes low, that maintains a positive economic climate for our citizens and job creators, that maintains public safety, and, finally, that fosters an educational system that teaches our students how to think and not what to think.
Central Virginia including Hanover is experiencing a lack of broadband access. How can the General Assembly assist localities in solving these issues and how would you address the problem of underserved areas?
Fowler: Over the last several years, the Virginia General Assembly has appropriated hundreds of millions of dollars for the expansion of Broadband services in Rural Communities. The General Assembly has also encouraged "public-private" partnerships which is now coming into fruition in Hanover County, as well as many other areas of the Commonwealth. We witnessed the challenges of "virtual education" in our Public Schools that our students faced during the COVID-19 pandemic due to insufficient internet service. In addition, economic development in our rural areas also requires Broadband! This is in the process of changing. Finally, I have continually supported funding for Broadband expansion and will continue to do so.
Although transportation funding has increased as regions search for alternative funding for new roads and infrastructure, it's still the top priority in many areas. How would you increase state funds to address local transportation issues?
Fowler: The General Assembly passed legislation that created the Richmond Metropolitan Transportation Authority, of which Hanover County is a member. This Regional Authority allows the members to "tax themselves" and has already increased fuel taxes on Hanover County. I supported the creation of the RMTA. A year later, the General Assembly passed a statewide fuels tax, (which I did not support). Given this recent legislative activity, I do not believe a further tax increase on our citizens is warranted.
With a massive influx of federal money directed at towns and localities, some are saying this is the perfect time to address long-term issues like transportation, improved broadband, stormwater management. What are your priorities for the state and local funds headed our way from Washington?
Fowler: First, it is important to note that these Federal funds are "one-time" appropriations and therefore shouldn't be used for establishing recurring financial obligations. The funds that we have received have been used for stormwater management and for expanding Broadband, which are both infrastructure investments. These funds have also been used to address educational, housing, and employment/business expenses associated with COVID-19. I supported these expenditures.
Is there an affordable housing issue in the 55th District? How would you address the lack of affordable housing and why do we hear so little about this subject?
Fowler: I think that one reason we hear so little about affordable housing is that the 55th District has a very high rate of home ownership already. First, "affordable" is a normative term that can change depending on the individual's financial situation. Nevertheless, "affordable" housing is an issue facing many areas of the Commonwealth including the 55th District. Affordable housing is also a complex issue based on many economic factors including supply and demand, available inventory of building lots as well as the inventory of existing homes. In recent years, home construction costs have also skyrocketed based on environmental regulations, and new building/construction codes. Now add the current shortage of building materials and available labor! Every one of these factors add layers of expenses that increase the cost of housing. In fact, a homebuilder/homeowner can assume over $100-$150 thousand in expenses on the building lot, proffers, and water/sewer expenses before the foundation is even laid! Given this reality, it is nearly impossible to build a new home for less than $350-$450 thousand dollars. These prices also drive up the cost for the purchase of a pre-owned home. Clearly all of these factors must be addressed to lower costs.
List three pressing issues facing 55th District residents and localities and how you would address those issues.
Fowler: I believe the most pressing issues in the 55th District are expanding Broadband, public education, and increasing access to quality healthcare. I believe we are currently addressing Broadband by encouraging public/private partnerships and providing millions in grant money for qualifying projects. I believe that our public schools provide a quality education, however we now have some serious issues that must be addressed. COVID-19 wreaked havoc on our public education last year, and the SOL test scores revealed a problem, which is that our students need to be in the classroom. I am so proud that of all the school systems in the state only one offered in-person classroom instruction all year, Hanover County Public Schools! There are still those who call for the schools to shut down. This would be a mistake. Hanover County has proven that classroom instruction is not only possible but is essential for student achievement. Finally, there is the issue of including "Critical Race Theory" into the curriculum. Simply stated, should students be taught that any race, religion, or ethnicity is inherently inferior? Should students be taught by virtue of race, religion or ethnicity that they are inherently racist? Absolutely not! In fact, to teach such an idea is inherently racist. Education should teach our children how to think and not what to think. As a member of the House Health, Welfare, and Institutions Committee, I have worked with my colleagues to expand the scope of practice for Nurse Practitioners, Nurse mid-wives, Physician Assistants and Clinical Nurse Specialists. I also supported providing insurance coverage for Telehealth services. These advances will increase access to primary health care. This is especially important in Virginia's rural areas as Primary Care Physicians are in short supply. I have also introduced and am currently working on legislation that is intended to reduce the cost of prescription drugs.
Do you think k-12 education in Virginia is adequately funded, and how can Virginia increase the state contribution to localities for education?
Fowler: Whether or not K-12 public education is adequately funded depends on who you ask. First, K-12 public education is one of the largest appropriations in the State Budget, but it is also a shared financial responsibility with local governments. The state's contribution to localities is based upon a "funding formula" that provides larger populated localities with larger tax revenues with less money on the dollar and provides the smaller and less affluent jurisdictions with a greater share of the dollar. Changing this formula would be politically difficult. In addition, I believe the General Assembly must do it's best to ensure that a student in a rural area can receive the same educational opportunities as a student in the suburbs. It is also important to note that the state's funding of K-12 public education is not static and increases in every budget.
Do you support free community college for all Virginians, and why?
Fowler: I do not support "free" tuition for community college. First, nothing, especially education, is free. So, who pays? Should the citizen who chooses a career that does not require college have their taxes increased to subsidize those who choose another path? I don't think so. There are numerous programs, and I have supported many of them, that provide financial resources for students that meet certain financial challenges. In addition, community colleges are less expensive and many of their students have opportunities for employment while taking classes. For these reasons, I see no reason to change the current system.
Do you support the continuation of Medicaid Expansion in Virginia? Why or why not?
Fowler: The legislation "expanding" Medicaid health care coverage was fraught with problems. First, the number of people to be covered by Medicaid was grossly underestimated. We were told the number of citizens to be covered was approximately 400,000. That number has now grown to approximately 600,000! Another major issue for me was the solvency of our Medicaid partner, the Federal government. Currently, the Federal government provides 90% of the funding for the Medicaid expansion population. The mountain of financial debt being assumed by the Federal government will soon require Congress to reevaluate Federal support for Medicaid expansion. When that happens Virginia taxpayers will be left holding the bag. Finally, I supported a private insurance solution for the working uninsured, and I am confident we could have provided better coverage for far less cost than the big government solution.