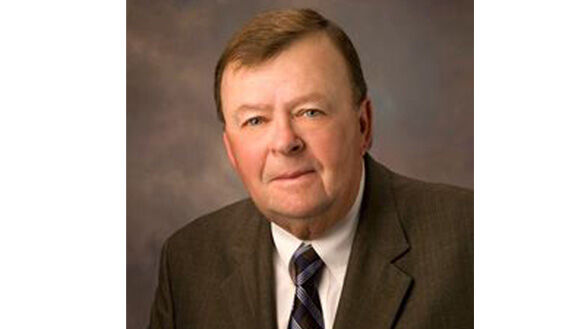 Hanover County's longest serving Board of Supervisors member and Beaverdam District representative Aubrey M. "Bucky" Stanley died peacefully on Friday.
Stanley, 77, was re-elected 10 times during his tenure. First elected in 1983, he served for 38 years and was board chairman six times, the most recent in 2020.
He was a member of the Capital Airport Commission since 1986 and served as its chairman twice during his tenure, most recently in 2017-18. The Commission oversees Richmond International Airport.
He also represented the board on the 300th Birthday Celebration Committee, the Agricultural and Forestal Districts Advisory Committee, the Cannery Advisory Committee, the Facility Space Needs Committee and the Safety and Security Committee, as well as being an alternate member on the Finance Committee.
Educated in Hanover County Public Schools, Stanley graduated from Patrick Henry High School in 1962 before attending North Carolina State University for two years. A longtime owner of Stanley Lumber, a family business, he later served as president of AMS Timber LLC, another lumber business.
An avid softball fan, Stanley managed and sponsored teams for a quarter century, traveling to distant cities to "play ball." He was also a lifetime member of the Virginia Jaycees.
When asked in an RTD candidate profile in 2017 if he would do anything differently regarding his tenure on the board if given the chance, Stanley replied, "Nothing."
"I have enjoyed it. It's a long 34 years and it's a lot of people that you try to help and you do your very best," he answered. "A lot of people don't like government. I'm sort of like that myself. ... I'm a conservative. I think you should live within your means. I'm just that type of individual. I always did what I said I was going to do. If I tell you something, I usually do it. ... I think that's why I get elected."
Hanover County Administrator John Budesky issued the following statement regarding Stanley's passing on Friday, Dec. 31, 2021.
"The Hanover County community lost a true champion today," Budesky said. "Mr. Stanley was a voice for all of the citizens of his district and was one of the most committed citizen advocate Board members I have ever had the pleasure of serving. His loss will be felt well beyond Hanover to the Richmond Region and the broader Commonwealth."
Hanover Board of Supervisors Chair Sean Davis said Stanley's passing is a professional and personal loss for him.
"Bucky and I were close, both personally and professionally," he said Friday. "We worked on many issues together and for that I am thankful. He always put his constituents first."
Davis said he admired Stanley's ability to feel the pulse of his community and represent his district appropriately.
"On more than one occasion Bucky would end a conversation with someone who was asking for something that he couldn't support by simply saying, 'My folks won't go for that,' " Davis said. "That meant the conversation was over."
"I just know that I will miss my friend Bucky Stanley," he concluded.
Vice chair Angela Kelly Wiecek described Stanley as a "a man of deep personal faith."
"For 38 years, he sought to live that faith by serving his constituents with unwavering dedication. He was always willing to listen to citizens and give them an opportunity to be heard in the public forum," she said.
Del. Scott Wyatt represents the 97th District in the Virginia General Assembly, which includes parts of Hanover County, but previously served on the county's board of supervisors with Stanley.
"This is a huge loss for Hanover County," Wyatt said. "I had the privilege of serving with Bucky for my four years on the board and he was always supportive and a strong advocate for his constituents."
He said Stanley's commitment to those constituents was a large factor in his long and successful career.
"It's a position where citizen engagement is vital, and Bucky knew the community he served. He'd start his day off at the Fas Mart drinking coffee with a lot of the local folks, then move on to churches to check on people," Wyatt said. "He was genuinely engaged with the folks in his district."
Wyatt said Stanley was instrumental in maintaining Hanover's rural character and limiting high density growth in the county.
Former Hanover County supervisor Jack Ward served many years with Stanley and said they developed a personal friendship that endured after Ward departed public service.
"Bucky was a fine man. I always thought he was the conscience of the board," Ward said. He noted Stanley's connection with his constituents and his strong will to adhere to his beliefs.
"In the 16 years I served with him, he never voted for a single tax increase," Ward said. "Bucky was a man of the people."
Del. Hyland "Buddy" Fowler Jr., R-55, said he knew Stanley for more than 30 years and worked on almost all of his campaigns, including serving as campaign manager a few of times.
"Bucky enjoyed great support from his constituents due to his neighborly approach to service. Bucky loved Beaverdam and Hanover County and was its greatest defender and cheerleader," Fowler said. "I worked with Bucky on so many issues it would be hard to count, and it was always a pleasure. Bucky will be missed, but will also be remembered as the consummate public servant."