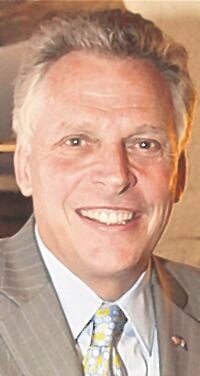 HANOVER – Former Governor Terry R. McAuliffe captured the Democratic nomination for the office he formerly held during today's Democratic Primary Election. He defeated four challengers to oppose Republican Glenn Youngkin on Nov. 9.
Hala S. Alaya held off five opponents to take the nomination for lieutenant governor. She will face Win-some Sears in the General Elec-tion.
Mark R. Herring is seeking his third term as attorney general. His opponent is Jason Miyares.
The Republicans determined their candidates in a Convention format in May.
Teresa 'Teri' Smithson, VREO, CGRV, General Registrar/Director of Elections for Hanover County, said voter turnout was low, with only 5,114 votes, 6%, being cast.
She did not report any glitches in the voting process last week.
Daniel W. McGraw, chair, Hanover County Democratic Committee, said: "We are very excited to have three wonderful candidates emerge from the Democratic Primary on June 8. This election cycle has seen many highly intelligent and capable leaders express their roles in shaping the future of Virginia. Everyone worked very hard to get to know the issues and to communicate their goals for the future.
"The current administration is doing a fantastic job, and we are confident that Governor McAuliffe, Delegate Ayala, and Attorney General Herring will improve upon the legacy of Governor Northam and his administration, led by his Chief of Staff Clark Mercer.
"Many progressive ideals are emerging because of the efforts of the Democratic leaders in Virginia. We need to stay on this path of preserving democratic institutions.
"I am very proud of all the committee members who campaigned and volunteered for so many of the candidates. Now that the state ticket has been declared, it is time to get to work supporting our local candidates and spreading the message of love and charity which Democrats across the state understand. We have come very far in respecting choice, honoring marriage, acknowledging the contributions of minority populations, and appreciating the contributions of the LGBTQ communities, but there is still much more to do.
"We passed the ERA (Equal Rights Amendment) and we need to ensure that Virginia leads the charge in protecting the equal rights of everyone. We all deserve access to healthcare, education, and economic opportunities.
"This November, Virginia and Hanover County will have the opportunity to strengthen our infrastructure in Broadband, transportation, and public safety by electing Democrats who care about community engagement and human dignity. In addition to a great statewide ticket, we also have amazing local leaders running for office. Dr. Rachel Levy, candidate for the 55th House of Delegates, and Stan Scott, candidate for the 97th House of Delegates, have noble and novel ideas for improving the lives of our community members. They are looking to make meaningful change that will benefit the entire population. This is the most excited I have been about our options this November.
"If people want to learn more about the candidates, they can check out their respective websites, research them on VPAP.org and read about their activities on hvadems.com."
Hanover County's 37 precincts brought in these unofficial totals:
Governor -- Terry R. McAuliffe, 2,987, 58.23%; Jennifer L. McClellan, 999, 19.47%; Jennifer D. Carroll Foy, 820, 15.98%; Lee J. Carter, 157, 3.06%; and Justin E. Fairfax, 167, 3.26%.
Lieutenant Governor – Hala S. Ayala, 2,304, 46.17%; S. "Sam" Rasoul, 1,129, 22.63%; Andria P. McClellan, 535, 10.72%; Sean A. Perryman, 257, 5.15%; Mark H. Levine, 424, 8.50%; and Xavier JaMar Warren, 160; 3.21%. Elizabeth R. Guzman was listed on the ballot but had dropped out of the race. She received 181 votes for 3.63%.
Attorney General – Jerrauld C. "Jay" Jones, 2,339, 46.10%; and Mark R. Herring, 2,735, 53.90%.
With 2,584 precincts reporting, unofficial statewide results were:
Governor – McAuliffe, 306, 286, 62.12%; McClellan, 57,854, 11.73%; Foy, 97,772, 19.83%; Carter, 13,666, 2.77%; and Fairfax, 17,474, 3.54%.
Lieutenant Governor – Ayala, 180,104, 37.48%; Rasoul, 116,561, 24.23%; McClellan, 50,876, 10.59%; Perryman, 38,832, 8.08%; Levine, 52,604, 11.36%; and Warren, 19,894, 4.14%. Guzman received 19,792, 41.12% unofficial votes.