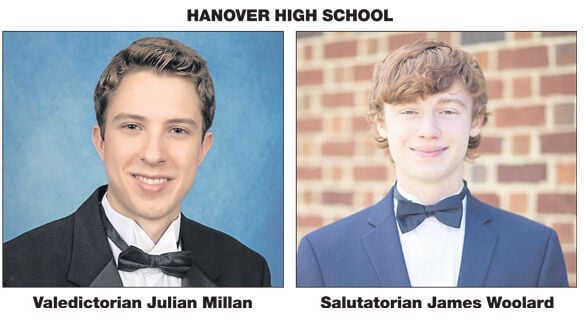 Julian Millan graduated with a 4.60 grade point average to become the valedictorian of Hanover High School.
He is the son of Stephanie Millan of Mechanicsville.
At Hanover High, he was a member of the Debate Club sophomore through senior years, serving as a team captain senior year and winning first place in Regionals. He served as vice president of the Sophomore Class and was Senior Class vice president of School Spirit.
He was a member of the Key Club sophomore through senior years and served as the Junior Class Leader.
Other school involvement includes Robotics Club Design Team Leader, Environmental Club secretary, Latin Club captain, National Honor Society, and National Beta Club.
Julian ran indoor and outdoor track for two years, placing in regional competition and qualifying for state-level competition. He represented Hanover High School at the 2019 Virginia Hugh O'Brian Youth (HOBY) State Leadership Seminar.
In his community, Julian has volunteered for the Richmond SPCA since 8th grade by serving as a Junior Counselor for the organization's summer camp (over 200 hours).
He is a member of the Hanover Evangelical Friends Church, where he has been a part of the HEFC Youth Group since 6th grade, most recently serving as the Youth Prayer Leader. Through his church Youth Group, he helped give out meals to those in need and has gone on multiple mission trips in order to help those affected by natural disasters.
"I have had a neighborhood lawn care business since 10th grade. I also currently work part-time as a front of house team member at Chick-fil-A," Julian said.
Looking ahead, Julian will be attending the California Institute of Technology (Caltech) in Pasadena, California, where he plans to major in Aerospace Engineering with a minor in Astrophysics. "I hope to someday work for an organization like NASA on developing space technology."
"I don't think I could talk about my high school experience without mentioning the impact COVID-19 had. The past two years have been especially difficult and I have been impressed with all of the effort HHS students and faculty put in to get through this challenging time," he said.
"Getting to the top of the class wasn't easy, but I was motivated by my family and by my participation in the IB program to always do my best and go the extra mile."
"I am truly honored to be recognized as the valedictorian of the Class of 2021 for Hanover High School. I hope my classmates and I learn from the adversities we faced the past four years and use those lessons to be better prepared for the challenges we will face later in life," Julian added.
Salutatorian James Vance Woolard III, with a 4.58 GPA, is the son of Mr. and Mrs. James Vance Woolard Jr. of Mechanicsville.
He was a member of the National Honor Society German National Honor Society and served as German Club president, Beta Club vice president, and Varsity Tennis Team captain, and participated in Cross Country Indoor Track.
James attends the Shady Grove United Methodist Church. He serves as a youth volunteer at Burkwood Tennis.
He will be attending the University of Virginia, where he will major in Biology on a Pre-Med track.
"I am so thankful for all of my teachers, especially the IB teachers who guided me through my last two years. Not only were they outstanding teachers, but great role models for the person I would like to become in the future," James said. "I was unsure of where I would end up in the class rank, but I was stoked to receive this honor. I cannot wait for C'ville [Charlottesville]!