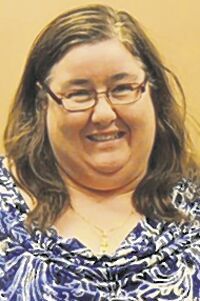 ASHLAND -- The Hanover County School Board had originally planned to approve a name for the county's recently instituted online school at last week's meeting, but members decided not to take action on the pending name assignment.
An item on the action agenda requiring a vote was removed and placed in the information section of the agenda, allowing the panel an additional 30 days to consider the action.
That did not prevent a school naming committee to present its final recommendation for the new name, a process that began last month and included input from students, teachers and administrators.
Nancy Disharoon, director of Accreditation and Accountability, outlined a timetable utilized to reach a final recommendation and announced the committee had decided on the name Hanover County Online School as its final choice.
After the committee was formed on Oct. 13, online students were asked to submit suggestions. Each class narrowed those selections to one and six names were selected for a student poll open to all Hanover students. The committee reviewed the nominated names and made a decision on Nov. 5.
While it appears certain the board will approve the name at its next meeting, other aspects of the county's online school are receiving scrutiny.
During a public comment period, several parents expressed concerns with the classes being offered online as well as other issues.
Emily Stanford said online offerings are not equitable to those being offered to face-to-face students. She cited class sizes, the lack of live resource classes for elementary students, and appropriate reading programs.
She also contends that additional professional training is needed for teachers who, in her words, are not "well-versed" in some online procedures.
She and others cited the lack of availability of a second elective for middle school students as a major disappointment for some online students.
Sarah Butler said the lack of bandwidth in the county is inhibiting some online students. She also noted a lack of live resources and said some classes are being offered as YouTube videos as instructional resources.
There's also a question regarding the upcoming second semester and how current online students could re-enter in class instruction. Butler said limited spots could equate to a limitation on students accepted back on campuses.
Superintendent Michael Gill said issues regarding electives and other second semester plans will be updated at the board's December meeting.
The board approved some revisions to the current 2020-2021 school calendar that allows teachers more planning time to prepare for second semester and professional training. Students will attend half days on Jan. 27 and 28 and Jan. 29 is a student holiday.
Students also will not attend on Feb. 1 and 2, and the second semester will begin Feb. 3.
Gill said those dates coincide with the process of inviting online students back to in-person class.
"Our teachers and administrators need this time whether it's for the physical preparation of classrooms or finalizing of schedules," the superintendent said. "Essentially, they are preparing for another opening mid-year."
March 5 and April 22 are teacher planning days but students will receive online instruction.
"Two flexible learning days were added to the calendar in order to support additional professional learning opportunities for our teachers," Disharoon said. "A flexible learning day is … where students will participate in carefully designed and meaningful learning activities from home."
She said the flexible days will allow additional time for teachers to assess and plan for the end of the term.
"The flexible learning days will provide teachers with the opportunity to collaborate within their content area, provide time to prepare instruction, participate in learning activities and assess individual learning needs as we move into the end of the school year."
Board members approved the revisions by a unanimous vote.
Disharoon also outlined two options for the 2021-2022 calendar, both featuring post Labor Day opening and two full weeks for winter break.
The two options are the result of a calendar committee formed to balance instructional and community needs.
"The first calendar (Option A) features or reflects a traditional school calendar, something similar to what we've had in past years," Disharoon said.
Option A features a number of early closings in order to allow teachers professional development opportunities.
"The second option (Option B) reflects the implementation of flexible learning days and fewer early release days," she said.
The two calendar options are posted on the division website through Dec. 2 for community feedback. Following that process, the calendar committee will report those results at the board's December meeting.