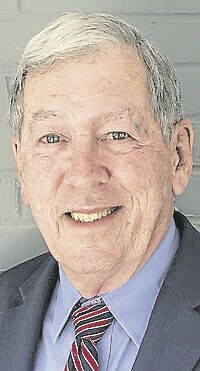 HANOVER — Mechanicsville District's Canova Peterson told his fellow members of the Hanover County Board of Supervisors that the proposed FY2022 budget contains something for everyone with the exception of one important element — the citizens.
While lauding the budget's efforts to fund priorities at pre-pandemic levels and provide salary increases for employees, Peterson said county residents also were impacted by the pandemic with many losing jobs or suffering decreased compensation and this budget should reflect an effort to provide relief for them.
"This budget addresses needs and requests from every department of the county, government and the school division," Peterson said. "The only group not considered in this budget is the citizens who are footing the bill for it."
To alleviate that omission, Peterson proposed a 2-cent reduction in the county's real estate tax rate from 81 cents per $100 of assessed value to 79 cents. The current rate is the lowest in the metro Richmond area.
Peterson praised the efforts of County Administrator John Budesky and the county's financial team for their efforts regarding this year's budget, and said the document addresses many of the county's pressing needs and more.
"There are a lot of good things addressed in this budget — both necessities and things that would be nice to have," Peterson said at today's board meeting. "The most significant items are funds needed to cover pay increases and benefit adjustments for our employees, as well as de-compression adjustments in the public safety and schools."
The FY2022 proposal provides more than $14 million in funding to combat those salary issue costs. "In addition to this $14 million, there's another $18 million in increased expenditures added to the budget this year," Peterson said.
"We are very fortunate that realized revenues have come in higher than anticipated and this has allowed staff to bring us a pre-pandemic level budget," Peterson said.
"The budget recognizes the efforts of our staff both in county jobs as well as schools for their efforts working in most unusual times we experienced over the past year," Peterson said.
But county employees were not alone in their sacrifices, Peterson said, and the needs of citizens affected by the pandemic need to be considered.
"While our county and school employees had to work under trying circumstances, no one was laid off due to the pandemic," he said. "On the other hand, many of our constituents in the private sector have suffered jobs that were lost or curtailed due to business closures and restrictions that reduced operating capacities by a third to half normal capacity."
Peterson said citizens have been faced with rising fuel costs as well as increased sales taxes; and, due to higher real estate assessments, citizens are experiencing a 3% increase in real estate taxes.
"With $18 million in additional spending after the employee pay increase, I believe we can find a way to give some relief to our constituents," Peterson said. "If we can trim just two-thirds of 1%, then we can accommodate a reduction in the current real estate tax from 81 cents to 79 cents."
Peterson noted that supervisors trimmed 5% from last year's budget during the pandemic. "So, two-thirds of 1% seems like a pretty small amount."
"The pandemic is still with us and our citizens need some relief," he told fellow supervisors while noting that Hanover County is scheduled to receive $20 million in additional COVID-19 relief funding during the next 12 months from the American Family Relief Act that recently passed.
"We can definitely afford this and I intend to ask my fellow board members to join me in supporting a reduction in the real estate tax rate . . . so as not to penalize our constituents with any more tax increases during these ongoing difficult times," Peterson concluded.
There was no discussion regarding Peterson's proposal at the meeting, but budget discussions continue with passage expected in April.