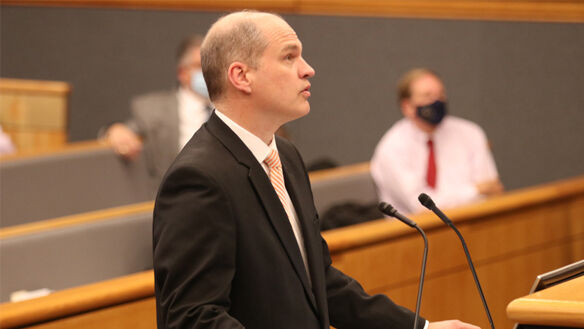 Hanover supervisors approved a request for a public hearing next month regarding the adjustment of magisterial districts in the county.
The U.S. Constitution requires localities to provide equal and proportional representation, and the Constitution of Virginia mandates that localities redistrict every 10 years. The state requires that "election districts shall be composed of contiguous and compact territory and shall be constituted as to give, as nearly as practicable, representation in proportion to the population of the district."
"The county's magisterial districts are subject to redistricting requirements set forth in the constitution of Virginia," County Attorney Dennis Walter said.
The courts have also been injected into the redistricting discussion and process and endorsed the one person, one vote concept and encouraged strict compliance. However, court decisions have also codified that some mathematical deviation is acceptable and have accepted a 5% rate as acceptable. The number of residents in each magisterial district can vary by 5% in the number of total voters.
"There is a recognition that we are not an evenly spread out population so mathematical exactness and equity isn't always achievable, so there are some deviations that are permitted," Walter said.
Courts have deemed that variations of more than 5% are not acceptable, and districts must adhere to requirements that they remain contiguous and compact. Courts have also rejected redistricting based on race or any other consideration that may be considered discriminatory.
"Courts are normally involved only if there are challenges," Walter said.
The Code of Virginia provides a guideline for localities to navigate the redistricting process, including requirements that the U.S. Census be used for redistricting purposes and most recent results must be utilized.
Localities can only redistrict as required, readjustments cannot be instituted preceding 60 days of an election, and all redistricting must be done in years ending in "1".
"The combination of a few things have contributed to a time crunch this year because the census came out in August… and adjusted figures came out in September. That was during our blackout period so we could not move forward and do anything, but we have to adopt something by the end of the year," Walter said. "We're in this window where we have the information but we have to act pretty quickly."
The state also requires that districts must include clearly observable boundaries defined as a named road or street, primary and secondary roads, rivers or streams or other natural or constructed barriers.
Property lines or subdivision boundaries cannot be used to designate district lines.
"That often becomes a challenge, especially when we have some of our more densely populated areas where we try to keep communities together. But the communities are based upon recorded subdivisions, not based upon natural features that existed prior to those communities going in to effect," Walter said.
State Code also governs the size of electoral precincts to between 100 and 5,000 registered voters. Walter said that rule is designed to avoid long wait lines at polling places and make elections manageable.
"We try to avoid long lines and overworked election officials," Walter said. "That number is something we need to keep in mind as we plan for precincts and polling places."
There are other requirements including that action taken regarding redistricting be done by ordinance.
"There needs to be public notice. There needs to be a public hearing so individuals have to have an opportunity to be heard," Walter said.
The Virginia Rights of Voters Act provides two options for localities to conduct the redistricting process that includes the traditional method of notice and public comment and an option that allows a locality to adopt a redistricting plan and submit it to the attorney general for review.
Walter said the county is on a tight timetable that excludes the first option.
"The second one is the only option feasible to us right now," Walter said.
The attorney's general's review confirms that procedural guidelines have been followed and all regulations regarding redistricting have been followed. Once the review is complete and the plan approved, the redistricting takes effect.
According to recently released U.S. Census figures, the county' population increased from just under 100,000 in 2010 to 109,991 in 2020. The county must redistrict to ensure each electoral district contains an equal amount of population.
The base number for each district utilizing latest Census figures is 15,713 residents per district. Walter said the target numbers for each district fall within 2.5% of that base.
Five of the seven districts do not fall within that range and will require adjustments. Beaverdam and Mechanicsville districts are not affected.
Chickahominy District will require the largest adjustment resulting in the loss of about 2,500 people.
In formulating the plan, Walter said the goal has been to maintain election districts, polling places and precincts. He also said changed boundaries should not affect the ability of communities of interest from expressing their concerns at the poll.
"We are trying to reduce the impact across the board," he said.
The public engagement plan included four listening sessions at county high schools that concluded earlier this month, and notices were sent to 75 community organizations and minority contacts. Walter said all redistricting information is available on the county's website.
"There have been opportunities for members of the public to be involved in the process," Walter said.
Among other proposed changes, an area currently in the Chickahominy District that includes the Atlee High School area will be moved to the Ashland magisterial District. In the Cold Harbor District an area east of Route 360 near the Old Church area now in the Henry District will be added.
The Henry District will gain population from the addition of an area currently in the Chickahominy District near Verdi Lane.
The proposed plan leaves all the magisterial districts within the 2.5% goal for equalization.
After adjustments are made in response to board member concerns regarding the specifics of the proposal, Walter said the draft will be finalized and the ordinance advertised for public hearing at the Dec. 8 board meeting.
The plan must be submitted to the attorney general's office no later than Dec. 31.
"We have tried to make it readable and understandable for the public, so they will know what is being changed, both in terms of district boundaries as well as precincts," Walter said regarding the draft document available on the county website.
Walter cautioned that a finalized redistricting plan could be affected by how the state conducts its redistricting plan.
"We can't wait for them to act, though," Walter said. "Fingers crossed, we won't have to adjust anything but it's possible we may have to adjust a precinct boundary if the state does something that is a different approach from what we have taken."
Chickahominy District supervisor Angela Kelly-Wiecek questioned the wisdom of the proposed Rutland precinct. She noted the precinct is divided by Route 301 and the proposed precinct would be split among two state magisterial districts, the 55th and the 97th.
Walter said he would research that issue and provide options. "I understand those concerns," he said.