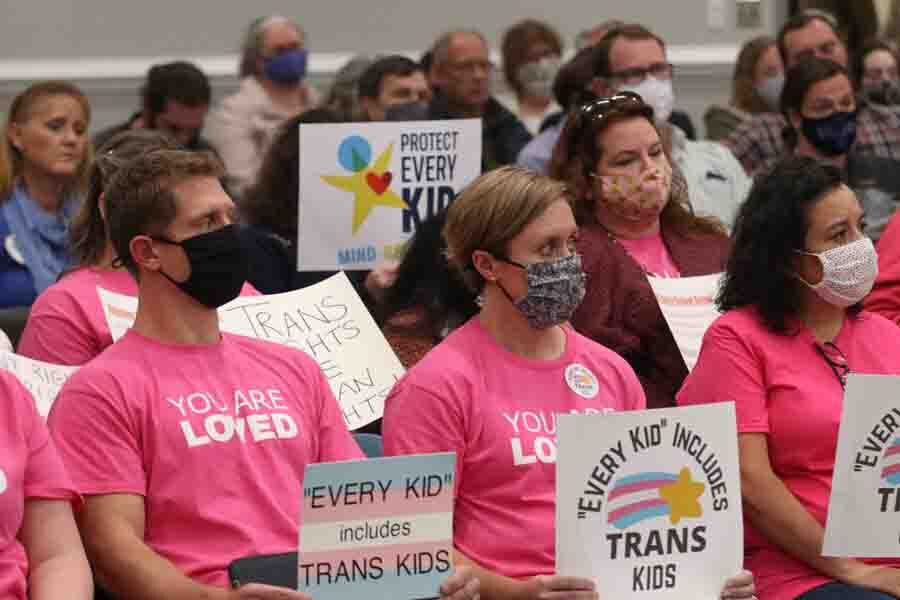 A number of Hanover citizens showed up at last month's School Board meeting to express their opinions on a policy revision regarding transgender students on county campuses.
Many of those attending did not have the opportunity to speak during a public comment period due to time restrictions, and others were forced to view the meeting remotely due to capacity in the meeting room.
With an expanding list of speakers already signed up for this week's regular meeting to address the same issue, board members opted for an additional meeting to allow all speakers to have a turn at the podium.
That meeting held last week also experienced overflow crowds and many were forced to remain outside during the meeting as more than 50 speakers made their opinions known.
An evenly divided and mostly civil group watched patiently as speakers addressed the issue. Supporters wore pink shirts that displayed the message "You are Loved," while those with opposing views held signs that read "Protect Every Kid."
Hanover School Board members are facing a difficult decision at their upcoming meeting regarding whether or not to approve policy revisions that offer additional protections for transgender students and validates certain rights that some parents find offensive.
When the General Assembly passed legislation that requires school systems to initiate policies that clarify how transgender students are treated, including a provision that guarantees rights to use the bathroom or locker room of their preferred identity and allowing confidentiality regarding student records, Hanover is still considering the revisions.
The Virginia Department of Education (VDOE) issued guidelines this summer requiring school divisions to adopt policy that are consistent with or exceed those regulations. The directive ensures transgender students the right to use the bathroom of their choice and be addressed by their preferred pronouns.
Arthur Brill read a letter from Gavin Grimm, the transgender student from Gloucester County who successfully sued the local school board regarding its decision to ban him from using the boys bathroom because he identified as transgender. He received a $1.3 million settlement as a result of the Supreme Court decision in his favor.
"Transgender students deserve the same rights and access as students who are non transgender students," Grimm's letter said. "On a final note, regardless of personal feelings, the law is the law."
The VDOE guidelines required all schools to have policies in place by the beginning of the school year to address the issues raised by the new regulations. While many school districts across the state have enacted revised policies that fall in line with the new guidelines, a few have refused to install the new policy.
Hanover first approached the issue at its October workshop and conducted more review at its meeting later that month. With the current policy that does not meet the minimum requirements some speakers said the county was "already breaking the law."
Several parents spoke on their children's behalf, or read letters from students affected by the policy currently in place.
John Quillen read a letter from his child. "I would like to praise you for your efforts to introduce a policy to protect transgender students," he read. "Unfortunately I still have some concerns regarding the treatment of transgender students," the student said referring to the parental consent portion of the new policy.
"The parents' consent being required is an issue. Transphobia runs rampant throughout Hanover and some trans students may not be safe coming out to their parents. We need to protect these students. There should be policies to protect these students without parental involvement."
An equal number of speakers expressed concerns regarding the proposed policy, specifically the requirement that students be allowed to use the bathroom of their choice.
"If this passes, you are undermining my rights as a parent… and you are not protecting my child," said Lauren Mast. "I should not have to worry about my daughter being assaulted with her face bashed against a wall by a trans or a male dressing in a skirt. That's the last thing I want to worry about as a mother," she added.
Hunter Young of Mechanicsville said he removed his daughter from Hanover schools after she was asked to refer to a student with her requested pronoun. As an 8-year-old, Young said she didn't understand and was confused.
"As an 8-year-old little girl, she didn't understand why he was dressed like a girl and wanted people to not call him by his name anymore and call him by a girl's name," Young said. "I want to stand up for the families who do not have the option to take their child out of school. I don't believe that one child's rights are more important that another. My daughter does not have to be forced to call a known boy a girl."
Cynthia Rosier has a 9-year-old daughter who she said is not afraid to use the bathroom at her school and described the proposed policy as "not protecting female students."
Ashland resident and attorney Sarah Bridges said the proposed revisions would eliminate inequities in the system.
"The failure of the Hanover County School Board to adopt a policy to protect children… is not only a violation of law but is a clear message from the Hanover County School Board that certain children in our schools do not matter," Bridges said. "The description of your equity policy on your website provides that every child deserves an education based on fundamental principles of equity. You have committed to take deliberate action to eliminate inequities and adopt policies to ensure that every child's education is based on fundamental principles of equity. Every child means every trans child. We cannot go back to the days of separate but equal," she added.
It is unclear what enforcement measure, if any, would be employed by the Commonwealth to force school districts to comply with the new regulations, but the threat of lawsuits seems more distinct, and several speakers referenced that real possibility.
But Jennifer Balut, a parent and educator in Hanover County, said the proposed policy is not fair and equitable for all students.
"The only reason this policy is being considered is because Hanover County is afraid of litigation, and that is not the right way to make decisions for our children," she said. "No decision for our students should be made out of fear. We have to stand up for what is the best interest of all of our students and not give in to threats of lawsuits or litigation. It is time we stand up and draw a line in the sand and say this is not right for our children and not right for Hanover County."
One of the final speakers identified as a transgender male who is a senior at Atlee High School. He described a high school experience of bullying and harassment with kids shouting "what is that" when he walked the halls.
"I have been assaulted for who I am," he said. "There will be more transgender people coming to this school… and I am afraid for them. I know that Hanover County has what it takes to allow all students to walk the halls as equals. I know it has what it takes to accommodate trans people," he concluded.