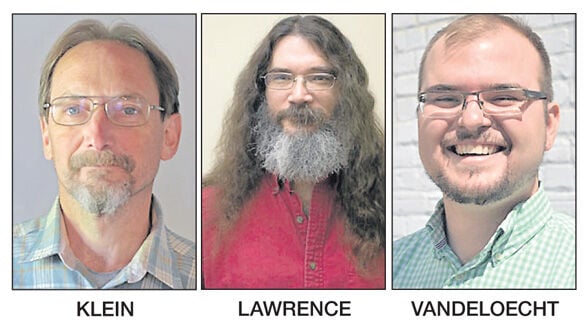 MECHANICSVILLE – A trio of Richmond Suburban News writers and photographers, Joel Klein, Dave Lawrence and Nick Vandeloecht, claimed six awards in the Virginia Press Association's 2020 News & Advertising Contest, the results of which were announced last week.
Freelance photographer Joel Klein and sports editor Dave Lawrence combined for a one-two finish, respectively, in the Sports News Photo category.
Managing Editor Melody Kinser praised the three for their ongoing efforts to provide the best coverage possible in the group of four community newspapers (The Mechanicsville Local, The Goochland Gazette, Powhatan Today, and Ashland-Hanover Local).
"We are so fortunate to have the talent and dedication of Joel, Dave and Nick," Kinser said. "We know with each week's editions that they will continue to strive for excellence for our readers. I am so very proud of the team we have at RSN."
Klein won for his photo of former Atlee multi-sport star Tyler Warren landing a towering dunk over an opponent in a game against Hanover High School.
A judge said, "Perfectly timed. Love the defender's expression and the dunker's too for that matter. Just a great shot."
Lawrence's second-place photo – or "first loser" as Klein called it – was of Hanover athlete Makenzie Joiner beaming as she approached the finish line in a decisive victory over her opponents in the girls 500-meter dash at the 2020 Virginia High School League Class 4 indoor track and field championships.
"Captures the moment really well," a judge said. "Love that you can see how far ahead she was, but that the focus is square on her."
Klein also placed second in the General News Photo category for his shot of Nicholas Bannon singing the song "Feelin' Good" at the 2020 Hanover Idol contest.
The pair combined for a second place in the Multimedia Report category for their package, "B-17 Flying Fortress visits as reminder of sacrifice," about the visit of the Commemorative Air Force's World War II bomber "Sentimental Journey" at Hanover County Municipal Airport.
"I really enjoy the variety of photos taken of the planes and the research that [went] into producing this story," one judge said about the package.
Lawrence claimed another second place award in the Sports Column Writing category for his commentaries about the impact of the COVID-19 pandemic on sports.
"Writing about the crazy world of sports during the pandemic is a real challenge, and one you met for sure," a judge said.
Vandeloecht won third place in the Sports Writing Portfolio category for a trio of stories he wrote for Powhatan Today. The judges singled out one of his stories, a remembrance of former Powhatan High School football coach Ernie Henderson, who died in November.
"The story on the coach stands out from the crowd," one judge wrote.
Lawrence also earned an award for another remembrance of a life lost last year. His story, "Remembering the Yellow Jackets' No. 1 fan: Tommy Inge died after a brief illness," won third in the Feature Writing Portfolio for a remembrance of Inge, a long-time fixture at Randolph-Macon College, who died of complications of COVID-19 in March.
Dave Lawrence can be reached at dlawrence@mechlocal.com. He would like to add that he has no problem being "first loser" to Klein's excellent photo.