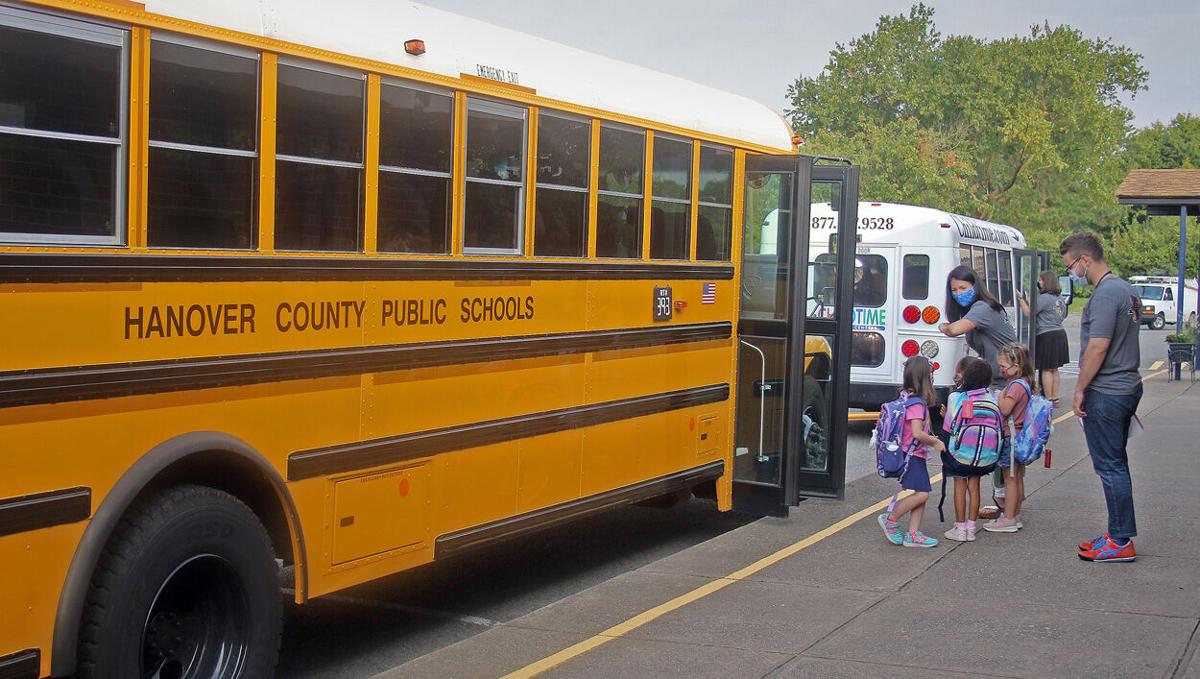 It's been a busy week for Hanover school superintendent Michael Gill. After visiting 17 campuses on the first two days of school, he completed his opening day tours with a visit to an additional eight schools as the week progressed.
"It's the same story in every building," Gill said. "The kids, perhaps more than any other year, are just happy to be back around each other and learning, so it has been a very positive start."
Gill said the smooth opening was assisted by a staggered schedule that welcomed transitional students who were arriving at a campus for the first time or students returning from online instruction a day early in an effort to acquaint them with campus layouts and classroom locations.
The practice began last year when officials weren't sure what to expect on the first day of school, and principals were concerned regarding social distancing requirements. It was a plan that gained wide praise from parents, teachers and students in its initial year, and officials decided to keep the plan in place for this opening.
"The staggered start was something that we fell into a little bit by necessity last year, and it was intended to just be a one-year thing when we originally came up with the idea," Gill said in an interview last week.
He said the idea allowed the newest students to "be in the building and get used to the building without the other students…. and be comfortable with the class changes, lunch procedures, etc."
The success of that initial offering prompted officials to consider the same system for this year.
"It worked so well. It was one of those rare things where students, staff, administration and the parents all said it was so nice and worked well…. and it was suggested that we use it every year," Gill said.
Unlike neighboring counties where the majority of students are returning to the classroom after a year of virtual instruction, Hanover had a decided advantage in having a game plan in place for this year's opening. The majority of Hanover students received face-to-face instruction last year, one of the only districts in the state to offer parents that option.
"We already had a playbook for this," Gill said. "We do have a script for this, so to speak. We learned from our experience last year."
That's not to say there weren't challenges as HCPS welcomed 97 percent of students back to the classroom, a significant increase from last year's 62 percent.
"It was nice already having done this before," he said. "I sensed a higher level of comfort among our staff as we headed in to this week compared to a year ago at this time."
Having a playbook does not necessarily ensure success, and Gill said it was a professional and hard working staff that made that possible.
"You have to have a team to execute the plays…. and our faculty and staff did a tremendous job, as they always and continue to do," Gill said.
Gill said the first day of school always provides a fair share of surprises, but noted that no major adjustments were required.
"We're constantly making adjustments under the best of circumstances," Gill said. "Fortunately, there wasn't anything that was not expected in the first few days."
Like other systems nationwide, Hanover is experiencing a shortage of bus drivers. "We are fortunate our deficits are not as large as some other localities, and we have not experienced significant issues so far."
Bus schedules always require some adjustment as school begins, and Gill conceded there are "always some hiccups even in the best of years."
He said there have been some delays in morning and afternoon bus service, and drop off lines at some schools have been long due to the increased number of parents choosing to provide transportation for their children.
He lauded the bus driv- ers and Transportation Department for their efforts in making this week a success.
Considering the challenges, the amount of unknowns surrounding this year's first days of school, Gill said he's relieved and pleased with the results. He didn't hesitate when considering who gets the credit for all the smiles he witnessed on his tours.
"I will never get tired of singing the praises of our staff," Gill said. "As the proverb says, it takes a village to raise a child and it has truly taken monumental efforts by our staff and the support of our entire community," Gill said. "When I go into our buildings, without any exceptions, even though our staff is masked, you can still see they're smiling. They are happy to have the kids back."