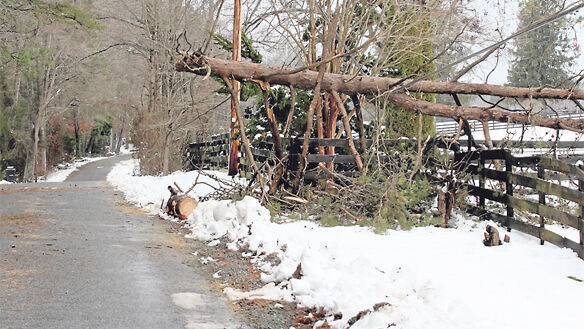 Near spring like temperatures over the weekend left Hanover residents unprepared for what followed less than 24 hours later. A veracious storm dumped up to 12 inches of heavy wet snow across the county. Coupled with gusting winds, the combination resulted in challenging conditions throughout the county.
The heaviest snow fell in the Beaverdam area and that area also suffered a large number of power outages. But downed trees and wind damaged transmission lines affected power supplies countywide.
By Wednesday, some customers had their power restored, but many others were still left in the cold and dark with temperatures falling well below freezing.
To offer a respite from the cold, Hanover County opened a warming and charging station at the Montpelier Center for the Arts. County employees manned the station and provided comfortable spaces for citizens to work, communicate or just power devices whose power was depleted. Internet connections were available.
The site was manned by county employees reassigned to meet the pressing needs. Angela Baxter is normally the internal audit director for the county, but she spent Wednesday in Montpelier helping at the center.
"County officials asked department heads if there were any individuals available to support this community event and we raised our hands and here we are," Baxter said.
By midday, about a dozen citizens had visited the site.
"It's been a steady flow. We've had individuals who popped in just for a charge of the phone and we've had some individuals work remotely to be able to sustain their jobs and then we've had a family come in to use the warm restroom…. so it's been a variety of things," Baxter said.
Betsy Connell and Aaron Hairfield are normally Community Services employees at the Raft House, but they volunteered to cover a shift at the warming center.
"I think this can be so helpful and allows people to connect with others and get their work done," Connell said. "When it's cold in your house and you can't cook, this really helps."
Hairfield is usually a driver at Raft House, but due to its closure was also glad to be able to help out at the center. "This was an opportunity for me to get out and help," he said. "I live in Mechanicsville so I didn't have any power loss or anything, but it's important to help where you can. I know I'd be happy to have this service if I didn't have power."
Don Brockman said the station made a difference in his life as he worked to catch up on some work in the warm workspace.
"I hadn't been able to work for most of Monday and all of yesterday so this will allow me to keep up with things at work and save my job, basically," Brockman said. "I live about 6 miles down the road, so this really came in handy."
Brockman said he'd been checking with Rappahannock Electric Cooperative (REC) to ascertain when power might be restored but was told no crew had been assigned to his area. He said he will continue to use the charging center as long as it remains open and his power remains out.
Stephanie Rohrbach, a Montpelier resident, was also taking advantage of the warming center and said she was informed of the center's opening by a phone call from the county. She'd been out of power since Monday morning. "I'm not sure when it will come back on, but I know they are working as hard as they can," she said. "I'm in the middle of a lot of project work so it's been a help."
She said she'd spent the last few days searching for power and utilizing the library and friends' homes to gain access and recharge devices. "This gives me a chance to at least charge everything up."
By Thursday, warming temperatures had melted most snow remaining on Hanover roads, but a number of residents in the western portion of the county continued to suffer through power outages. Some secondary roads in the western portion received as much as 12 inches of snow, and ice remained on some roads
In an effort to assist residents, Hanover officials opened an emergency potable water site at Poor Farm Park to provide unlimited amounts of water to residents. The county said the site will remain open until power is restored to those parts of the county still affected.
Alieia Bedner and Olivia Hutchinson didn't know exactly how long that would be as they pulled in at Poor Farm to fill up on water for her household.
"We lost our power as soon as the snow hit on Monday, so this is our fourth day," she said. "We have eight people at our house so it's been tough getting by."
The group filled up several containers with clean water and headed back to Montpelier. One member of the group said REC had updated residents that power could be restored by the weekend.
Bedner said that was good news as the simplest of tasks are challenging without power. "We needed to get this water so we could flush our toilets."
The storm closed schools for the entire week, as a new front moved in late in the week, but the first dumping provided enough problems for local officials. While eastern portions of the county cleared quickly, conditions in the western edges forced additional closures. An announcement on Thursday from HCPS stated: "Our team has continued to carefully evaluate road and weather conditions throughout the day with the goal of reopening the school division tomorrow. While crews have made slight progress today, several roads in the western portion of Hanover County, which received upwards of 12 inches of snow in some areas earlier this week, remain hazardous and unsafe for travel due to downed and hanging trees, limbs, and power lines. In addition, nearly 3,000 homes in these areas are still without power, impacting their ability to access running water and heat, cook food, or access the internet."