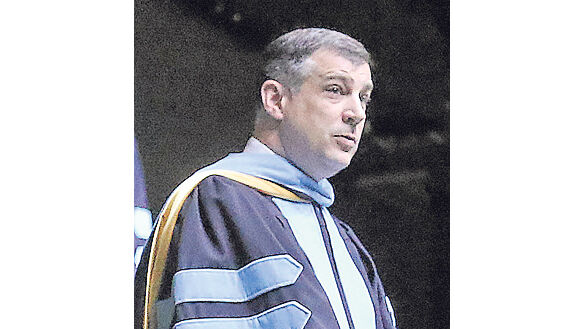 (Editor's note: Our apologies to Dr. Michael gill, superintendent of Hanover County Public Schools, for inadvertently publishing his end of year comments to parents and guardians in last week's edition rather than his speech to members of the Class of 2021. Today, we share his speech.)
Why? That single three-letter word is one we hear often, typically without giving it a second thought -- from a curious preschooler learning about the world, bombarding a tired parent with questions like "Why do dogs have tails?" or "Why can't I have cookies before dinner?" to questioning all of the events that have unfolded since last March and throughout your senior year. It is the first word of unlimited questions, yet by itself seemingly nondescript. I can recall that the theme for one of my middle school yearbooks was "Why Ask Why?" The question seemed to indicate that we should not try to make sense of the world's many mysteries, but rather accept them as the so-called spice of life.
I think it is okay to ask why, though. It is by being inquisitive that true growth and learning takes place. Without someone being inquisitive, think of all the many inventions or discoveries that never would have occurred. One of the most difficult "why" questions to answer, though, is not one that leads to the discovery of new worldly knowledge, but rather one that is introspective and calls for self-analysis. That complicated question is: What is my why? Or, to put it another way, what is the thing that drives you -- that propels you to want to make a difference in the world?
Some of you sitting here may know exactly why you will put in countless, tireless hours over the next many years. Your why might revolve around advocating for the homeless, or educating as many people as you can on a topic that is vitally important to you. Perhaps your drive is to help others feel valued or make people laugh more. These are all worthy responses to the complicated question, but while there is not necessarily a right or wrong answer, your answer must be authentic and deeply personal. That is, no one but you can define what your why is. For me, I have reminders of my why every time I am in one of our schools, and when I'm at the school board office, posters of you, our students, surround me with the caption, "I am your why. Is it best for me?" It reminds me of who should always drive my decisions.
Still, many people, perhaps most people, never actually discover their why. It is a discouraging thought, because, as the great American humorist Mark Twain remarked, "The two most important days in your life are the day you are born and the day you find out why." By this point, some of you may be wondering if you are already behind in the game of life, because you have not yet discovered your why. Others may have discovered it a long time ago, but because of life events, or perhaps other challenges, were taken on a detour further and further away from discovering or living out your why. Do not fear, though. There is no timeline on finding it or fulfilling it. History is actually full of individuals discovering their great calling later in life. Renowned artist Grandma Moses didn't paint her first canvas until the age of 76. One of the most well-known actors of our time, Morgan Freeman, didn't have his Hollywood breakthrough until he was in his 50s. Even Colonel Sanders didn't start his first KFC until the age of 65.
As they say, however, "There's no time like the present." So then, if you don't have a clue on how to go about finding that drive that will lead to a lifelong pursuit of purpose, how do you even begin? Admittedly, if it were easy, everyone would already be following some simple set of directions, and there would be little need for speeches such as this one. Unfortunately, it's not easy.
In order to begin determining your why, it may be easier to rule out what will not help you find it. It will not be your career, some level of material wealth, or other extrinsic rewards. As Sheena Amin explains in her 2017 article:
"Work challenges you and forces you to think and encourages you to use your talents to improve whatever it is that you're trying to discover, create, sell, or fix. It helps to mold you into the person that you are, and it is a contributor to who you are. But it does not define who you are."
In other words, what you do is not who you are. The same can be said about anything that can be measured, evaluated, or have a status applied to it. Finding your why is not about achievement, and that can be one of the most difficult things for some to accept.
So, we have established what will not help you in your quest for drive and purpose. Let us turn to what may assist in answering that most complicated of interrogatories, "Why?"
There are many who would claim that giving any type of advice on finding your why is a wasted exercise, because for each individual it is a personal journey. A quick Google search will show that others offer 5, 7, or 10 specific pieces of advice to follow. I don't believe that even Colonel Sanders would have been able to come up with a perfect recipe for finding your why, but I have discovered that there are common threads in every so-called expert's counsel. First, it has to be relationship centered, and second, if some type of service is at its foundation, you are more likely to have a fulfilled life.
Even the most introverted of us is a social being. As the pandemic has illustrated, we all need human contact. It is, quite literally, part of our genetic makeup. It isn't about the number of friends or the prestige of your social circle, but rather the type of people who surround you. Those who truly have our best interests at heart are not afraid to hold us accountable, and they inspire us. They assist us in becoming the best versions of ourselves and can even help us discover talents and abilities we never knew we possessed. Dr. Adolph Brown, clinical psychologist, author, and speaker, calls these individuals, "balcony people." He remarks that balcony people "don't do it for the income." They "do it for the outcome."
Dr. Brown warns that unfortunately, there are also "basement people" who can find a problem in every solution, and see a bad seed, rather than the beautiful tree that a single seed can become with the proper nurturing. We need people to help us discover our why, but they must be the right people. One of the many downfalls of this pandemic has been the lack of human interaction. Is it really any wonder that some feel we have never been more polarized than we are today? Civility is needed more than ever, and yet it can only be developed through taking the time to interact with others in an authentic way. Balcony people help us in developing that, and in doing so often peel back the curtain showing us our why.
In order to become a balcony person yourself, it is critical that service to others is a key component of your life. Of course, it feels good to do good, but serving others has actually been linked to several health benefits. In fact, it has been proven to help you live longer. More importantly, it gives more meaning to those years, and makes them happier, more fulfilled years. As Arthur Sheldon put it, "He profits most who serves best." While it may seem counterintuitive for some, we do in fact end up gaining more when we give. It is in the giving that we often find our passion, our calling, our purpose, our … why. When we see the good we are able to do, it is no longer a sacrifice we are making, rather it becomes an outward expression of what is important to us. That expression not only reveals our capabilities to others, but can help us learn about ourselves.
I can't tell you what your why is, and neither can the person to your left or right. It is as unique as the name on the diploma you are about to receive. There are practices and habits though that will help you discover it. It can be hard work, but you are already used to that. In fact, you have put in 13 years of hard work to get you to this stage you are about to cross. That work has been worth it, because it has laid a solid foundation on which you can build your future success. As you go forth from here and build that success brick by brick, make sure that your time is spent not solely on racing up the proverbial ladder as fast as you can, but also in making sure that your journey is one that leaves people better because you have been in their lives. In doing so, you may just discover … your why.
Congratulations, Class of 2021! You have had one of the most unique high school experiences in history. Use it to make your equally unique mark on the world and in the hearts of those who know you. It has been a sincere privilege to watch you get to this point. I cannot wait to see where you go from here.