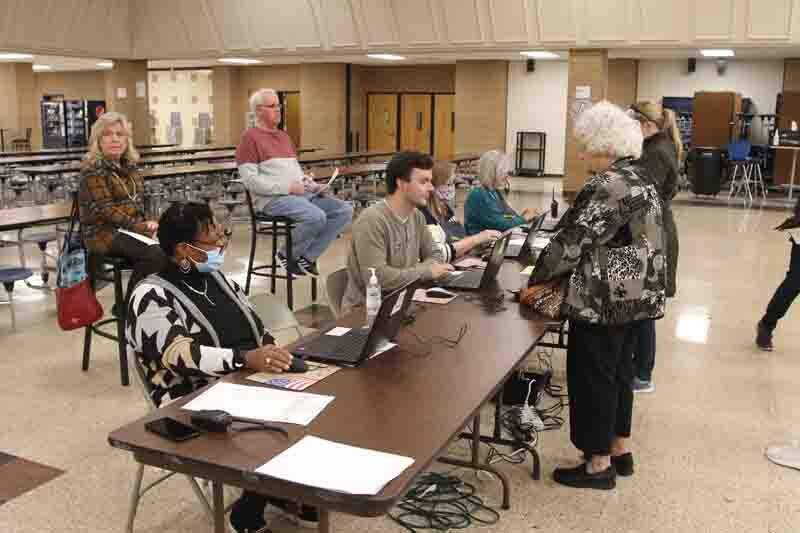 By 1 p.m. on Election Day, more than 1,500 voters had already cast a ballot at the Atlee High School Polling Precinct, and it was evident that this off year election was drawing a lot of attention from the voting public.
Unusually cold temperatures and a misting rain could not deter a steady stream of voters from performing their civic duty
"It's been steady since early this morning," said precinct captain Ed Fleischer. "Earlier today, there was a line waiting to sign in and vote."
He said he expected a steady stream of voters for the remainder of the day. "This is a more earlier in the day crowd, but I think it will be steady all day."
Another poll worker said the decision to close schools on Election Day was achieving the desired results. "I've seen a lot of parents bringing their children here with them to vote. I think having the day off is allowing some who would not have voted to be home and vote."
The check-in was smooth as poll watchers sat in elevated chairs behind the workers keeping a close eye on the process.
A woman who stopped to open her umbrella said the weather didn't deter her from voting. "I've voted in every election since I was eligible," she said.
Hanover County Registrar Teri Smithson said this year's gubernatorial election felt more like a presidential race and said almost 70% of Hanover voters turned out for the race.
"Election Day was extremely busy," she said. "At times, we thought we're reliving the presidential election from last year. Last year's presidential election had an 85% turnout, but this election felt like it was going to be 90%."
Aside from the normal hiccups associated with elections, Smithson said there were no major issues even with the heavy turnout.
"There weren't any issues or disruptions that stopped voting," she said.
Two factors made last week's process easier for Hanover voters to access the polls and cast a ballot. More than a million Virginia voters cast early ballots, a substantial increase from past gubernatorial races, and Hanover County saw a significant number of early voters.
"We saw 16,363 voters come through our Early Voting Center or voted by mail making it (unofficial for now) 28% of the total vote," Smithson said.
She also endorsed the decision to close schools on Election Day. Many campuses in Hanover also serve as polling places.
"We are very grateful that the schools are closed for Election Day. Voters didn't have to compete for a parking space."
Smithson said the real key to this year's election success was the dedicated efforts of the people who worked the polls.
"Across the Commonwealth and nation, election officials are always in need of officers of elections to serve on Election Day," she said. "We are very blessed to have more officers than we can use sometimes. Two hundred and thirty-four of your friends, neighbors and family worked over 15 hours to serve the voters of Hanover County."
Hanover voters opted for the two incumbents features in two House of Delegates faces in the 55th and 97th Districts. Both Buddy Fowler and Scott Wyatt claimed significant victories in each of those races.
In a statement provided to The Local, Wyatt said he was ready to get to work with the new administration in Richmond.
"I want to thank the voters of the 97th District that turned out and cast 33,994 votes for Scott Wyatt. This is most votes received by any delegate in the Commonwealth and a tribute to the volunteers that worked so hard on behalf of our Republican ticket. The citizens sent a clear message that change is needed in Virginia by electing Glenn Youngkin, Winsome Sears and Jason Miyares. They want the Virginia economy opened on day one," Wyatt said.
He said the new administration represents a new era on how the Commonwealth is governed. "The citizens want a leader who has law enforcement officers' backs and supports the victims, not the criminals. They want curriculum taught on advanced math and sciences in our schools, not social issues, or political indoctrination."
He urged all Virginia voters to join together in these efforts.
"We must now all come together to restore confidence in the Virginia dream as it will once again lead our nation. I look forward to bringing the residents of the district together and trust that our citizens will remain engaged in the coming years. Let's get to work," he said.
Wyatt thanked his staff, volunteers and supporters for the victory in a Facebook posting: "This would not have been possible without your hard work, volunteering, donations, and engagement, for which I am sincerely grateful."
Fowler said he too was anxious to begin work with the new administration.
"The historic voter turnout on Election Day in favor of Glenn Youngkin, Winsome Sears Jason Miyares and the republican candidates in the Virginia House of Delegates indicated that Virginians wanted change," he said. "The voters rejected the last several years of the governor and General Assembly's attacks on law enforcement, their attempt to dumb down educational standards, implement higher taxes and energy costs, and their greater concern for criminals than the victims of crime."
He said he hopes the new governor will reverse a trend he witnessed in recent years.
"It seemed to me that the last eight years was more about implementing a liberal agenda than representing the people. Our republican commonsense message of jobs, economic growth, reduced taxation, improving our public schools, putting parents and their children first, and support for law enforcement and public safety stood in stark contrast to the democrat's record and rhetoric," Fowler said last week.
He also said he's focused on renewed economic development issues.
"As Virginia became less competitive over the last several years, we were losing economic expansion and employment opportunities to other surrounding states. We are going to reverse that trend starting in January," Fowler concluded.
But democrats who opposed the two incumbents also took notice of the turnout in last week's races and said there are positive signs associated with the races.
"As you know by now, I did not win the election for the 55th District Virginia House of Delegates seat. I knew the odds were against me, so it was not entirely unexpected. And while Virginia had bad results, I am proud of what my team and I accomplished, not only in the past 10 months, but also in the election results," 55th District challenger Rachel Levy said in a statement.
She cited her campaign's ability to out raise her opponent with contributions, the majority of which came in small amounts. She also pointed to the 100 volunteers and four staffers who assisted in the campaign and the 36 endorsements she received from various groups across the state.
Levy's campaign garnered more votes than the previous Democratic challenger, and won the early vote count. "I received 2,316 more votes in Hanover than the Democratic candidate did in 2019, with a total of 10,171," Levy said. " This is the first time any Democrat has gotten over 10,000 votes in Hanover in the 55th."
Levy indicated this was not her last race, more of a beginning than an end.
"This has been an extraordinary experience and one that fit me like a glove. I am called to public service and I will not give up on answering that calling," she said. "I will not give up on my quest to provide respectful, competent, and empathetic representation or on my goal of helping to enact policies and programs that will make our lives better and our communities stronger. I will continue my work and I will run again. For Us."
She said she'll also be looking for lessons learned from last week's results.
"My team will examine every facet of our campaign and the results, and we will identify how we can improve in the next campaign," she said. "In the meantime. . . I am proud of the positive campaign we ran and of the platform we ran on. I am proud of the stands we took."
Stan Scott ran against Wyatt in the 97th and said he knew it was an uphill battle when he began, but also noted positive indicators revealed in last week's election and his motivation for seeking to serve.
"I ran this race for several reasons – first, of course, because I felt that I could best represent everyone in the 97th District. I'm a democrat, but one who has met with and listened to conservatives for more than 10 years. I've attended the Mechanicsville and King William Tea Party meetings for a long time, and I think I understand their fears and concerns," he said. "But I understand that most people in the 97th are very conservative, and winning this seat is all but impossible, so I ran for other reasons as well. I wanted to give voters a clear choice, and I did. I also wanted to give voice to democrats in the district, and we did that, too. Finally, we wanted to grow the Democratic Party and support our statewide candidates, and we accomplished this mission by turning out more than 12,000 democrats - 3,000 more than any democrat ever has in the district."
Scott said his message could have reached more voters had his opponent engaged in public debates, something both Wyatt and Fowler refused to do.
"Perhaps my biggest disappointment is that Delegate Wyatt and I never had a chance to engage together in a forum, since his schedule kept him from attending the three we both had invitations for," Scott said. "This disappointed me not because I thought it would help me win, but because I'd hoped he would want to engage with more liberal constituencies, like the NAACP, as I have with Tea Party groups."
Scott congratulated Wyatt on the win, but questioned the methodology behind the victory.
"Scott Wyatt turned out his voters, and congratulations to him. But he turned them out using fear of change, fear of talking about America's true history, and fear that someone unlike them might get the same justice and freedom they jealously guard for themselves," Scott said. "This change, this discussion, and this justice are coming to the 97th sooner or later, and we plan to keep working hard to bring it."