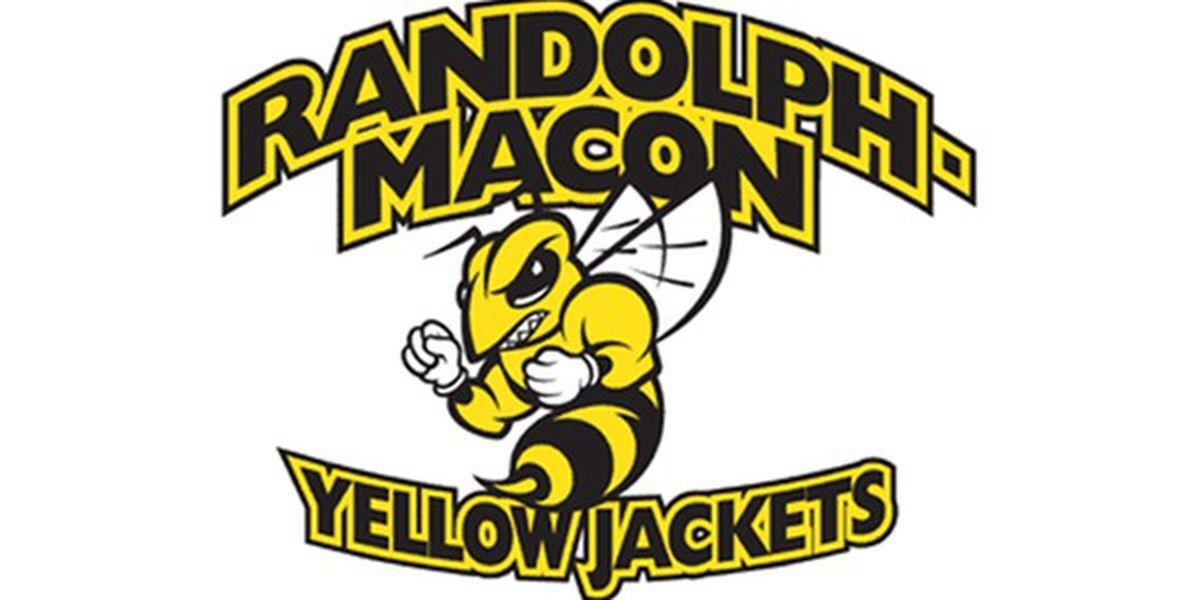 ASHLAND – Young men with white jerseys dotted Nunnally Field late Tuesday night after a titanic battle. Exhausted, all energy expended, Randolph-Macon men's soccer can be forgiven for feeling like they took a one-two punch that shockingly concluded their season in the Old Dominion Athletic Conference Spring Championship quarterfinal round after they fell to the Guilford Quakers 4-3 in overtime.
This was not your typical matchup of the third and sixth seeds of a tournament. Guilford finished in a three-way tie for fourth in the regular season standings, but lost a tiebreaker with both Lynchburg and Randolph, landing the Quakers as the sixth seed. Thus, Randolph-Macon knew they would have their hands full with a team that would come to Ashland on a five-match winning streak.
The leader of the Guilford attack was Kenny Nzekwe, who got the Quakers on the board in the 11th minute, striking the crossbar with a shot at an angle where, by inches, the ball spun off the tube and landed just over the goal line for a 1-0 lead. Joenn Lanza, whose first-pass try into the box was blocked right back to him, kicked it mid-air to Nzekwe to set up the one-timer.
Three minutes later, Nzekwe took an advance from Jasper Ardinger and, when confronted by charging Randolph-Macon goalkeeper Anthony Ivanov, won the battle by slipping the ball to his left into a wide-open net for a 2-0 advantage.
The molehill turned into a mountain even as Randolph-Macon (5-3) got on the scoreboard when Jake Miklovic was issued a red card just as Penny Senior, the Kingston, Jamaica, native who played for Meadowbrook High School in nearby Chesterfield, took a pass from Colton Howell and punched it easily into the net to cut the Quaker lead to 2-1.
"We had a slow start, and I don't think we did a great job in our defensive rotation," said Yellow Jacket head coach Josh Laux. "There were some unfortunate things, some in our control, some out. Playing 70 minutes a man down certainly, at the college level, is a challenge."
Although challenged, the Yellow Jackets dug in their heels and got to work, an improved defense keeping Guilford off the scoreboard for the rest of the opening half.
In the 56th minute, a corner kick from Howell was delivered perfectly to Senior in the box, who barely had to move his body to send a header into the goal to tie the match at two. Midway through the frame, Connor Lorenz sailed the ball some 40 yards, finding Senior, who completed a hat trick giving Randolph-Macon the 3-2 lead. For a few moments, it seemed like the Yellow Jackets would survive.
But three minutes later, Sebastian Salas answered for Guilford, setting up a frenzied final 14 minutes of regulation that ended in controversy.
After two free-kick attempts from Howell were sent out of the box, Guilford's Rodrigo Gudino raced down the left side. Tanner Williams attempted to deny entry into the box. The whistle blew. With just 13 seconds left in regulation, Yellow Jacket players and fans were stunned to see a red card emerge from the official's pocket.
"Their coach came over and apologized before overtime for asking for a card," Laux explained. "He was asking for a yellow card. He wasn't asking for a red card. He was beyond shocked that a red card was shown for that tackle. I think it was a yellow-card tackle. I think it's a textbook tactical foul that stops a counter-attack."
Now down two in the extra session, it would be Nzekwe who would score the golden goal, and end the Yellow Jacket season, Ardinger with the assist from the left corner.
Guilford would advance all the way to the ODAC championship game, where it fell 5-1 to Lynchburg, who won the title as a No. 4 seed. As for Randolph-Macon, after a condensed make-up season, it's a condensed offseason to get ready for what will hopefully be a full regular season of play this fall.
"We got so many reps for our guys in training. Our guys got exposed to college soccer for a much longer period of time," Laux said, reflecting on trying to use this unusual spring to his team's advantage. Laux also noted two players who went down to ACL injuries in January, which jeopardize their availability come autumn.
"We scored 21 goals in eight games this year, which is a lot," Laux said excitedly. "We scored 29 all of last season and we did pretty well in the conference. If we can score 21 goals in eight ODAC games, we certainly have the ability to score in the mid-forties next year."
Sixteen of those 21 goals were scored by underclassmen, led by Senior's five, followed by freshman Chazz Jones with four. If Randolph-Macon can use the disappointment of the spring for fuel come fall, it could be white jerseys leaping into the air in celebration at Nunnally Field instead.