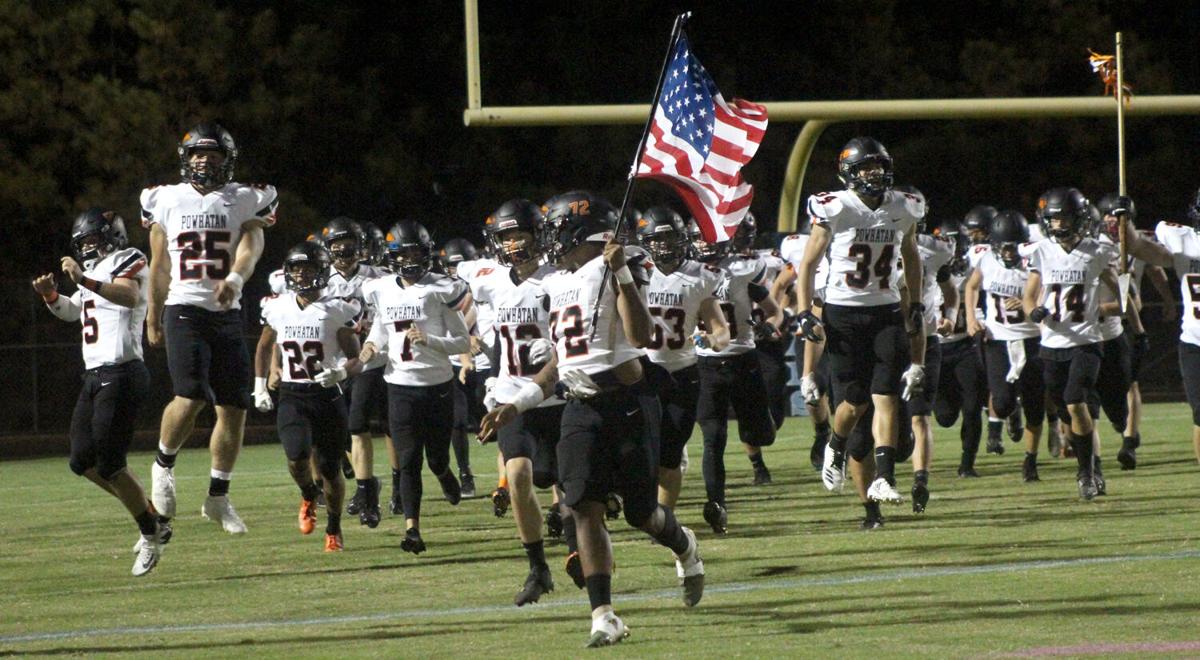 The football schedules have been released for the condensed six-game 2021 regular season, and the Dominion District teams, including Powhatan, are slated to play what would have been their first six district opponents on the original 2020 fall schedules.
That means Powhatan will face George Wythe, Midlothian, Clover Hill, L.C. Bird, Cosby and Monacan in that order.
"It's a good schedule. It's a fair schedule," said Powhatan head football coach Mike Henderson. "It gives us a chance to still compete with some really good teams."
As far as power points go, all six of Powhatan's opponents are in the Virginia High School League's Class 4–6 range. The higher the class of the opponent, the more points a team will receive. Powhatan competes in Class 4.
"If we're good enough, we can't complain about not making the playoffs because of the schedule," Henderson said. "We have to win the games in there and if it's meant to be, we're good enough, then the opportunity will be there."
Regional playoffs can begin on April 7 (Wednesday) and end on April 17 (Saturday). State semifinals are April 24, and state championship games for football will be May 1.
Powhatan will also have four home games in the regular stretch, hosting its first three matchups against George Wythe on Feb. 26, Midlothian on March 5 and Clover Hill on March 12, and then Cosby on March 26 after playing Bird on the road on March 19.
Powhatan last year went 3-3 against its upcoming opponents, but four of the six matchups were decided by one possession. The first five games in that stretch were also particularly memorable.
On the same night that Powhatan High School honored the area's winningest football coach, Jim Woodson, and renamed its athletic stadium to James W. Woodson Stadium, Henderson, who had led Blessed Sacrament Huguenot to multiple championships, turned Douglas Freeman into a consistent winner and took over as Powhatan's head coach at the start of 2019 after Woodson retired, earned his first victory with the Indians in a 46-8 rout of George Wythe.
The following weekend, Powhatan notched a rarely-seen tally in the box score when it won 2-0 over Midlothian, whom Henderson feels "has turned into a pretty good rival" for the Indians.
Powhatan came out on top in the next game as well, scoring 14 points in the last five minutes of regulation to rally past Clover Hill in a 21-20 thriller.
The two games after that were decided by 8 points or less. L.C. Bird jumped out to a 21-0 first-quarter lead but had to fend off another comeback bid from Powhatan. Bird won 21-13.
Cosby also lost a 15-0 lead as Powhatan came surging back to tie the game, but with the clock hitting zero, Kyle Lowe's field goal put the Titans on top, 18-15.
Powhatan's final 2021 regular-season opponent, Monacan, has consistently ranked among the top teams in its region, going 57-15 in the last six seasons. Monacan will host Powhatan on April 2.
"If you want to be able to make the playoffs and do something, you've got to play the best teams there," Henderson said. "We'll have a chance to play some good teams and some good rivals and see where we end up."
1: Feb. 26, 7:30 pm: HOME vs George Wythe
2: March 5, 7:30pm: HOME vs Midlothian
3: March 12, 7:30pm: HOME vs Clover Hill
4: March 19, 7 pm: Away at L.C. Bird
5: March 26, TBD: HOME vs Cosby
6: April 2, 7:30 pm: Away at Monacan