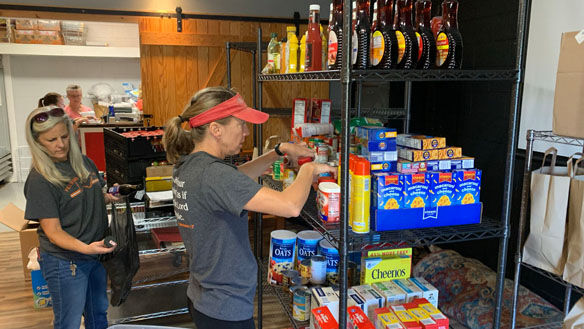 POWHATAN – After more than 11 years of helping families in need, Feeding Powhatan Inc. will close its doors at the end of 2021.
The food pantry, which is operated by Community Life Church, announced last week that due to lack of personnel, it would be closing effective Dec. 31. The food pantry will still hold its last two monthly sessions of 2021, distributing Thanksgiving meals on Nov. 17 and Christmas meals with gifts for families' children on Dec. 15.
Jennifer Davis, president of the food pantry, and Donna Terry, vice president, became emotional when speaking to the Powhatan Today after the Oct. 20 session of the food pantry. The pair has worked together to run the operation since it started in July 2010 and said it has been an amazing experience to see hundreds of families helped over the years.
When asked about the legacy they want the food pantry to leave, Terry said she hopes the people who came there for assistance through the years "know that they were always loved and whatever they told us would not go anyplace else. That we would find a way to help them without making them feel less."
"It is so hard for them to come and ask for anything anyway, and we want to keep their dignity," she said.
Davis agreed, adding that even though the food pantry is closing due to a lack of staffing, "I really, truly hope that these people know that everything we have done for anybody in this community was done with a pure heart and just because we want them to know that God loves them."
The food pantry started in 2010 through an overflow of Davis' couponing habit. Davis and Terry felt that the people in the community needed the food pantry and the church needed outreach opportunities. So the church dedicated a small closet to the food pantry and filled it with nonperishable items they got for free or nearly free because of the coupons.
"I would go online and buy the coupons. Then I would go to the store and we would see what I could order or pick up from the shelves," Davis said. "We didn't have any funding; we didn't have any budget. Sometimes we would get canned goods and stuff like that from the church, but as far as the food pantry, it was strictly coupons."
"The greatest thing was the church would bring in their newspapers for us to cut out the coupons, and that was really cool," Terry added with a grin. "Then they would bring in food as well. We had a big box set up in the sanctuary and people would just come weekly and try to help fill it up."
The food pantry had several different evolutions through the years in how it operated. Davis opened up her own business, so the couponing habit of a new mom slowly took a backseat and people were asked to donate more, including non-church members in the community.
A few years ago, the church partnered with the county, which approached them about partnering on the project, Davis said. They started writing grants, used them to purchase a freezer to expand their offerings, and saw the food pantry continue to grow.
The food pantry was busy but still small and manageable. Clients came in and shopped one-on-one with a volunteer, which was much more conducive to building relationships, Davis said. Through those conversations, the volunteers would pray with people who had needs, which has always been a vital part of the food pantry's mission, Davis said.
"Yes the immediate need is to serve them physically and to give them food and supplies, but spiritually it has always been our goal to have these people be touched by the Lord, whether that be somebody praying over them or a family member," she said.
Davis continued, "Our main goal was always to make sure that they knew that, one, God loved them; two, we are here for them, and three, whatever your prayer is – no matter how big or how small – we will pray it with you and we will pray it comes through with you," Davis said.
Terry said she had the opportunity to also speak with clients about money management tips and finding out other physical needs that the church could help address. She became emotional as she talked about some of the difficulties some local residents experience on a daily basis and their living situations. In addition to the people they fed, the church, through the food pantry, helped replace a roof, windows, and a washer and dryer, as well as giving away three cars.
"That just keeps you focused on why we are really here. It is not just to feed them but to find out what is going on in their lives that somebody could help them. We could pair them up with someone that could fix a broken window so their house would be warm or fix a floor," Terry said. "There are so many other areas that we touched other than just putting food in their bellies."
When the COVID-19 shutdown happened in March 2020, suddenly the need in the community exploded. March 13, 2020, was the first time the food pantry was open for COVID-19 assistance, and they served about 30 families, Davis said. The food pantry went from opening monthly to a weekly schedule, and within three to four weeks, it had grown to serving more than 100 families.
"There were so many people. We would have 100 cars lined all down the road. You couldn't get in on New Dorset Circle – there were cars everywhere. Kids were home from school. There was no assistance at that time. That is definitely when it hit its height," David said.
Volunteers were shopping while the food pantry was open "because we literally didn't have enough food. … We would get deliveries in the middle of giving away food," she said.
As people started to go back to work, the numbers decreased and the food pantry gradually reduced how often it met until it returned to a monthly schedule earlier this year. The last two sessions of the year will be on Nov. 17 and Dec. 15.