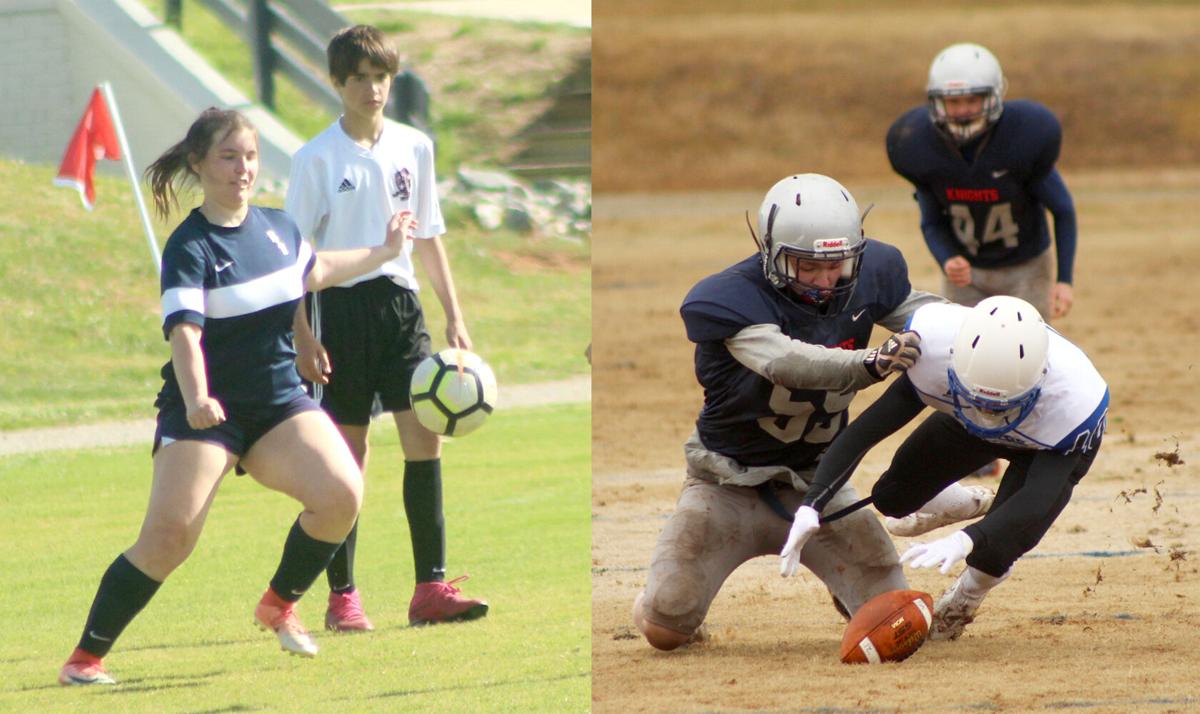 POWHATAN -- Seniors and multisport athletes Zack Miles and Emily Smith were named Blessed Sacrament Huguenot's 2021 Male and Female Athletes of the Year at a school ceremony held Thursday morning. Miles was the recipient of the Gary Brock Male Athlete of the Year award, and Smith received the Jeff Zimmerman Female Athlete of the Year award.
Miles competed in baseball and football was named to First Team All-State in both sports. He anchored the football team up front on both the offensive and defensive lines, and he helped lead his baseball team from behind the plate at the catcher position.
"His athleticism separates him from other players along with his team-first attitude," said BSH athletic director and head baseball coach James Poore. "He always puts the team ahead of himself."
His coaches described him as a quiet leader who: leads by example with his play on the field; celebrates everyone's success; and is looked up to by his peers.
Smith competed in soccer, cheer and basketball. She was one of the Knights' two senior captains on the soccer field along with Michael Timmons; Smith helped anchor the defense and she contributed to the team's standout 5-1-1 record in the short 2021 spring season.
According to her coaches, Smith was an embodiment of a team player and one of the toughest players they had coached; she grew as a player and a leader on and off the field. Her work ethic was commended as being "beyond her years," and her coaches pointed to her dedication, her genuine love for her teammates and her passion to do good at whatever she is doing.
Senior Henry Kiefer, who played baseball and basketball, was the recipient of the Jean Lawson Manley Spirit of a Knight Award, which recognizes a student-athlete's sportsmanship and teamwork.
According to Poore at the ceremony, BSH head basketball coach Chris Hamner said that Kiefer was laid back mentally, which let him thrive in pressure situations.
"I think he would've surprised a lot of people in our conference if COVID hadn't cancelled his senior season," Hamner was quoted as saying. "He was a great leader for us."
Kiefer's leadership could also be seen on the baseball diamond, Poore added, as he helped the team improve throughout the season.
"He is the ultimate teammate," Poore said. "He is an example of what younger athletes should aspire to be."
Smith and senior Carson Conner, who played baseball and basketball for BSH, were recognized at the ceremony for having been named the school's nominees for the Richmond Times-Dispatch 2021 scholar-athletes of the year.
"Both Carson and Emily embody the meaning of the student-athlete," Poore said. "Their work on the field and off the field has been exemplary. They both are great representatives of the BSH athletic program."