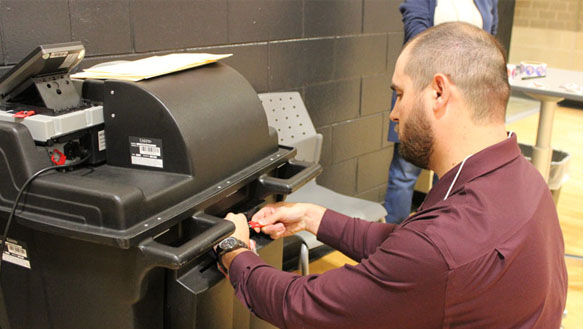 POWHATAN – A combination of an unexpectedly high voter turnout and a delivery of incorrect ballots too close to Election Day caused delays when nine Powhatan County voting precincts ran out of scannable ballots and had to switch to ballots that were counted by hand after polls closed.
Director of Elections Karen Alexander acknowledged that many voters grew troubled over a mid-day change in the voting process that occurred at nine of Powhatan's 12 voting precincts when voters were no longer being instructed to cast their ballots into the optical voting machine, but rather putting them into an emergency ballot box on the side of the machine.
Alexander and the Powhatan County Electoral Board pre-order ballots well in advance of scheduled elections. Unfortunately, for this election, the printer shipped incorrect quantities of the two types of Powhatan's scannable ballots – one ballot style for the District 2 Special Election and a second ballot style for the remainder of the county, Alexander said. Without time to reorder and with enough scannable ballots to handle a normal turnout, the Electoral Board decided to proceed with the quantity of ballots on hand. But with the unprecedented turnout of voters on Tuesday, a shortage of scannable ballots became inevitable.
Without another expedited option available to provide corrected ballots to voters, Alexander, in concert with the Electoral Board, made the decision to follow the state's protocol and print copies of ballots for hand counting instead of scanning. This option allowed for voting to continue in a timely fashion and ensure that every qualified voter was able to exercise his or her right to vote on Nov. 2.
While many voters felt concerned over the change in procedure, there was no impact to their ability to cast an official ballot and have their vote counted, Alexander said. The only significant impact of the procedural change was the "timeliness of the results being ascertained."
State mandated ballot hand counting procedures were adopted at each precinct. Bi-partisan groups of election officials, under the watchful eyes of bi-partisan observers, collectively counted and recorded each and every vote cast in the emergency ballot boxes. All of Powhatan's voting results were counted and reported to the Powhatan County Office of Elections and then on to the Virginia Department of Elections before 11 p.m. on Nov. 2.
In total, election officials hand counted 1,940 ballots in the hours after the polls closed at 7 p.m.
Alexander said that Powhatan was not the last locality to post election results on Election Night as there were other issues faced throughout the Commonwealth, including several other localities under the same ballot-shortage-circumstances.
Ballots were hand counted for decades before electronic scanners and electronic voting machines were invented to expedite the results process, Alexander added. Hand counting ballots is perceived, by many, to be the most accurate and fair way to ascertain votes, and therefore the reason Virginia now requires paper ballots. Therefore, while many people were uneasy about not seeing their ballot cast through the scanner on Election Day, others were quite pleased to know that a group of trained bi-partisan officials would be counting their votes instead of a machine.
James Babcock, chief election official at Precinct 401-Courthouse, said he notified the voter registrar's office sometime before lunch that his location would be short on ballots and found out that he wasn't the only one. He said the precinct, which is located at Powhatan Middle School, went through 800 scannable ballots before switching to the reproduced ballots at 1:50 p.m.
When several hundred copies of the ballot were brought in to use at his precinct, representatives from the republican and democratic parties stationed outside were asked to look at them to verify that they were identical to the scannable ballots, Babcock said.
Most of the voting process continued as normal. Citizens checked in with an ID, were handed a paper ballot and went to one of the voting booths to fill it out. However, when they took the ballots to the scanning machines, instead of feeding the copied ballot into the machine, voters were asked to fold them in half and put them into the emergency ballot box on one side of the machine. The box is normally used for ballots of people who vote in their vehicles outside.
When the box became full at times, Babcock, with at least two election officials watching, opened the box, moved the ballots into a secure overflow box, and then put new seals on both the emergency ballot box and the overflow box.
"There are people who have asked questions. I have given an explanation and they seemed OK with that. A few have made comments to the campaigners that are outside. We have offered if anyone has concerns or questions they are welcome to come in and talk to me or, if they are not satisfied with me, they can go talk to Karen the registrar," Babcock said.
Jean Gannon, immediate past president of the Powhatan Republican Party, was outside of the precinct at the middle school. She said Babcock informed them at about 1 p.m. on Election Day that ballots were running low. Around the same time they learned there were at least four counties across the state facing the same problem because of high turnout and an issue with a ballot vendor.
"I think our local election office has handled it very well. These things happen, especially with such a big operation, and the turnout was way more than anybody anticipated. We were hoping that it would be large but we didn't know that it would be this large," she said. "All in all, it is being handled very well and we will resolve it and we will reconcile it in the end so that everybody's vote is counted."
She added that in observing the hand counts, the republicans kept their own tallies to make sure they reconciled with the poll workers' counts, but so far they had found the election officials had carried themselves very professionally.
"These folks know what they are doing. They are all very seasoned officers of elections so they know what they are doing," Gannon said.
Still, she said the party reached out to volunteers to ask them to come back in and observe the hand counts at the impacted precincts as a safety measure.
Mike Asip, chair of the Powhatan Democratic Committee, agreed that there were many checks in place throughout the day and into the evening that ensured the ballots were being handled properly and every vote counted.
"No one is happy when the voting process changes, but hand counting is what happened before we had machines. This is a process that is low tech but it is as reliable as the machine. The machine provides that efficiency," Asip said. "But they came up with the right solution with Xerox copies and hand counted ballots versus not having any ballots. The solution was to fix the problem and make sure every vote counted."