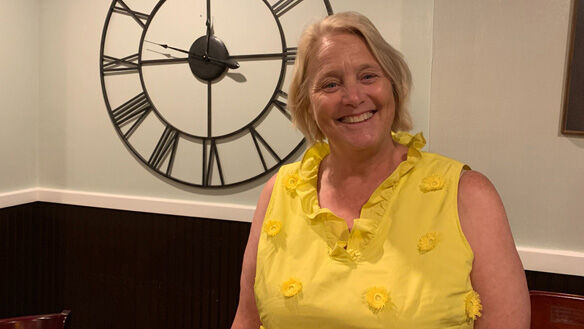 The Queen is ready to relinquish her throne, but she said her year-long reign as the Powhatan Christmas Mother has truly been a royal experience.
At about this time last year, Betsy Blandford, nicknamed the Queen when she was a Powhatan teacher, was shining her new crown and getting ready to step into her role as the 2019 Christmas Mother.
She was both honored and excited to be asked and was looking forward to a fun year ahead. She had no idea what experience truly lay ahead for her.
"I was pretty sure it was going to be work. As I finish this up, I am completely humbled and blown away by how impactful the experience has been. I am so thankful that this group thought to ask me. And would I say yes again? A million times yes. I am so glad I said yes," said Blandford.
Members of the Powhatan Christmas Everyday Committee are just as pleased that Blandford said yes to this great responsibility, commending her as an excellent addition to the Powhatan Christmas Mother tradition.
Mary Midget Harrison, Christmas Mother 2006, said members were elated when they heard that Blandford would be the Christmas Mother and are even more elated now that she was the Christmas Mother and did such an amazing job.
Having been friends since the 1980s, Harrison said she has long known Blandford to be pleasant, positive, and prone to see the good in everyone. She put all of those good traits and more to work with the committee, being both respectful and engaged with longtime members and extremely welcoming to new members.
"She is the same everywhere you meet her. She is always the jolliest person in the room. Like Santa, she is jolly," Harrison said.
Pat Lyons, Christmas Mother 2018, served as Blandford's secretary, which is a role outgoing Christmas Mothers are asked to fill in their two-year commitment to the program. She said Blandford was outgoing, bubbly, and wonderful to work with for the last year.
"Queen Betsy" exuded confidence and poise from her first meeting, said Pinckey Sowers, Christmas Mother 2013.
"Her leadership skills were excellent but she was always willing to listen to others and was open to new ideas.  She executed her duties with class and a large dose of dry humor, a real joy to work with," Sowers said.
With the mantle about to be passed to a new Christmas Mother, which will be announced next week, Blandford agreed to talk about the past year, how much it has meant to her, and finishing out her year in the position amidst a worldwide pandemic.
Early fall 2019 was a time of great excitement for Blandford. People found out she was the Christmas Mother and the "response to that announcement with family and friends was a riot. People were so excited for me."
"The period after that was primarily setting up fundraising events and sending out the letters we send out to people asking for donations. Then in October we started taking applications from clients, and that was a delight. I got to meet so many of the clients whom we served and I thoroughly enjoyed that," she said.
Blandford already knew some of the clients, either having interacted as part of the community or because of their connections to former students. But whether she knew them or not, she was blown away by how appreciative the clients were of what the Christmas Mother program does.
"That appreciation is really brought home on delivery day – the hugs, the tears when families come to pick up their gifts. I had one senior who said, 'I have never gotten what I wanted for Christmas before.' That leaves an impact," she said.
She is still staggered by the program's reach in the community. During the 2019 season, they served a total of 294 people, which included 76 seniors and 129 children. The Christmas Mother program served 148 families.
The fundraising component of the position, or more accurately the community reaction and generosity to the pleas, also was astounding, Blandford said. So many different people, groups, and businesses stepped forward in so many ways to provide for their fellow residents.
When the application process ends, the shopping begins. Through November, the organization is a whirl of filling orders, receiving gifts from the public, and gift wrapping them to go out in December.
With so much activity going on for several months in a row, the job of Christmas Mother could easily become really stressful were it not for one thing – the Powhatan Christmas Everyday Committee, Blandford said. Made up of long-time members and former Christmas Mothers, it has been the backbone of the program for five decades.
"This is the beauty of the committee. They flip stress level to excitement level. What anybody else might view as stress, they view as fun," Blandford said. "They are ramped into high gear. Everybody has their favorite jobs to do and they are doing it at warp speed to make sure it gets finished. This is when the years of organization comes into full play. When I saw how the gift goes from a line item on an application to a wrapped gift in a recipient's box without getting lost, I was absolutely amazed."
Aiding in that process this past year, the group was operating out of the nonprofit's new space in the Pocahontas Landmark Center. Having all activity in one centralized location made the process much more streamlined, she said.
Like the rest of the community, Blandford was disappointed that the Christmas Parade had to be canceled in December. She was especially disappointed for Pat and Larry Lyons, her immediate predecessors, not being honored as the grand marshals of the parade.
The three pickup days in December were magnificent but freezing cold and rainy. Still, it was rewarding to see all of that work come together and bring such joy to so many people, she said.
"Delivery day was a riot watching all of the elves get their pickup trucks loaded and go off on their rounds. That was one day that was equally as fun but for a whole different reason," she said.
The days after activity winds down offer an interesting dynamic to observe, Blandford said. Some committee members seem to easily transition back to Christmas with their families and others feel saddened by the end of the Christmas Mother season.
"But I look on that as a positive because this clearly is such an important part of their service to the community," she said.
The first part of the year isn't usually a critical time for the program, so the committee meetings that had to be skipped in spring and summer 2020 were a disappointing loss but needed to be done since a good portion of the volunteers fall into the at-risk category, Blandford said.
The real challenge will come in the months ahead as the new Christmas Mother and her committee figure out how to make the program work while keeping volunteers, clients, and the community safe, she said. They are still working on the details for how this season will look and will be seeking the public's input and support in the months ahead.
"I don't think there will be any fundraisers this year but I don't know," she said. "We can always hope. But if you look, the wine festival has been canceled and the parade has been canceled. We will still send out our letters asking for donations, and I think that will be our primary source of income."