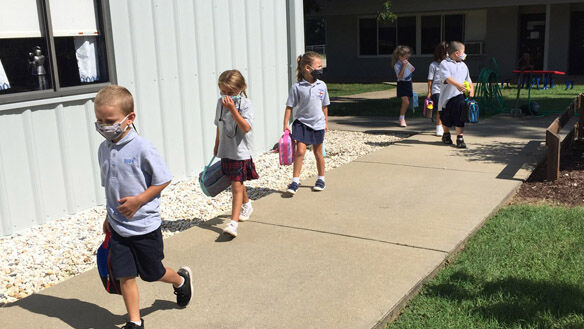 POWHATAN – Thanks to a great deal of planning and flexibility, Blessed Sacrament Huguenot Catholic School recently experienced a successful first week with all students back in classes five days a week.
The Powhatan-based private school returned to classes on Tuesday, Aug. 25 with 323 students attending ranging from preschool (starting at age 2) to 12th grade, said Paula Ledbetter, head of school.
Ledbetter praised her staff members for taking on the extra responsibilities that came with necessary COVID-19 precautions and the students and parents for their willingness to learn and adhere to the new significant adjustments everyone has to make.
"The week before school started, we held four nights of parent Zoom meetings where we walked them through our reopening plan," Ledbetter said. "All of the planning that our reopening committee did over the summer and our faculty meetings and parent meetings really paid off because we had a very positive first week of school. Everyone was very familiar with the procedures and the protocol. Parents have been very supportive. Everyone felt very comfortable being back knowing the plans we had in place."
The work they are accomplishing would not have been possible if staff members weren't willing to step up and take on additional responsibilities, doing everything from coming early to do the staff and student temperature checks, sanitizing the playground equipment, or helping to clean the cafeteria between lunches, Ledbetter said.
The administrative staff especially has seen significant changes to their job descriptions as they move around campus throughout the day checking on students, cleaning, and being available to classes.
"People are having to do more. We have all taken on more responsibilities beyond our day-to-day responsibilities, but everyone has been very helpful, very supportive, and everyone is very much working like a team," she said.
The school's health plan in relation to COVID-19 starts the moment people step onto school property. All staff and students must have their temperatures checked before they can either get on the school bus or enter campus on a daily basis. This meant redirecting the duties of staff, who have been asked to come to school earlier to help, Ledbetter said.
Blessed Sacrament implemented a strict no-visitor policy, only allowing non-staff members to come to campus if they have made an appointment, she said.
Since the school only has one nurse, staff established a new protocol for the clinic and medical assistance. In addition to having the clinic, the school now has isolation rooms at various points on campus and staff is offering assistance there as well. Even without the pandemic, people do get sick on a regular basis with colds and sore throats, which has already come up this school year. She has been appreciative that parents have understood how seriously they have to take any symptom, no matter how minor.
"We spent a lot of time explaining protocol to our staff and our parents so they were familiar with those everyday sicknesses and illness and how to distinguish them from COVID," she said. "Parents have been very supportive of our protocol and have taken it very seriously.
"They have kept their children at home if they are not feeling well. They come promptly and pick them up if they need to. There hasn't been a question about the protocol," she added.
Staff members weren't sure how students would adjust to the face covering policy, but they have been wonderful, Ledbetter said. Students in third grade or younger are encouraged to wear masks when they are unable to maintain 6 feet of distance. Middle and high school students wear masks when they transition between classes. They wear masks in class if they can't maintain the 6 feet of distance.
The school doubled the size of its elementary program, so getting to know the faces of the new students, especially with masks on, has been challenging but still remains one of the best parts of a new school year, she said.
Large gatherings such as the morning convocation and extracurricular activities are on hold for now, and students are asked not to congregate in groups before and after school or at their lockers, Ledbetter said. The school is making sure everyone is comfortable being back in the classroom before it starts adding back extracurricular activities and clubs.
The school wanted to have as many elements of a normal school year as possible, so they do have lunch in the cafeteria, she said. However, they are divided up to have fewer students at each lunch period. Some teachers have been taking advantage of the warm weather to have their classes picnic outside.
One of the biggest challenges for the staff so far has been cleaning, Ledbetter said. Staff members knew additional cleaning would be required, but they didn't anticipate the amount of time and people it would take as well as the volume of cleaning supplies.
"Several of us – at least four to five staff members – are in the cafeteria for literally three to three and a half hours to ensure that things are being disinfected between every lunch," she said, adding a contract service cleans the school every night and teachers have stepped up by sanitizing their classrooms and other areas during the day.
Having been out of school for so long, people are truly not taking the situation or the precautions for granted, Ledbetter said.
"Everyone is just really happy to be back," she said.