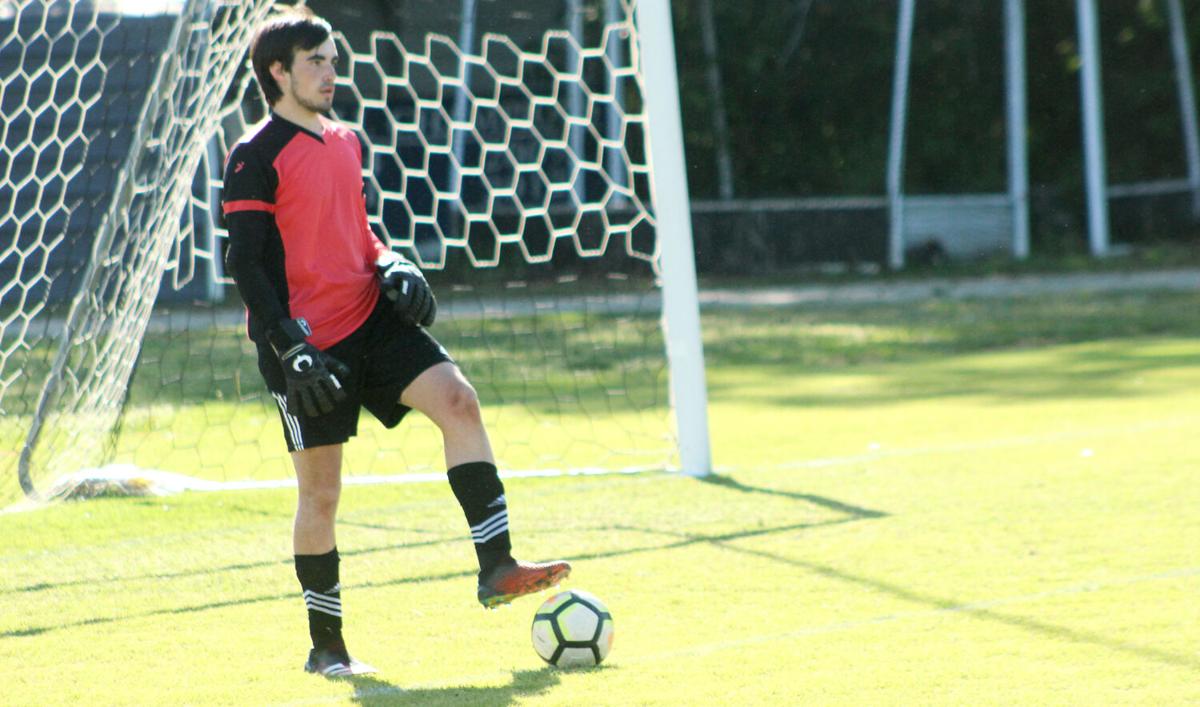 POWHATAN -- Tyler Jenkins' voice was loud and clear throughout Friday's match. The junior keeper could be heard directing his Blessed Sacrament Huguenot teammates and providing them with leadership from the goal.
"It's crucial getting everybody lined up back there, because it's one thing to hear it from (your coaches on) the sideline…but when your goalie yells at you from behind, and you respect the heck out of your goalie, you move," said BSH head coach Patrick Winterrowd. "Tyler can also see things I can't see – he can see the entire field from the back, so we've got a lot of experienced people really helping us a lot, a lot of good upperclassman leadership this year, which has been great to see."
Jenkins and his teammates earned the shutout in their 2-0 win over Southampton Academy to improve to 3-1. The Knights' leading scorers this season, senior Michael Timmons and sophomore Jackson Hawkins, made the two goals in Friday's win.
"It's huge for the confidence for next season, huge for our seniors – they wanted to win in front of their home crowd and they did, and I'm really proud of them," Winterrowd said. "Michael again had a great game, Emily (Smith) again had a great game. We're running out of time with them, I'm counting the days. It's getting closer, I don't want to see it, but it was nice to send them out with a bang here. We have another home game, but I wanted to get the win today for them."
Eighth grader Ryder Hansen continued his strong first season on the Knights' varsity team with his performance in Friday's game.
"Ryder Hansen has been a huge addition to our team.  His ability to control and distribute the ball has been very important in the development of our offense," Winterrowd said. "He is a tough kid starting on varsity as an 8th grader against some really physical opponents and holding his own throughout.  I'm really glad that he is with us and look forward to his continued development over the rest of this season and in the future." 
The win followed a hard-fought 3-0 setback to Isle of Wight Academy on Monday. Winterrowd said that, due to COVID and injuries, they were down to everyone playing the game with very little substitutions for 90 minutes.
"We ran ourselves ragged against a really, really good team, and that gave us a lot of confidence for today," Winterrowd said. "We hung with them for most of the game…it really gave us the boost that we needed today to know that we can hang with experienced teams with good soccer players."
Following Monday's game, the Knights had a long week to rest, and while it was really hot during practice, they ran anyway.
"We're getting tough, and I think that showed today – we had the gas to go for the entire game," Winterrowd said, "and I think at the end, I think the other team wore down a little bit, and that helped us quite a bit."
Winterrowd said the Knights played a lot better on defense this week, although he added that they did not keep their shape like he wanted them to do.
"We're still going to be working on that a lot – a lot of us were kind of flowing around the field in different spots, but really if we stay where we're meant to stay and help out when we need to, we can do a lot less running; we're running ourselves ragged in the back a little bit," Winterrowd said Friday, "but we were very solid on defense today."
BSH is currently slated to face Brunswick Academy on the road on Wednesday at 4 p.m.