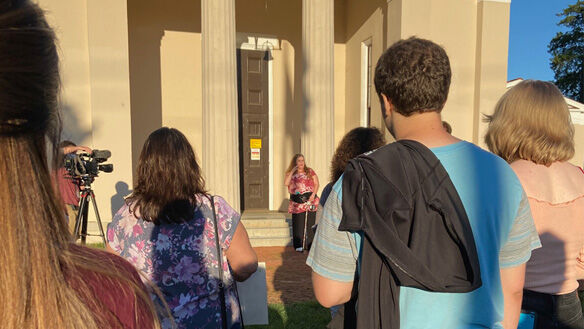 POWHATAN – The life of a 5-year-old North Carolina boy whose time was cut short too soon was recently honored with a candlelight vigil held at the Powhatan County Courthouse.
A large gathering of people attended the vigil on Aug. 16 to remember Cannon Hinnant, who was killed by a gunshot wound to the head about a week earlier, and support his great-aunt, Powhatan resident Diann Frank.
Cannon died on Aug. 9 in Wilson, North Carolina, when a neighbor allegedly shot the little boy, who was riding his bicycle in the driveway, according to the Wilson Times newspaper. Darius Nathaniel Sessoms, 25, faces a first-degree murder charge in the killing.
Frank, who was related to the little boy on his father's side, said she was saddened when she learned that a candlelight vigil in his hometown had been canceled.
According to the Wilson Times, the vigil was canceled because it was scheduled too soon for the family after Cannon's funeral and burial.
Frank said she wanted her great-nephew to be remembered and to show her love for her family, so she decided to hold the vigil.
"I felt like somebody needed to honor him, so I did," she said.
Although she hoped people would come to help honor the little boy, Frank said she didn't really know what to expect. She was incredibly touched to see the large crowd, which included both friends and strangers.
"It was just a wonderful feeling to see all the people there to support me for my great-nephew. Even if nobody showed up I would have been there by myself holding a candle for him. But I am glad all the people were there to support him because he mattered, too. He was my family," she said.
Frank said she never actually met Cannon but learned about him through conversations with family and watching him grow up in pictures posted on Facebook. She knows his family is heartbroken and still reeling from the little boy's senseless death.
"He was an innocent 5-year-old child. His life was beginning to blossom. He was getting ready to start kindergarten. He was just starting to live and his life was cut short," Frank said.
On the recommendation of a friend, Frank asked Jerimy Ford, campus pastor for Passion Community Church, to speak during the vigil. Although he didn't know Frank or Cannon, as a parent, Ford said he was immediately willing to help.
"When I think about my kids – and obviously my kids are older – I think about all of the life and potential my kids have both experienced and showed as young adults. That was taken. That little boy didn't get that opportunity. He didn't get to live a life. He didn't get to grow up to make a difference," he said.
Ford said his goal in speaking was to create a space where people could collectively grieve what is happening in society but also to come together and have a sense of unity.
"Mostly what I wanted to convey to them was that, yes, this was a senseless tragedy that I can't understand or comprehend," he said. "Oftentimes we look to God for a why and I have prayed and cried and searched looking for the answer to that question. And the reality is there is no answer to that question. The only answer the Bible gives us is who, and my hope is that we can all look to the who, look to God to find comfort and to collectively come together."
Frank said she didn't have the words to describe how much Ford's speech meant to her and how important it was that so many people honored Cannon.