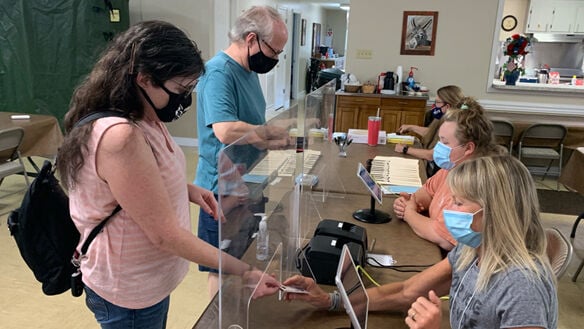 POWHATAN – Turnout for the June 8 Democratic Primary in Powhatan was only slightly less than director of elections Karen Alexander was projecting with 4.37% of registered voters casting a ballot.
There was minimal interest leading up to the primary, and 1,022 people out of the county's 23,388 registered voters chose to participate in the election, Alexander said. Based on the low level of interest she was seeing during absentee voting, Alexander had projected a 5% turnout.
The primary was to decide who will be the democratic candidates for governor, lieutenant governor, and attorney general.
In the local race for the democratic governor candidate, Terry R. McAuliffe led the field with 654 votes; Jennifer L. McClellan received 153 votes; Jennifer D. Carroll Foy received 151 votes; Lee J. Carter received 24 votes, and Justin E. Fairfax received 37 votes.
Statewide, McAuliffe was also the clear winner with 306,286 votes (62.12%), followed by Foy (19.83%), McClellan (11.73%), Fairfax (3.54%), and Carter (2.77%).
In the democratic primary for lieutenant governor, Hala S. Ayala received 485 votes; S. "Sam" Rasoul received 188 votes; Andria P. McClellan received 97 votes; Sean A. Perryman received 50 votes; Mark H. Levine received 107 votes, and Xavier JaMar Warren received 33 votes. Elizabeth R. Guzman had already withdrawn from the race but still received 30 votes.
Across Virginia, Ayala had a clear lead with 180,104 votes (37.48%), followed by Rasoul (24.23%); Levine (11.36%); McClellan (10.59%); Perryman (8.08%); Warren (4.14%), and Guzman (4.12%).
In the local attorney general race, Mark R. Herring received 598 votes and Jerrauld C. "Jay" Jones received 405 votes.
Statewide, Herring became the democratic candidate with 273,747 votes (56.63%), beating Jones' 43.37%.
Locally, Alexander said it was an uneventful election. The only hiccups came when local residents arrived at the polls expecting to vote in a republican primary and found only a democratic primary happening.
"Most people returned the ballot that they were given unmarked and left. Even better they saw a sample ballot and got out of line after seeing a sample ballot," Alexander said. "If they were checked into the poll book and handed a ballot, if they handed it back unmarked, they were backed out so it was like they never even checked in."
Hannah Harrison, chief election official at Precinct #202 at Graceland Baptist Church, said that by 11 a.m., they only had 26 people who had cast a ballot.
"It has been a steady stream. We got our first voter five to 10 minutes after we opened the doors and then it has been slow and steady all day," she said.
Harrison said they did see some voters expecting a local election to be on this ballot because of campaign signs they have seen up around District 2.
Rick and Debbie Campbell came in late morning to vote at Graceland. They said they not only feel voting is their duty as Americans but that every election is important.
"We did the research and we have been keeping up. People have to remember your candidates have to start at the bottom and work their way up so you have to keep up with all the elections," Debbie Campbell said.