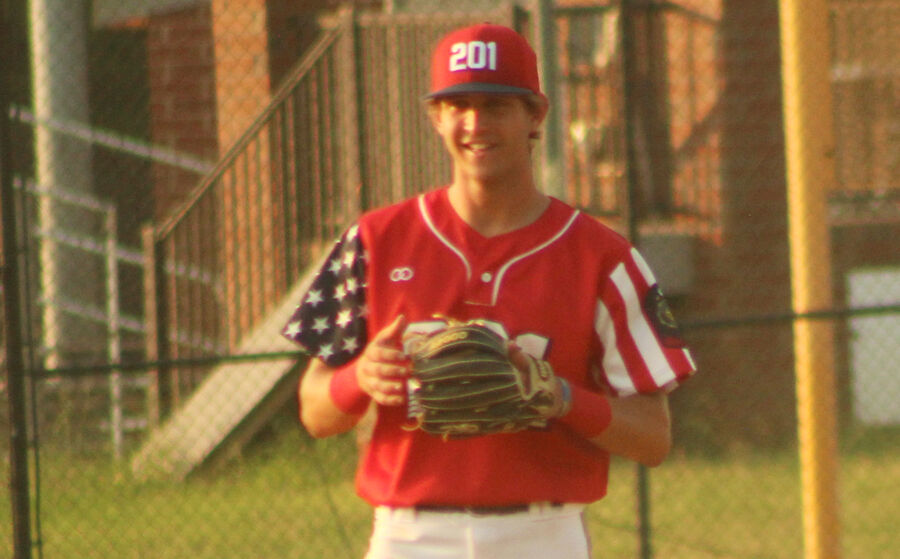 POWHATAN -- The American Legion Post 201 Seniors had already shown earlier in the week that they could rally out of a big deficit and challenge for the win.
Only this time, with an even steeper hill to climb, the Seniors reached the summit.
After falling behind 10-1 after four-and-a-half innings, Post 201 caught fire across the final three frames of Friday's home game to unleash 10 runs and walk-off 11-10 over Post 125 for its first win of the season.
The triumph built on Post 201's efforts to come back from a 6-1 deficit on Tuesday and challenge Post 284 by tying the game at 6-6 on two home runs in the sixth and forcing extra innings before 284 pulled away in the ninth and won 12-9.
Every game that Post 201 has played this season has been decided by 3 runs or less.
Future College of William and Mary player Carter Lovasz batted 3 for 5 with 2 RBI and a run scored in Friday's victory and delivered the game-winning single to bring home James Madison University player Christian Chambers. The lead-off batter for Post 201, Chambers batted 2 for 3 and scored 2 runs, including the game-winner.
Kendrick Sheffield batted 2 for 4 with an RBI, hit a double and scored a run. Ethan Robinson batted 1 for 1 with an RBI and scored twice.
Carter Dawson hit the game-tying single in the bottom of the seventh against two outs with two strikes on him.
After Post 125 scored 5 runs in the top of the fifth, Post 201 responded with 4 of its own in the bottom half-inning. Robinson, Jack Carris and Dawson all scored on wild pitches, and Lovasz singled to center field to plate Chambers and help tighten 125's lead to 10-5.
201 pitchers Jacob Barbour and Ethan Smith capitalized on their team's momentum by shutting down 125's offense. In the top of the sixth, the two pitchers combined to strike out the side in order, with Smith stepping onto the mound to get the last out.
Post 201 built on three consecutive hits in the bottom of the sixth to score a run off of Thomas Robinson putting a pop-fly into play and 125 committing an error on the attempt to get the out. Sheffield scored on the error, shrinking 125's advantage to 10-6 going into the final inning.
Smith stayed hot on the hill in the top of the seventh, retiring the side in 8 pitches and striking out two.
From there, Post 201 went off in the last half-inning of regulation. Lovasz reached base on his second single of the night, Smith drove him to third by reaching base on a fielder's error and Lovasz came home on a passed ball.
Smith scored on a wild pitch, and Sheffield grounded out, but brought home Jacob Barbour on his sacrifice, slashing 125's lead down to 10-9.
Facing 2 outs, Dawson caught hold of a 1-2 pitch and sailed it to the outfield, bringing home Ethan Robinson to tie the game.
Thomas Robinson then took a hit by pitch, loading the bases and bringing Lovasz to the plate for the second time in the half-inning alone.
Lovasz seized the first pitch thrown to him and drilled it to left field, plating Chambers - who had reached base in the inning on a walk - and securing the walk-off triumph for Post 201.
In last Tuesday's loss to Post 284, Lovasz batted 2 for 3 with a 3-run home run, scored once and walked twice. Powhatan High School graduate Stone Talley batted 2 for 4 with a 2-run home run and scored twice. Carter Dawson batted 2 for 6 with 2 RBI and scored twice. Jack Carris also scored twice.
The Tuesday prior, Post 201 took an 8-5 setback to Post 137. For 201, Barbour batted 2 for 4 with 2 RBI, a triple, a double and a run scored.
Post 201 is currently slated to play at Post 284 at Shepherd Stadium on Thursday at 7 p.m. and at Post 280 on Sunday at 3 p.m.