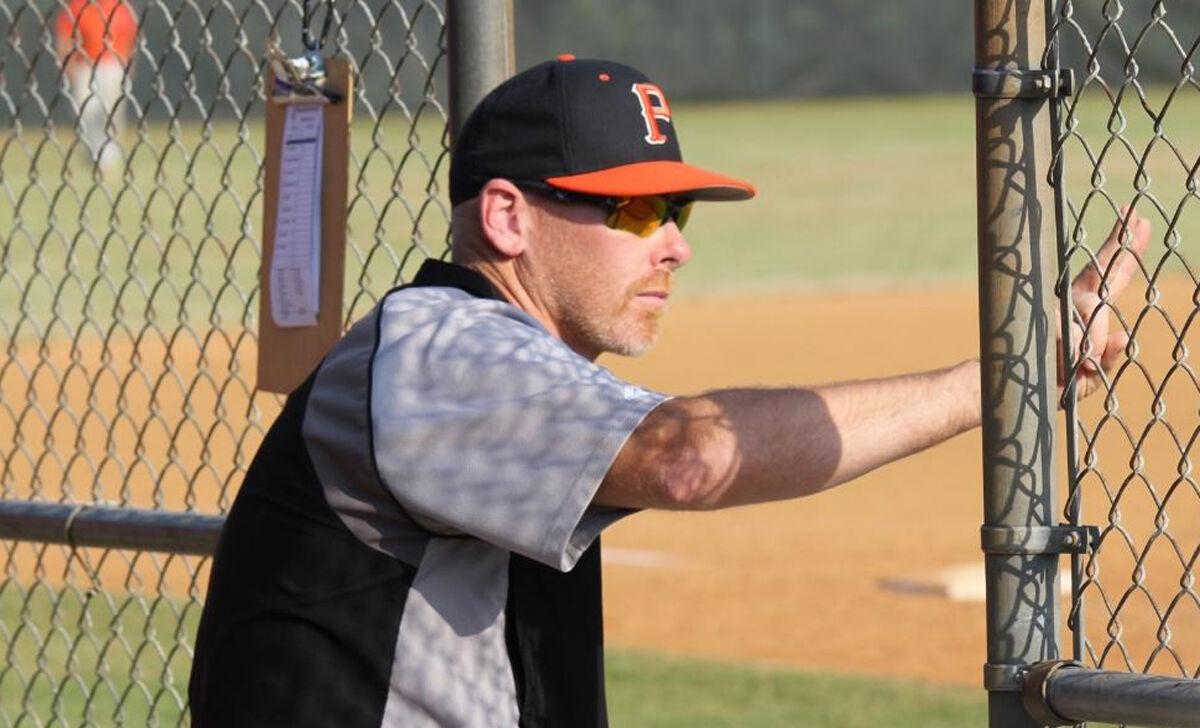 POWHATAN – After Duane Partusch got hired at Powhatan High School as a teacher for the 2014-15 school year, he called Powhatan's head baseball coach at the time, Gregg Conner.
Partusch had known Conner not only from when he student-taught with him, but also from when Partusch both played for and coached nearby Cumberland High School's baseball teams.
Partusch recalled telling Conner when he called him: "I'm willing to take on any role that you have; I'll volunteer. Whatever you need, I will do."
Over the past seven years, Partusch's dedication shone through as he helped the program as the JV head coach for two seasons, then as a varsity assistant coach with the main role of coaching the pitchers.
Now, he's leading Powhatan's baseball program as the head varsity coach.
With the retirement of Coach Conner – one of the Virginia High School League's all-time winningest baseball coaches in the state's history and a Virginia High School Hall of Famer – Partusch becomes the program's first new varsity leader in 37 years.
He's also the fourth head coach in Powhatan baseball's history since the 1960s. The two head coaches preceding both Conner and Partusch were Bob Baltimore, who was with Coach Conner as an assistant coach throughout Conner's entire head coaching career, and Bill Pelot, who helmed the Indians for 10 years. Pelot carved out his legacy not only at Powhatan, but also as the head coach of Louisa baseball.
"The level of baseball coach that has been through there – it's something to be taken very seriously," Partusch said. "I'm extremely honored to have been chosen to be the guy to continue it."
When he started his coaching career, the very first mentor that he had was Keith White, who was a longtime coach at Cumberland as well as the county's Recreation Director. White, who passed away in 2016, was always involved with the youth league and with helping the youth in Cumberland.
Partusch first started coaching with White when Partusch was in college and volunteering in the youth league as a football coach. As Partusch moved into a high school coaching role, White volunteered to be his first assistant coach.
"Looking back, he was really the head coach; he guided me," Partusch said. "I always, as a part of my career, I've always looked back on: when I make mistakes, or when I do something well, that's who I always think of."
Partusch started as a JV coach for his alma mater in 2005 and worked his way up to varsity assistant and then to the head coaching position on Cumberland's varsity baseball team.
He led the Dukes for five years before heading to Powhatan as a teacher for the 2014-15 school year. He's been part of Powhatan High School and the baseball program ever since, and he plans on keeping it that way.
"I'm here because I plan on continuing the tradition until I'm ready to retire from teaching permanently," he said, "and that's a long time from now."
To Partusch, working with Coaches Conner and Baltimore has been an "unbelievable experience that most people will not be lucky enough to experience." Every day, he said, was a learning experience with them.
"I feel like I'm confident and know a lot about baseball, but I think one of the things that you find – especially as a teacher – you have to be a lifelong learner," Partusch said. "And being around guys who've seen so much more – and they've also seen the game evolve and change, I was in kindergarten when Gregg started coaching the baseball team at Powhatan; when Coach B was the head baseball coach, my parents were probably still middle-school age – so what they've seen over the years…they have a lot more to compare things to, is what was helpful.
"The things that they say really have meaning," Partusch said, "and when they talk, I would listen…because it's important when you have somebody with that much knowledge that there's always, always something to be learned."
Partusch also recalled how they went to a number of coaching clinics, and how, at the sessions, Coach Conner would write things down.
"He wasn't above learning something new, and I think that's something else that I took away from them, is that they weren't above learning something new after all of these years," Partusch said. "I think that's something that really helped me to be well-rounded, and to learn that, just because something works well, doesn't mean you can't find a way to make it work better."
As for what's made Powhatan's program unique to him, Partusch praised it not only for the ability of the overall group of players and the pace of the game, but also the continuity – "the fact that there has been an established expectation there for so long."
"Things are done the right way," he said.
The Powhatan coaches' expectations for how their players were supposed to behave, act, dress and conduct themselves on the field, towards other teams and towards the umpires across the years lined up with Partusch's own emphasis on the players presenting themselves in a respectable manner.
For Partusch, his philosophy is less about the game and more about how the players approach it. That includes accounting for the simple things like making sure that your jersey is buttoned up and tucked in whenever you have it on.
"They have an understanding of how things are supposed to be," Partusch said of the players, "and when I can convey that philosophy to them, that you carry yourself in a way that makes you be respected, you will be respected, whether you're a 20-0 team or you're a 1-19 team. You'll still be respected by the way you carry yourself, and generally, in my experience, that also carries over into better play."
The high expectation – the standard that is expected of them – also helps Powhatan's baseball players stand out, Partusch said. He described how they work out with the players from the fall to the end of the spring. They always have something planned and going on, he said, so there's always a lot of organization.
"The kids know what to expect, we have a system in place – everything is set up and ready for them to learn," Partusch said, adding: "Our kids are really committed, and they're really well-behaved, and I think that also the type of player that we have are guys that…work hard; they're hard workers. Even the ones that are struggling, they're always working hard."
The upcoming Powhatan baseball team is projected to feature a mix of young players and several returning seniors.
"There's a lot of experience on this team. There are some guys out there that have been working with us hard for a long time," Partusch said. "There are some younger guys that we've had out there that were on the varsity team, and there's also a few guys who worked out with us in the offseason, so they're very familiar with everything that's going on, and the ones that are going to become varsity players, I feel like it's going to be seamless."
And the expectations will remain high.
"I think they should be, and they always are at Powhatan," Partusch said. "For us, the bar is going to be high, and I expect, even in a tough district where there are a lot of really good teams, that we can compete, and we showed that last year."
Midlothian was one of the district's top teams in the Dominion District this spring, and Powhatan went to the Trojans' place and beat the Trojans 4-3. The Indians from there made it back-to-back wins when they fended off Manchester 5-3.
"We're capable of doing a lot," Partusch said. "We've just: we've got some guys that need to make a few improvements and be a little bit more consistent and be a little bit more confident, and I really think that we can do really well."
With Powhatan baseball, Partusch said that they can always keep themselves in the game defensively – they really spend a lot of time working on defense, he said – and at the plate, their bread and butter is that they're not going to get beat on the fast ball.
On the pitching side, he noted there are a lot of variables when it comes to being a successful pitcher.
"We've had a lot of success with some guys in the last couple years, and we've been up and down with pitching, and the hope is to be more consistent with our pitching," Partusch said. "In high school baseball, that's really what makes the difference. If you can get consistent, good pitching, you can win a lot of games."
Partusch said they put a lot of attention on that this past season, and he noted how their rotation within the last year featured some of the younger players.
"I think moving into this year, I think they're going to be better," he said. "Now we can pick up where we left off, do a few more things and hopefully have a little bit more success."
Since he first came to Powhatan, Partusch said that people have always been nice to him.
"When I made the move to Powhatan after my high school career in Cumberland and starting my teaching and coaching career there – I spent a lot of time there – and to make a move away from home, it's always one of those weird things that: you're not sure how well you're going to be received I guess maybe as an outsider, and I was never made to feel that way," Partusch said. "People treated me with respect, and I always felt right at home."
He praised the Powhatan community's support system.
"I've always appreciated the support of the parents and how well they support their kids at games, and showing up at games and providing team meals and all the things that they've done," Partusch said. "Those are things that I've always enjoyed."
He's looking forward to this next step.
"I'm excited," he said. "I'm nervous, but I'm looking forward to it for sure."